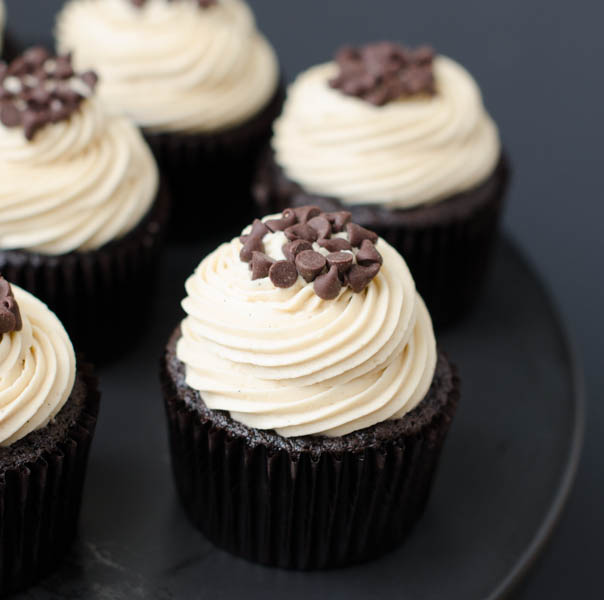 Have I mentioned how much I love my Bouchon Bakery
cookbook? I got it for my birthday back in February, and even though I've spent hours staring at the lovely photographs (it's my new coffee table book), I've hardly made any of the recipes. I've been dying to try the devil's food cake, since it's one of my very favorite desserts ever, so I was really excited to try Thomas Keller's version. You might remember the devil's food cake I made for my birthday this year, which I absolutely loved, so I wanted to see how this would compare.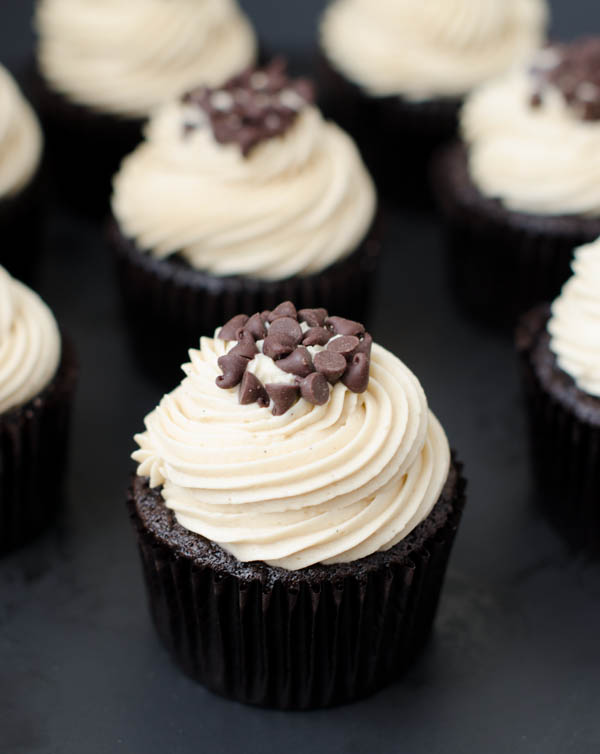 The recipe differs quite a bit from the Baking Illustrated version. There's no melted chocolate, and mayonnaise is used instead of milk or sour cream. I know what you're thinking. Mayonnaise? In a fancy French cookbook? I thought the same thing. Chocolate mayonnaise cake was popular in during World War 2, when certain ingredients were in short supply and people had to get creative. If you think about it, it makes sense. Mayo is made of egg, oil, and vinegar, which are all common ingredients in cakes anyway.
I hate to use the word moist, because it makes me cringe a little bit, but for lack of a better word, this cake was moist. The moistest chocolate cake I have ever made. Like with any cake, I highly recommend using a kitchen scale to make this. Not only is it more accurate, but it creates less dishes. 🙂
I normally use real or instant espresso in my espresso frosting, but this time, I tried coffee extract
. I have to say, I liked it better. It gave a strong coffee flavor without being too bitter. Plus, I didn't have to wait for the espresso to cool or the espresso powder to dissolve. I also added a few teaspoons of coffee extract to the cupcakes to give them a mocha flavor. Of course, you can sub either of these ingredients for coffee extract if you don't have any on hand.
The original recipe calls for a 9-inch cake, but I wanted to try it in cupcake form. I managed to squeeze out 12 cupcakes by getting every last ounce of batter out of the mixer, but next time, I'll probably make 11 so each one will be a little bit bigger.
Mocha Chocolate Chip Espresso Cupcakes
Ingredients
For the cupcakes

1/2 cup plus 3 1/2 tablespoons (101 grams) all-purpose flour
1/4 cup plus 2 tablespoons (31 grams) Dutch process cocoa powder
1/2 teaspoon baking soda
1/8 teaspoon baking powder
1/2 teaspoon salt
1 large egg
1/2 cup plus 2 tablespoons (126 grams) sugar
1/2 teaspoon vanilla extract
2 teaspoons coffee extract
1/4 cup plus 2 1/2 tablespoons (86 grams) mayonnaise
1/4 cup plus 3 tablespoons (105 grams) water, at room temperature

For the frosting

16 tablespoons (2 sticks, 226 grams) unsalted butter, at room temperature
2 cups powdered sugar
1 teaspoon vanilla extract
2-3 teaspoons coffee extract
pinch of salt
mini chocolate chips for topping
Instructions
For the cupcakes

Preheat the oven to 325 degrees fahrenheit and line a cupcake pan with paper liners
In a medium bowl, sift together the flour, cocoa, baking soda, baking powder, and salt.
Add the salt and whisk together.
In the bowl of a stand mixer fitted with the whisk attachment, combine the eggs, sugar, vanilla extract, and coffee extract on medium low speed for about 1 minute.
Turn up to medium, and continue beating for about 5 minutes, until the mixture has become pale and thick.
Scrape down the sides of the bowl, and continue beating on medium high for another 5 minutes. The mixture should have thickened by this point.
And the mayonnaise and whisk until combined.
Remove the bowl from the stand mixer. Using a spatula, fold in the flour mixture and the water in 2 additions each.
Use a cookie scoop to evenly divide the batter between the paper liners.
Bake for 12-15 minutes, or until a toothpick inserted into the center comes out clean.
Cool completely before frosting.

For the frosting

In the bowl of a stand mixer, beat the butter on medium until light and fluffy (about 3 minutes).
Add the powdered sugar and beat on low, until just combined. Turn the mixer up to medium and beat for an additional 2-3 minutes.
Add the vanilla extract, coffee extract, and salt. Mix until combined.
Fill a decorating bag with the frosting and pipe onto the cupcakes in swirls.
Top with mini chocolate chips.
http://cakemerchant.com/2013/04/03/mocha-chocolate-chip-espresso-cupcakes/
Cupcake recipe adapted from Bouchon Bakery