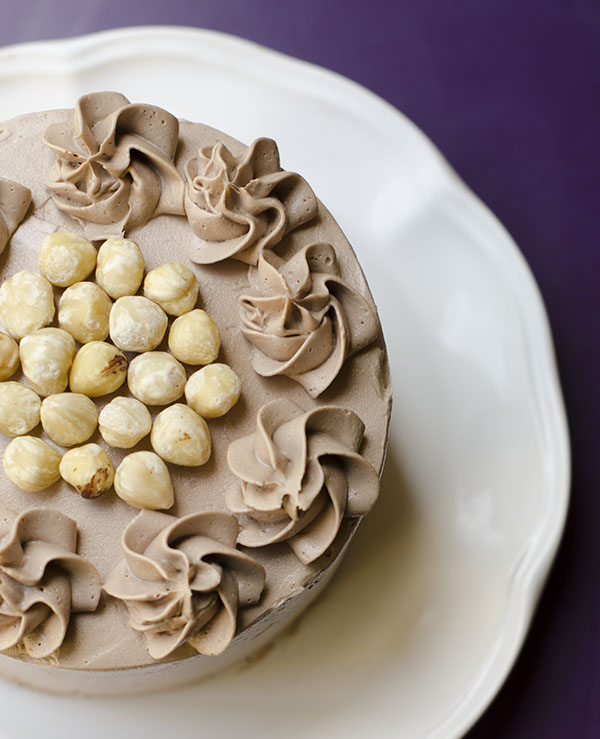 Today, I'm excited to be joining some of my favorite food bloggers to throw a virtual housewarming party for fellow food blogger Ashton. Ashton is the blogger behind Something Swanky, and while I follow her blog regularly, I've never met her in person. However, I know that Ashton and I share a love for Nutella, so I wanted to "bring" a chocolate layer cake with Nutella frosting.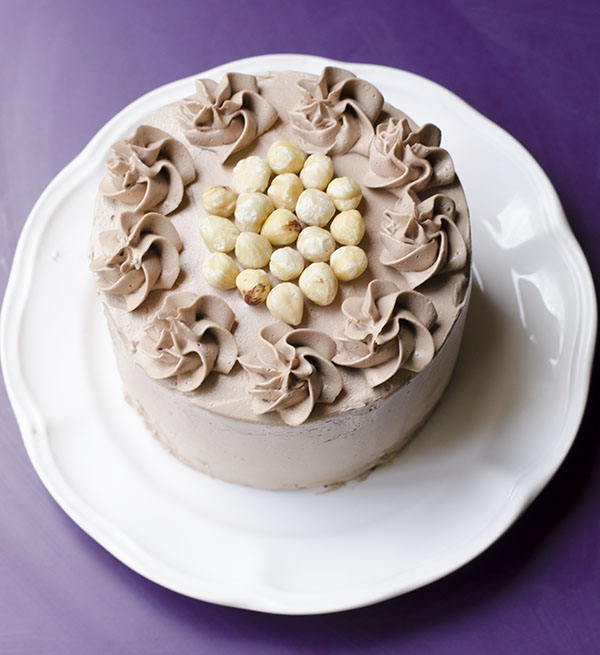 I wanted an intense chocolate cake to go along with the light and creamy Nutella frosting, so I chose David Lebovitz's Devil's Food Cake recipe. The original recipe makes a double layer 9-inch cake, but I halved to it to make a little 5-inch cake.
I also split each layer in half to make a 4-layer cake so that I could have a higher frosting to cake ratio. Let's face it, more frosting is always better, especially if that frosting tastes like Nutella.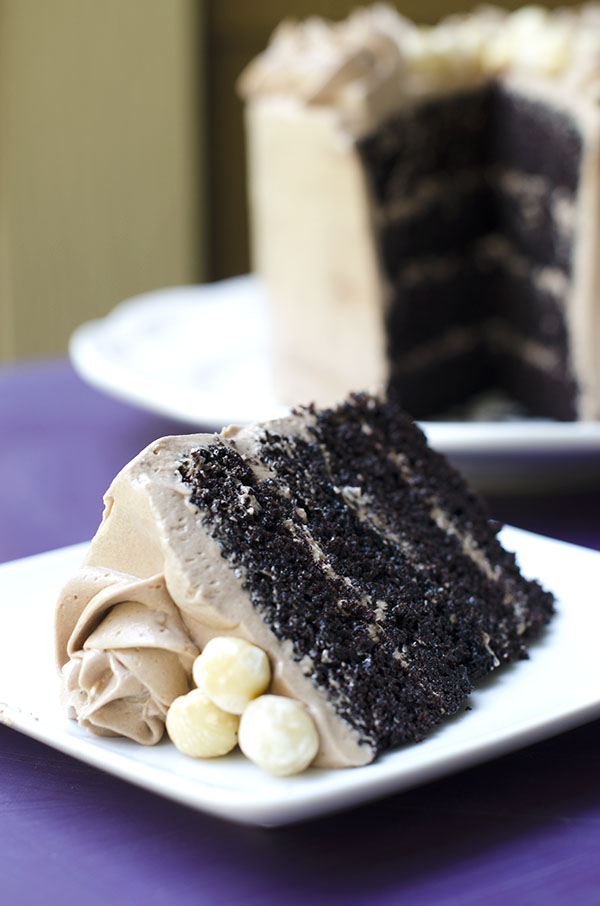 A 5-inch cake makes baby slices, but really, I have no shame in diving right into a cake this size with a fork. Or face first. Who can find utensils when you're moving, anyway?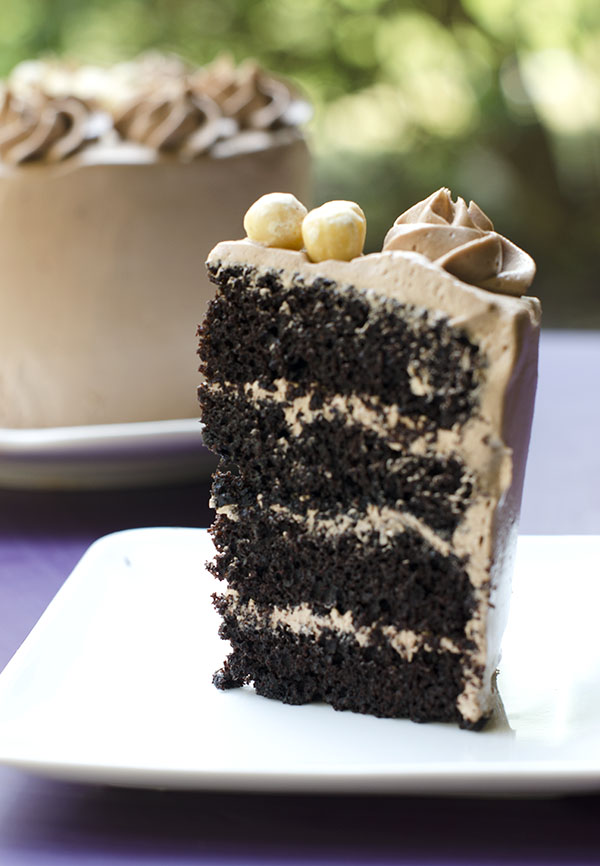 Little Chocolate Layer Cake with Nutella Buttercream Frosting
makes one 2 (or 4) layer 5-inch cake (double the recipe for a 2 layer 9-inch cake)
cake recipe adapted from David Lebovitz
Ingredients
For the Cake:
4 1/2 tablespoons unsweetened cocoa powder (I used Hershey's Special Dark)
3/4 cups cake flour
1/4 teaspoon salt
1/2 teaspoon baking soda
1/8 teaspoon baking powder
2 ounces (1/2 stick) unsalted butter, at room temperature
3/4 cups granulated sugar
1 large egg, at room temperature
1/4 cup strong coffee (or water)
1/4 cup whole or low-fat milk
For the Frosting:
8 ounces (2 sticks) unsalted butter, at room temperature
1 1/2 cups powdered sugar
1/2 cup nutella
1 teaspoon vanilla extract
pinch of salt
Directions
For the Cake:
1. Preheat the oven to 350 degrees. Grease two 5″ x 2″ cake pans and line the bottoms with circles of parchment paper.
2. In a medium bowl, sift together the cocoa powder, cake flour, salt, baking soda, and baking powder.
3. In the bowl of a stand mixer, beat together the butter and sugar about 5 minutes until smooth. Scrape down the sides of the bowl, add the egg, and beat until fully incorporated.
4. In a measuring cup, mix together the coffee (or water) and milk. With the mixer on low, add half of the dry ingredients into the butter mixture. Add the coffee and milk, and then add the remainder of the dry ingredients.
5. Divide the batter between the two cake pans (I used a scale for this) and bake for 20-25 minutes, or until a toothpick inserted into the center comes out clean. Cool completely.
For the Frosting:
1. With an electric mixer, beat the butter on medium speed until light and creamy (about 2-3 minutes).
2. Add the powdered sugar, mix on low until combined, then beat on medium for an additional 2-3 minutes.
3. Add in the Nutella and vanilla, and beat to combine.
4. Add salt to taste, and beat until incorporated.
Assembly:
1. Use a serrated knife to divide each cake layer in half.
2. Place one layer of the cake on an 5-inch cake board. Place a dollop frosting on top, and spread evenly with a palette knife. Place the second layer on top of the first, followed more frosting, and spread evenly. Do the same with the third layer. Place the fourth layer on top and put a generous scoop of frosting on the top of the cake. Spread evenly across the top of the cake. Work your way around the sides until the entire cake is covered with a thin layer of frosting. I find that a turntable is helpful when frosting a layer cake. Let the crumb coat set in the fridge for about 30 minutes.
3. Once the crumb coat has set, spread a thicker layer of frosting on the top and sides of the crumb coat to create a smooth finish. Use the leftover frosting to pipe onto the cake and top with hazelnuts.
Want to see what everyone else is bringing to the party? Be sure to check out the links below!

Julianne at Beyond Frosting – Pound cake with Champagne Glaze
Kate at Food Babbles – Raspberry Lemon Coffee Cake
Anna at Crunchy Creamy Sweet – Glazed Vanilla Donut Muffins
Loretta at A Finn in the Kitchen – Caramelized Almond Nougat Mousse Ice-cream
Joanne at Fifteen Spatulas – Cinnamon Crumb Coffee Cake
Ashley at Kitchen Meets Girl – Blueberry Muffins
Amber at Bluebonnets and Brownies – Lemon Drop Cookies
Dorothy at Crazy for Crust – Reese's Fudge
Joan at Chocolate Chocolate and more – Broccoli and Cheddar Cheese Quiche
Roxana at Roxana's Home Baking – Banana Sheet Cake
Julie at White Lights on Wednesday – Mocha Cupcake Milkshake
Hayley at The Domestic Rebel – Banana Split Poke Cake
Tanya at Lemons for Lulu – Lemon Muffins
Jocelyn at Inside Brucrew Life – Butterscoth Banana Muffins