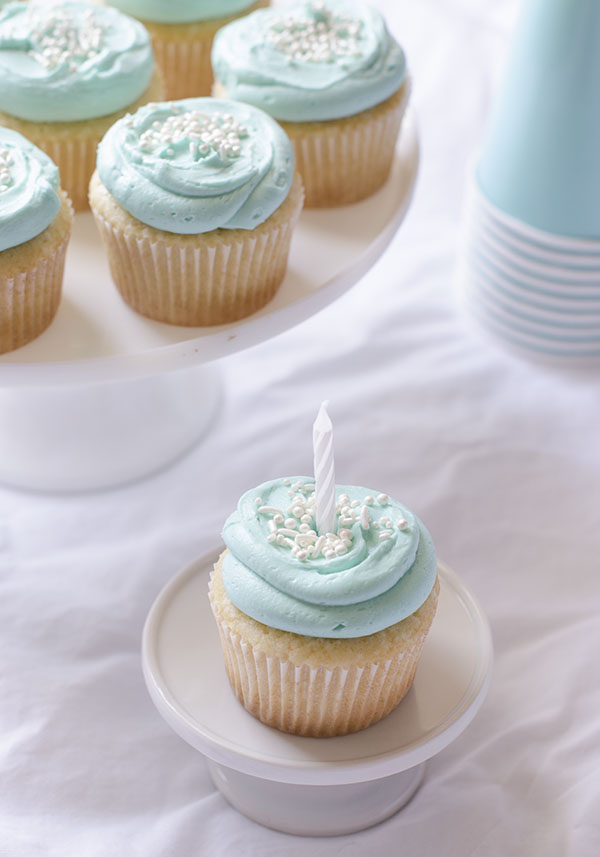 Is it June already? These past couple of months have gone by way too fast. So much has happened in Cake Merchant Land. I got engaged, adopted a puppy, bought a house, and moved! Needless to say, things have been a little crazy around here. My first blogiversary has come and gone. It was actually May 20th, but I still wanted to do a belated blogiversary post and share some of the things that I have learned this year.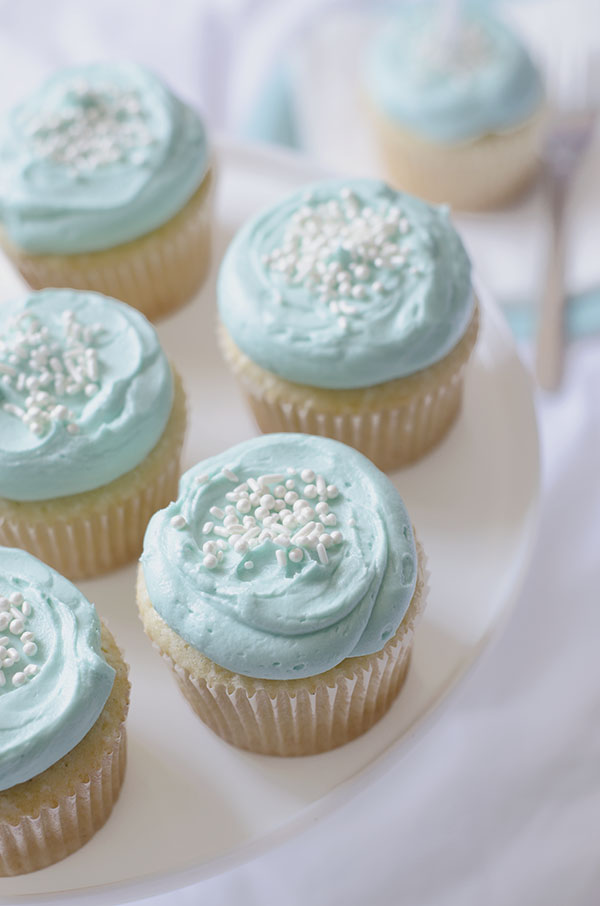 First, I have to say how much I love blogging. It has been such a fun creative outlet for me, and I'm convinced that nothing relieves stress like a freshly made batch of cupcakes. Thanks so much to everyone who has been reading and for all of your supportive comments. Your thoughts and opinions mean a lot to me. My goal for the second year of blogging is incorprate more healthy dessert recipes into the mix, since several readers have asked for it. I think it will not only be good for the blog, but for my waistline as well.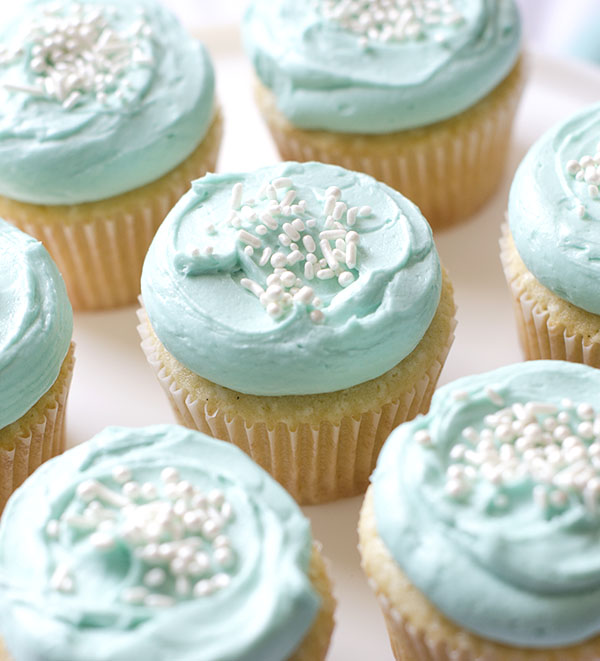 If you've been following my blog, you know that I'm slightly terrified of vanilla cake. I find it to be rather unforgiving, and after a few vanilla cake fails in my early baking days, I pretty much stopped making them from scratch. One of my blogging goals was to find a great vanilla cake recipe without using a mix. What I found was that is was not only the ingredients that made a good recipe, but the mixing method as well.
There are a few things that have changed the way that I make (and view) vanilla cake. The first is The Cake Bible
. In fact, this book has pretty much changed the way I bake altogether. If you're new to baking, or even a seasoned baker, I would recommend getting your hands on it and reading it cover to cover. The Cake Bible
introduced me to a method of mixing called the reverse creaming method. Instead of creaming the butter and sugar together first, the fat (butter or shortening) is beaten with the dry ingredients along with part of the liquid. The remainder of the liquid is then beaten into the mixture in installments, which results in a lighter crumb.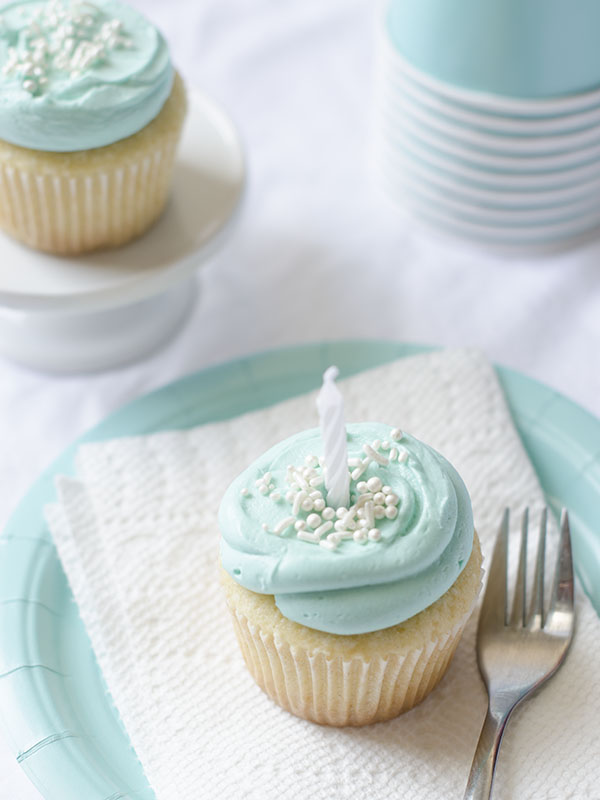 So the question is, can you reverse cream any recipe? That's what I wanted to find out. I took a traditional vanilla cake recipe (from Sprinkles cupcakes) that I used all the time, and just changed the order of how I mixed the ingredients. Did it work? Yes and no. There are a few keys to success that apply to all cakes and cupcakes, but especially when using this method.
First, your ingredients MUST be at room temperature. If they're not, you'll over mix your batter, and end up with tough cupcakes. Tough cupcakes are no fun. Second, do not overbake these. The first time I made these, I was working with a new oven, and hadn't put my oven thermometer in. The oven temperature was way off, and my cupcakes turned out dry. Using an oven thermometer
 will help you figure out the discrepancies in your own oven. Also, the baking time in the recipe is approximate and varies from oven to oven, so watch your cupcakes carefully during the last few minutes of baking.
Last but not least, when making vanilla cupcakes, pure vanilla extract is a must. Don't skimp, and get the good stuff. I like Nielsen-Massey Vanilla Bean Paste
, since I like to see the flecks of vanilla bean in the finished product.
When I followed these guidelines and reverse creamed the original recipe, I got a light and fluffy vanilla cupcakes worthy of a blogiversary celebration. Have you ever tried to change the mixing method of a recipe? If so, what were your results?
Ingredients
For the Cupcakes:

1/2 cup whole milk (237 ml) ,at room temperature
1 teaspoon (5 ml) pure vanilla extract
1/2 cup (1 stick or 113 grams) unsalted butter, at room temperature and cut into eight pieces
1 large egg ,at room temperature
2 large egg whites ,at room temperature
1 1/2 (190 grams) cups all-purpose flour ,sifted
1 teaspoon (5 grams) baking powder
1 cup (200 grams) sugar
1/4 teaspoon coarse salt

For the frosting

1 cup (2 sticks, 227 grams) unsalted butter, at room temperature
2 cups (250 grams) powdered sugar
2 teaspoons (10 ml) vanilla extract
pinch of salt
a couple of drops of food coloring (optional, Americolor turquoise)
Instructions
For the cake:

Preheat the oven to 350 degrees fahrenheit and line a muffin pan with 12 paper liners.
In a bowl, combine the 1/4 cup of the milk, vanilla extract, egg, and egg whites,
In the bowl of a stand mixer, combine the flour, baking powder, sugar, and salt. Beat on low for about 30 seconds, until combined.
Add the butter and remaining 1/4 cup milk and beat on low until moistened. Turn the mixer up to medium speed and for 90 seconds.
Scrape down the sides of the bowl, and add the egg mixture in 3 separate additions, beating on medium after each addition.
Divide the batter evenly between the 12 liners (I used a cookie scoop to do this). Bake for 18-23 minutes, or until a toothpick inserted into the center comes out clean.
Cool completely on wire racks before frosting.

For the frosting:

With an electric mixer, beat the butter on medium speed until it becomes pale and creamy (2-3 minutes).
Add the powdered sugar and salt and beat on low until combined. Turn up to medium and beat for an additional 2-3 minutes.
Add the vanilla extract and beat on medium, about 3 minutes.
Add the food coloring, one drop at a time until you reach the desired color. Beat until the food coloring is fully incorporated.
Fill a decorating bag fitted with a pastry tip, and pipe the frosting onto the cupcakes. Top with sprinkles.
http://cakemerchant.com/2013/06/09/simple-vanilla-cupcakes/
Notes:
Cupcake recipe adapted from Sprinkles Cupcakes
These cupcakes are best eaten on the day they are made, but if you plan to make them in advance, keep in mind that the color of the frosting will deepen over time.