Sprinkles=joy. So does that mean that since these cookies have double the sprinkles of a regular cookie, they bring about double the joy? If you ask me, I would say yes, but I am slightly biased since I made them. Since I've been a little bit obsessed with shortbread lately, I'm bringing you yet another variation on the classic shortbread cookie today. Did I mention it has sprinkles in it?
I love shortbread for so many reasons. First, it only requires a few ingredients, most of which I usually have lying around anyway. It's naturally eggless, which is great since everyone is allergic to everything so many people are allergic to eggs these days. And, they're fully customizable! This time, I added sprinkles (aka funfetti), dipped them in white chocolate, and added more sprinkles.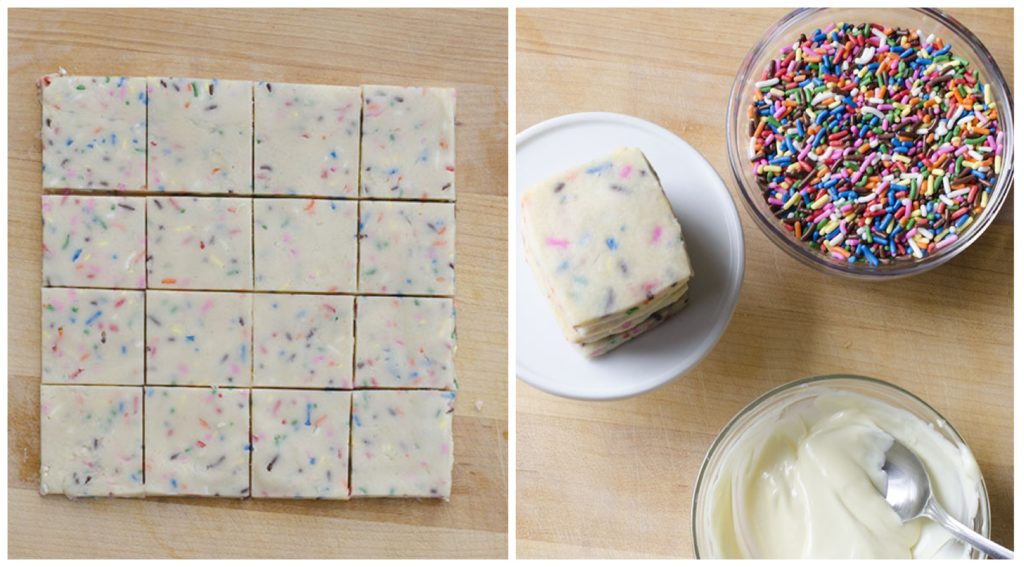 While shortbread cookies aren't complicated to make, here are a few tips for making good shortbread.
Use good quality butter. Since the majority of flavor comes from the butter, a high quality butter is important for a good cookie.
Use pure vanilla extract. I like Nielsen Massey, but any pure vanilla extract will do.
Don't overmix your batter. Mix the dough until the dry ingredients just disappear into the butter. Over mixing will make a tough cookie.
Rolling the dough evenly is easier to do in a gallon sized ziploc bag, since it acts as a template. You can also roll the dough between parchment or waxed paper.
Chill the dough for at least a couple of hours before baking. It makes the cookies easier to work with, and keeps them from spreading.
Remove the cookies from the oven when they are still slightly pale. If they get too brown, they lose their delicate texture.
I melted the white chocolate in a double boiler, but if you're feeling brave, you can do so in the microwave. Just make sure that you use a lower power, nuke it at 30 second intervals, and stir after each interval.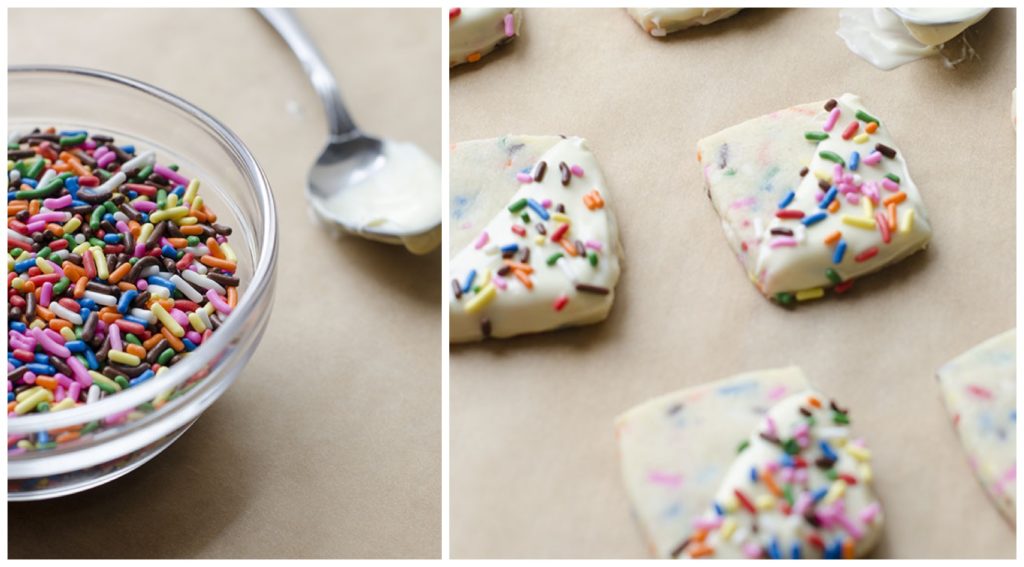 Double Funfetti Shortbread Cookies
Ingredients
4 oz. (113 grams) unsalted butter, room temperature
1/3 (39 grams) cup confectioners' sugar
1 tsp. vanilla extract
1/2 teaspoon almond extract (optional)
1 cup (140 grams) all-purpose flour
1/3 cup (58 grams) sprinkles, plus some additional for topping
For dipping: 4 oz. (113 grams) good quality white chocolate chocolate, chopped
Instructions
With an electric mixer, beat the butter and confectioners' sugar on medium for about 3 minutes, or until smooth. Beat in the vanilla extract and almond extract.
With the mixer on low, beat the flour in until it just disappears into the butter mixture. Do not overmix.
Fold in the sprinkles. (I used my hand to knead them in gently).
Transfer the dough into a gallon sized ziploc or freezer bag. On a flat surface, use a rolling pin to roll the dough out about 1/4 inch thick. Chill the dough until firm (about 2 hours).
Preheat the oven to 325 degrees fahrenheit and line a cookie sheet with parchment paper.
When the dough is ready, take it out of the fridge, slit the plastic bag and remove the dough. Use a cookie cutter to cut out shapes, or use a knife to cut the dough into squares.
Bake the cookies for about 18-20 minutes, or until the edges just begin to brown. Cool completely on wire racks.
In a double boiler, melt the white chocolate.
Allow the melted chocolate to cool slightly, then dip the cookies into the chocolate, and top with additional sprinkles. Transfer onto a sheet on parchment or waxed paper to cool.
http://cakemerchant.com/2013/06/14/double-funfetti-shortbread-cookies/
Shortbread recipe adapted from Use Real Butter.