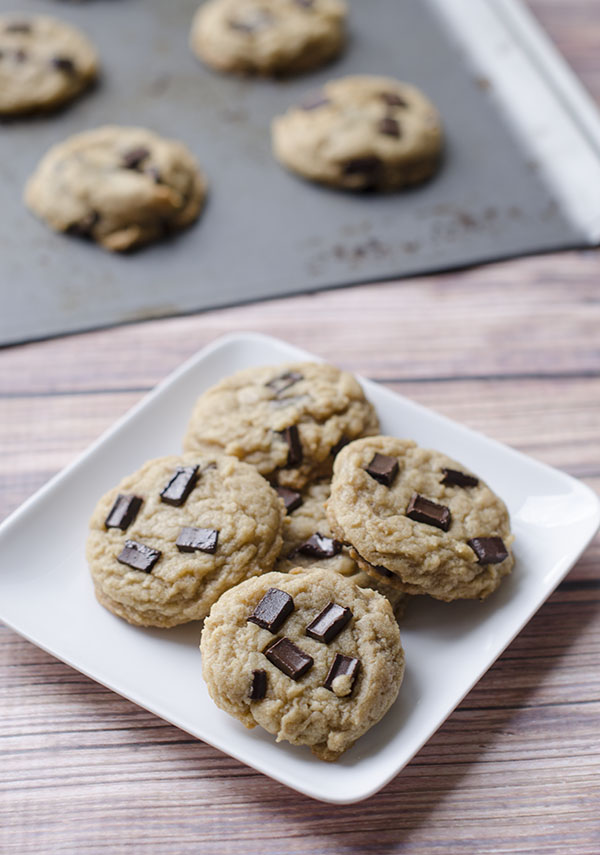 When I think of coconut oil, baking is not the first thing that comes to mind. My parents are from India, so my memories of the stuff are the blue bottles of Parachute coconut oil at my Grandmother's house in Calcutta. She would rub it into my hair at night when I was a kid, and then I'd wash it out in the morning. I thought it was kind of weird, but I just went with it.
Now coconut oil is a thing here in the US. People use it for everything these days- face wash, furniture polish, deodorant, cooking, and even mixing it into peanut butter. Have you ever tried coconut peanut butter
? The combination of peanut butter and coconut sounded weird to me at first, but this stuff us truly addicting, and I thought it would be delicious in cookies. With coconut oil. Because coconut oil makes baked goods healthy, right? At least it cancels out the sugar.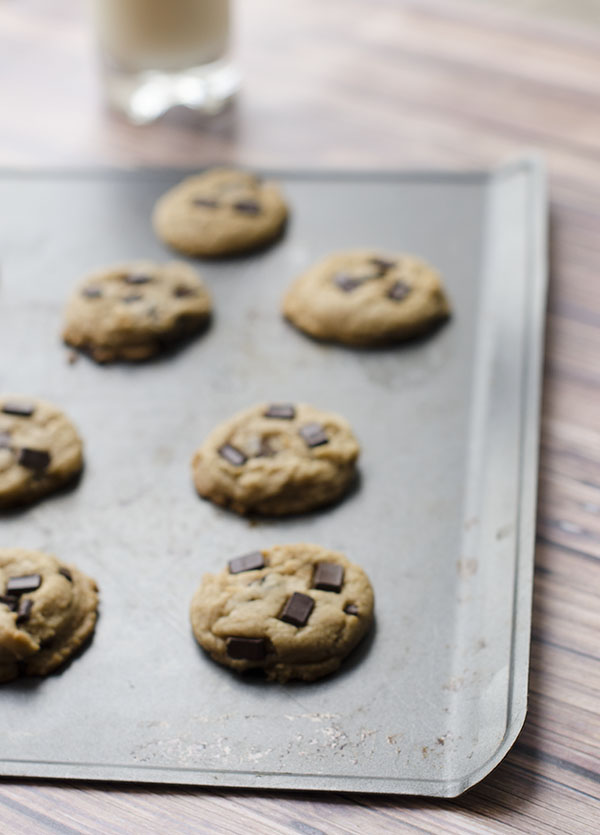 The original vegan chocolate chip cookie recipe I used uses canola oil, and while it is delicious, I subbed melted coconut oil and coconut peanut butter. You can also use regular peanut butter in place of the coconut peanut butter. Fact: adding peanut butter to anything enhances the deliciousness.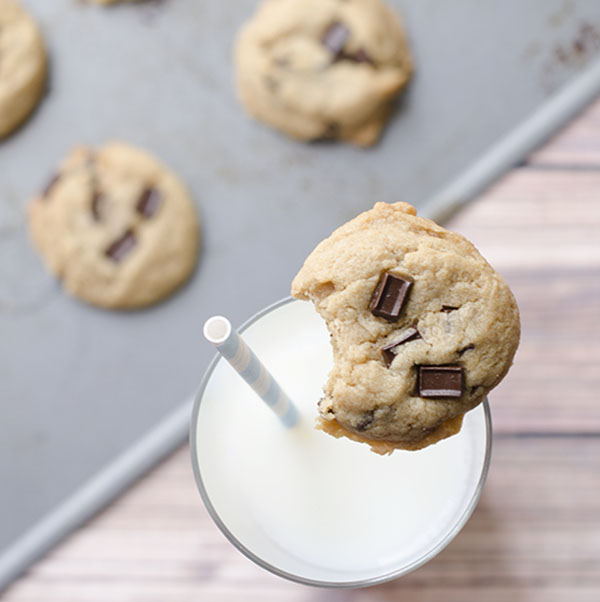 I made several batches of these cookies, and I experimented with refrigerating the dough. The dough for the cookies in the pictures were not refrigerated at all, and they didn't spread too much. I also made a batch in which the dough was refrigerated for about 60 minutes, and those cookies were slightly thicker, so if you like a puffier cookie, stick the dough in the fridge for a bit. However, I would NOT recommend refrigerating this dough overnight. Unlike butter based cookies, it becomes crumbly and difficult to work with.
I'm usually pretty good about eating a cookie or two and sharing the rest, but I could not stop eating these cookies. Somehow I convinced myself that they were health food because they were vegan. The lack of butter gives these a lighter, less rich texture, which makes a habit forming cookie. Don't say I didn't warn you.
Vegan Peanut Butter Chocolate Chip Coconut Cookies
Ingredients
1/2 cup brown sugar
1/4 cup white sugar
1/3 cup coconut oil, melted and slightly cooled
1/4 cup non-dairy milk such as almond or coconut
1 tablespoon tapioca flour
1/4 coconut peanut spread (or peanut butter)
2 teaspoons pure vanilla extract
1 1/2 cups all-purpose flour
1/2 teaspoon baking soda
1/2 teaspoon salt
3/4 cup vegan chocolate chips
Instructions
Preheat the oven to 350 degrees fahrenheit and line 2 cookie sheets with parchment paper.
In a large bowl, combine the brown sugar, white sugar, coconut oil, almond milk, and tapioca flour. I used an electric mixer, but you can do this by hand. The mixture should resemble a smooth caramel, so keep mixing until you reach that texture.
Mix in the vanilla and coconut peanut spread.
Mix in a cup of the flour, baking soda, and salt.
Add the rest of the flour and mix until the ingredients are just combined.
Gently mix in the chocolate chips.
Using a cookie scoop, scoop the dough onto the cookie sheets one inch apart.
Bake for 8-9 minutes and let cool on wire racks.
http://cakemerchant.com/2013/06/25/vegan-peanut-butter-coconut-chocolate-chip-cookies/
Note: This is not a sponsored post
Recipe adapted from Vegan Cookies Invade Your Cookie Jar