Yay, fall is almost here! Let's bust out the pumpkin recipes and celebrate! Oh wait, it's still 100 degrees. Every. Day. I'm not normally one to complain about the warm weather, but after just having spent a week in Colorado, it's been hard to adjust to the heat again. You can try to convince me that it's fall, but I'm not buyin' it.
Ok, now that I'm done whining, let's talk cinnamon rolls. This recipe is a mishmash of a few recipes I've found over the years, and is a current favorite at my house. And by favorite, I mean that they got made so often over the last few months, we called it "The Summer of Cinnamon Rolls."
If you've never made cinnamon rolls from scratch, they are truly a revelation. I grew up not caring for cinnamon rolls all that much. The stuff from the can was gross, and I could barely make it through half a Cinnabon without going into a sugar coma, but when I found these cream cheese cinnamon rolls from Joy the Baker, I was hooked. I mean, there is cream cheese folded into the dough! What's not to like? The only problem is they take forever to make, and when it comes to cinnamon rolls, patience is not on my side.
So then I tried these cinnamon rolls, which come together much faster. While I liked the ease of the recipe, there was something missing. In the end, I smooshed the two recipes together to make a quick yet delicious cinnamon roll recipe that can be made from start to finish in about 90 minutes. Oh, and I doubled the cream cheese by adding a cream cheese glaze, since I tend to double ingredients that I like (i.e. double funfetti shortbread cookies, double chocolate espresso cookies).
If you've never worked with yeast before, please don't be scared of this recipe. It uses instant yeast rather than active dry yeast, which means that you don't have to worry about proofing it. Just combine it with the other ingredients and let it do it's thing, but please make sure that you use instant yeast (also known as quick or rapid rise yeast). To make the dough, you want to start by heating some milk in a saucepan. Add the butter, stir until it melts, and let this mixture cool to room temperature. Add this mixture to the flour, yeast, sugar, salt, egg, and water. I used the dough hook on my kitchenaid to this, but you can knead it by hand as well. Then, just set is aside to let it rise. With instant yeast, this process will only take about 10 minutes. In the mean time, make the filling.
After it has finished rising, roll the dough into a 10×10 square, and then spread about 1/3 of the brick of softened cream cheese over it.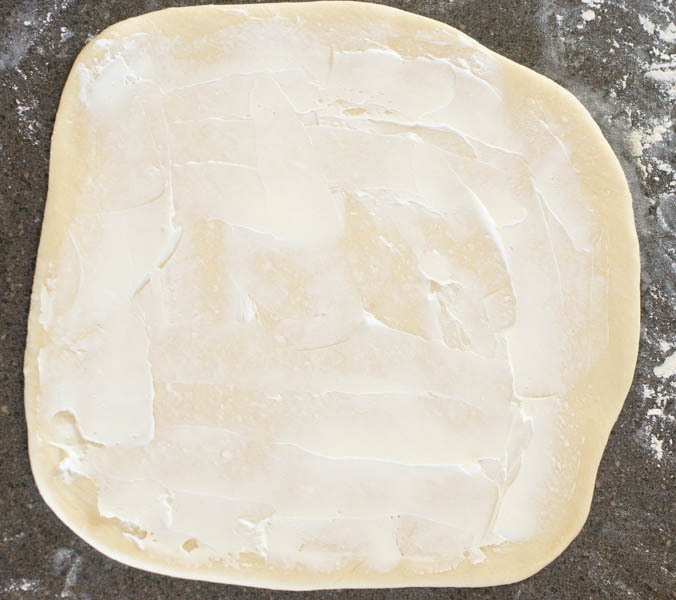 Fold the dough into thirds…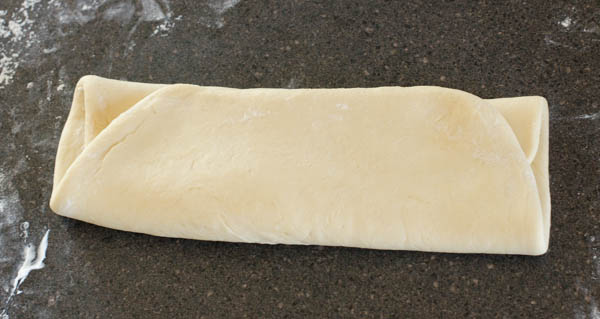 …and then do it again.
Roll it out into a 10×14 rectangle (mine looks more like an amoeba), brush with melted butter, and the spread the filling over the dough.
Roll the dough from the short side, cut it into 8 slices, and place the rolls onto a parchment lined 9×13 baking pan. Let the cinnamon rolls rise again, for about 30 minutes, until they have doubled in size. Then, bake them for about 20 minutes and spread with cream cheese glaze.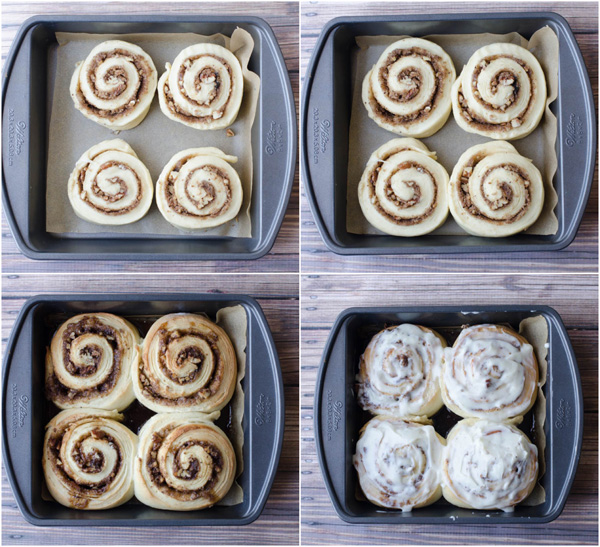 In the picture above, you'll see only 4 cinnamon rolls in an 8×8 pan. One of the great things about these cinnamon rolls is that they freeze really well, so I froze 4 and baked 4. Before the last rise, stick the pan of cut cinnamon rolls in the freezer. After they become hard, remove them from the pan and put them into a gallon-sized freezer bag. You can freeze the cream cheese glaze as well. Then, when you get a hankering for a cinnamon roll, pull one out, let it come to room temperature, bake, and enjoy!
You can also make these a day ahead without freezing them. Just put them in the refrigerator before the last rise, pull them out in the morning, let them come to room temperature for about an hour. Bake them up, and breakfast is ready!
Double Cream Cheese Cinnamon Rolls
Ingredients
For the dough

3/4 cup milk
1/4 cup butter
3 1/4 cups all-purpose flour
1 (.25 ounce) package instant yeast
1/4 cup white sugar
1/2 teaspoon salt
1/4 cup water
1 egg

For the filling

1/2 cup white sugar
1/4 cup dark brown sugar
1/2 cup finely chopped pecans (or a mix of pecans and walnuts)
1 Tablespoon ground cinnamon
1/2 teaspoon salt
2 Tablespoons maple syrup
3 oz. cream cheese, at room temperature
4 Tablespoons (1/2 stick) unsalted butter, melted

For the vanilla cream cheese glaze

5 oz cream cheese, at room temperature
3/4 cup powdered sugar (I like mine less sweet, but you can add more to taste)
1 teaspoon vanilla bean paste or pure vanilla extract
Instructions
In a saucepan, heat the milk until it just begins to bubble.
Stir in the butter until it melts, and set aside until it comes to room temperature.
In a large bowl, combine 2 1/4 cups flour, yeast, white sugar, and salt and mix until combined.
Add the milk mixture, egg, and water, and stir until combined.
Add the remaining flour 1/2 cup at a time until the dough has just pulled together.
Knead the dough for about 5 minutes, until smooth (I used the dough hook on my stand mixer to do this).
Cover the dough with a damp cloth and set it aside to rise for about 10 minutes.
In the meantime, make the filling by combining the white sugar, dark brown sugar, pecans, cinnamon, salt, and maple syrup in a bowl.
Once the dough has risen, roll it into a 10x10 square on a lightly floured surface, and spread the softened cream cheese onto it.
Fold the dough into thirds.
Fold it again into thirds, and roll it out into a 10x14 rectangle on a floured surface.
Using a pastry brush, spread the melted butter onto the dough, followed by the filling.
Roll up the dough from the short side, and pinch the seam to seal.
Cut the roll into 8 equal slices, and place the rolls cut side up onto a 9x13 baking pan lined with parchment paper.
Cover, and let the rolls rise for an additional 30 minutes until they have doubled in size.
In the mean time, preheat the oven to 350 degrees fahrenheit.
Bake for 20 minutes, until the cinnamon rolls are lightly browned.
Serve warm.

For the glaze

With an electric mixer, beat the cream cheese until creamy.
Add the powdered sugar, and beat until combined.
Add the vanilla bean paste and beat until combined.
Spread onto the warm cinnamon rolls.
http://cakemerchant.com/2013/09/07/double-cream-cheese-cinnamon-rolls/
Cinnamon roll recipe adapted from Joy the Baker and Allrecipes