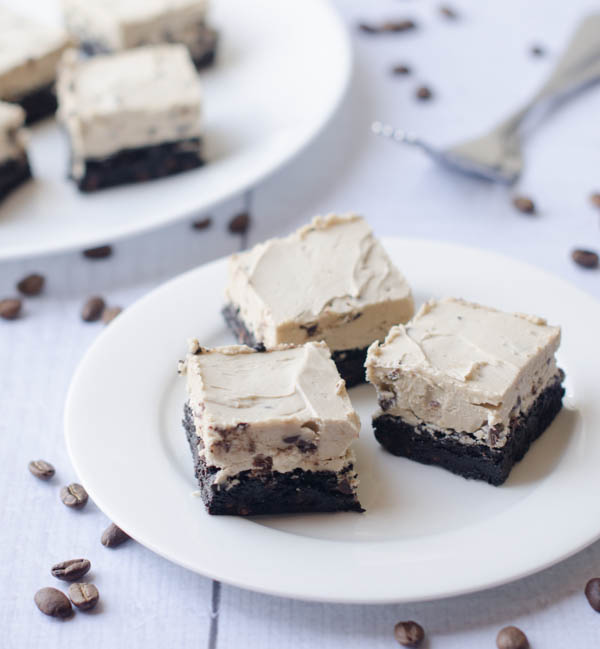 Several Valentine's Days ago, before I learned how to frost and decorate cakes, I decided that I was going to make dessert. My boyfriend took me out to dinner at a lovely restaurant with equally lovely desserts, and while I enjoyed the dinner, I was determined to make dessert at home. In my head, it was going to be beautiful. Two mini chocolate cakes, filled with espresso chocolate chip frosting, and topped with chocolate ganache. Unfortunately, the end result did not turn out as planned. It tasted good, but seriously, if a cake could look like a hobo, it would look like what I made that day. However, my then boyfriend (now fiancé) happily ate my lopsided cake and decided he wanted to marry me anyway. We look back on that day and laugh, but that espresso frosting has become his favorite, and he requests it every chance he gets.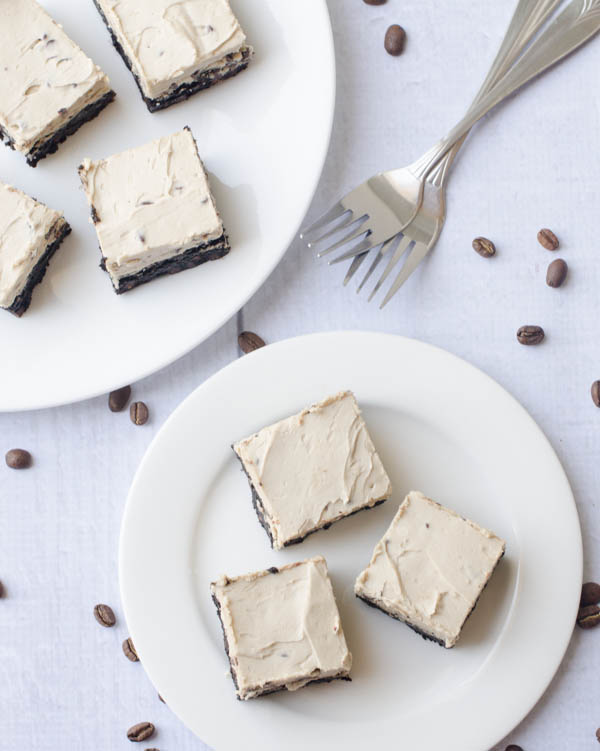 Last week was my fiancé's birthday, so of course, he wanted something with espresso frosting. This year, I decided to spread it on brownies. I chose this brownie recipe since it is super dark and really fudgy. It's also quick and easy, and only uses one bowl (no melting chocolate here, people). I halved the original recipe, so you pretty much get a 1:1 frosting to brownie ratio. I understand that the ridiculousness of this, which is why I cut down on the sugar quite a bit from the original frosting recipe. A thick layer doesn't need to be so sweet. Plus, there doesn't need to be as much powdered sugar to thicken it up, since these are best eaten out of the fridge. However, if you're not quite as in love with this frosting as we are, feel free to double the brownie layer and/or cut back on the frosting. The original brownie recipe is here.
Lately, I've been replacing espresso/espresso powder with coffee extract in this frosting recipe since I think it gives a good coffee flavor without any bitterness. However, feel free to use whatever you have on hand.
Dark Chocolate Brownies with Espresso Chocolate Chip Frosting
Ingredients
For the brownie layer

1/3 cup Dutch process cocoa
3/4 cup granulated sugar
1/4 cup powdered sugar
1/2 teaspoon salt
1/2 cup King Arthur Unbleached All-Purpose Flour
1/2 tablespoon espresso powder
3/4 cup semisweet chocolate chips
1 large egg
1 egg yolk
1/4 cup vegetable oil
1 tablespoon water or brewed coffee

For the frosting

3/4 cup (1 1/2 sticks) unsalted butter, at room temperature
3/4 cup powdered sugar
1/2 teaspoon vanilla extract
2 teaspoons coffee extract (or 1 ounce of espresso, cooled)
pinch of salt
Instructions
For the brownies

Preheat the oven to 350 degrees fahrenheit.
Grease the bottom and sides of an 8x8 baking pan, and line with parchment paper, letting some extra hand over the sides.
In a large bowl, whisk together the cocoa, granulated sugar, powdered sugar, salt, flour, espresso powder, and chocolate chips.
Stir in the egg, egg yolk, vegetable oil, and coffee until combined.
Spread the mixture into the prepared pan, smooth the top, and bake for 20-25 minutes until a toothpick inserted into the center comes out clean.
Cool completely before frosting.

For the frosting

With an electric mixer, beat the butter on medium speed until light and fluffy.
Add the powdered sugar, and beat on low speed to combine.
Turn up the mixer to medium high and beat for an additional 1-2 minutes.
Add the vanilla extract, coffee extract, and salt. Beat to combine.
Spread onto the cooled brownies and refrigerate until set, at least one hour.
With the parchment paper, lift the brownies out of the pan and cut into squares.
http://cakemerchant.com/2013/09/15/dark-chocolate-brownies-with-espresso-chocolate-chip-frosting/
Notes: Brownie adapted from King Arthur Flour