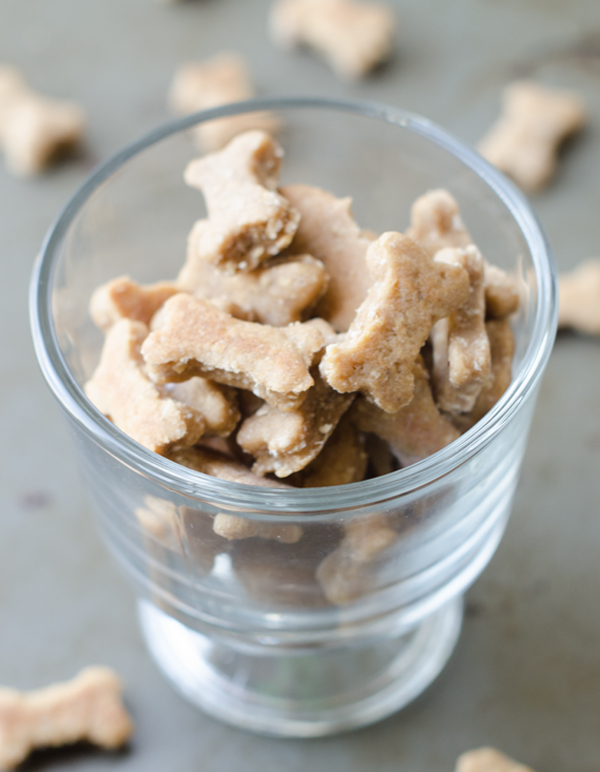 This is Bigsby. He's my bestie. Isn't he cute?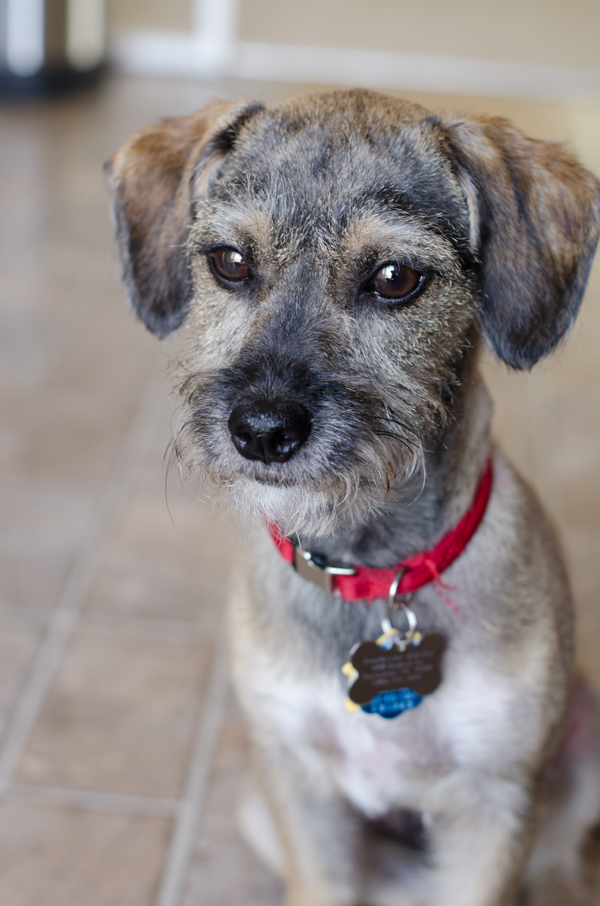 Bigsby loves peanut butter. He also loves chasing cats and chewing on my shoes, but I just can't condone those things. The peanut butter, however, I can get on board with, so I decided to bake him some treats. He's always by my side when I'm baking and taking photos, so I thought he deserved something for being such good company.
I've been a crazy cat lady for years, so adding crazy dog lady to my list of qualifications isn't too much of a stretch. I figured I'd just be an all around crazy animal lady and call it good. But seriously, just look at that face…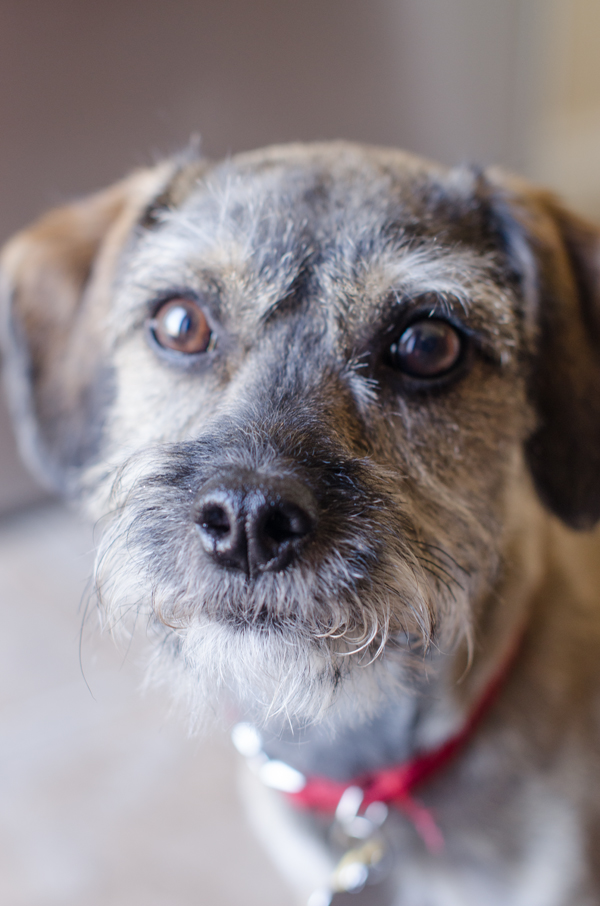 To make these treats, I looked at some books and websites to see what ingredients were safe for dogs to eat. I used wheat flour, oats, eggs, peanut butter, and unsweetened apple sauce, which were all ingredients that I had in my pantry anyway. I dumped them in a bowl, stirred them up, rolled 'em out, baked them, and voila! If your dog is allergic to wheat, you can use all oat flour instead, but it might change the texture (your dog probably won't care). Your dog probably won't care if you use a bone shaped cookie cutter either, but I thought they were cute. I used the little one to make treats for my 10 lb. dog, and the bigger one to make treats for a friend's 85 lb. weimaraner.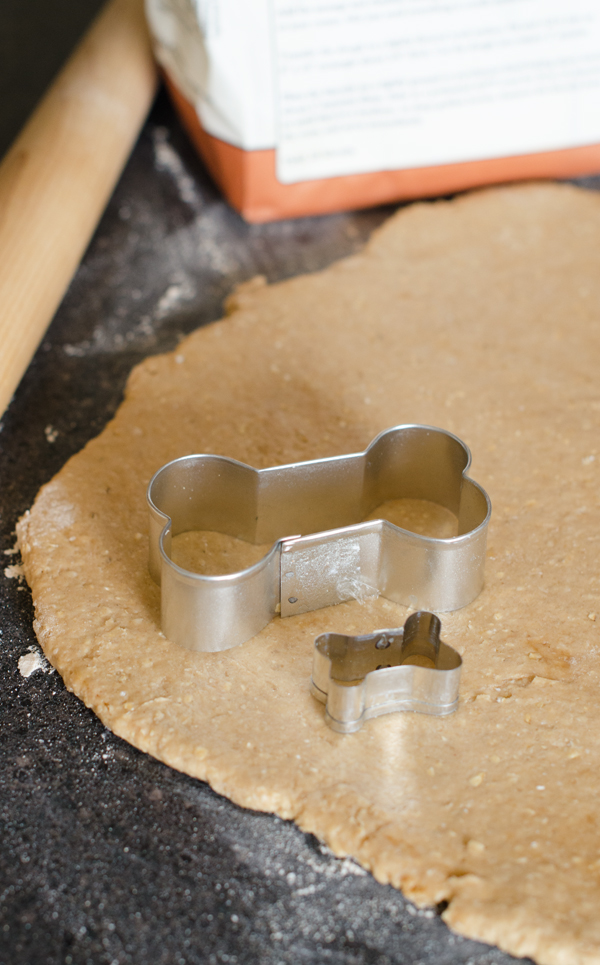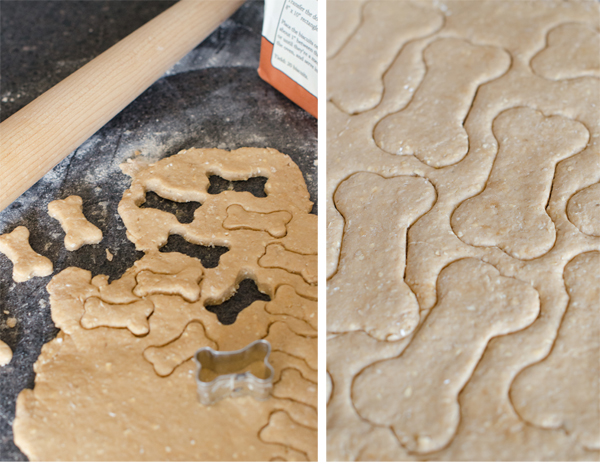 Homemade Peanut Butter Dog Treats
Ingredients
1 1/4 cups whole wheat flour
1 cup oat flour (I used rolled oats and finely ground them in the food processor)
1 teaspoon baking powder
3 tablespoons peanut butter (I used no-stir natural)
1/2 cup (4 oz.) unsweetened applesauce
1 large egg
1/4-1/2 cup hot water
Instructions
Preheat the oven to 375 degrees fahrenheit.
In a large bowl (I used a stand mixer, but you don't have to), combine the wheat flour, oat flour, and baking powder.
Add the peanut butter, apple sauce, and egg, and stir to combine.
Add 1/4 cup of the hot water and mix until combined.
Add the remainder of the hot water a little bit at a time, until the dough reaches the right consistency. It should be pliable, but not sticky. If it becomes sticky, add a little bit more wheat flour.
On a lightly floured surface, roll the dough out about 1/4 of an inch thick.
Use a cookie cutter to cut out individual cookies, and poke a couple of holes in each one with a fork. This will keep them from puffing up too much when they are baking.
Bake on ungreased cookie sheets. I baked the larger dog treats for about 20 minutes, and the smaller ones for 10 minutes.
Cool completely.
http://cakemerchant.com/2013/09/21/homemade-peanut-butter-dog-treats/