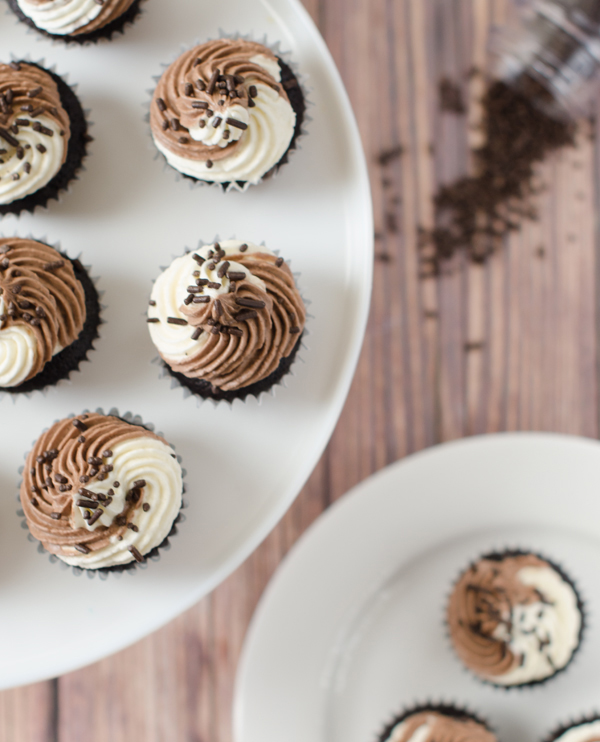 I don't post a lot of mini cupcakes on here, which is a shame, because I make them quite often. Whenever I bake for an event, people almost always request the mini variety, but I'm usually in such a rush to get them out the door, I don't get a chance to take pictures before I have to pack them up and take them to an event. This time, I made sure to set aside a few moments to take pictures of what has to be one of my very favorite mini cupcake recipes.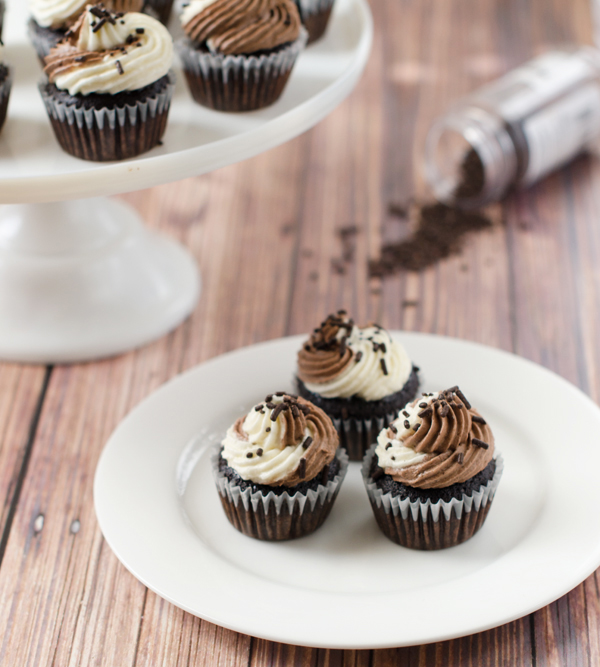 It's a good idea to know to turn any cupcakes recipe into mini cupcakes. Generally, any regular cupcake recipe will yield approximately 3 times as many mini cupcakes. The original vegan chocolate cupcake recipe, which is from Vegan Cupcakes Take Over the World
, makes 12 standard cupcakes, and I usually get between 36-40 of the mini version. I find that this cookie scoop
makes it easy to divide the right amount of batter for mini cupcakes into the pans. Also, the baking time for mini cupcakes is usually around 9-11 minutes, but it's a good idea to keep a close eye on them near the end of the baking time, since it can be a minute between being done and overbaked.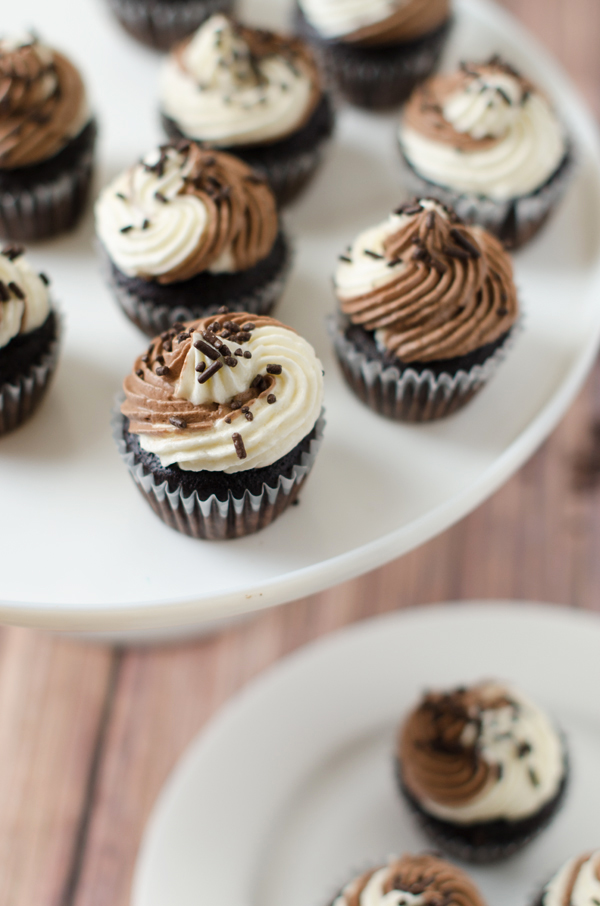 The swirly frosting was really easy to make. I filled one 16-inch decorating bag with vanilla frosting, and another one with chocolate frosting, making sure that neither was much more than half full. Snip off about an inch off the end of each bag, and place them both side by side in another 16-inch decorating bag that has been fitted with a piping tip (I used Wilton 4B). Close off the top of the bag with a rubber band or twisty tie, and pipe the frosting onto the cupcakes as usual. It's a good idea to pipe some icing onto a piece of waxed or parchment paper to test it out the swirly effect before piping directly onto the cupcakes.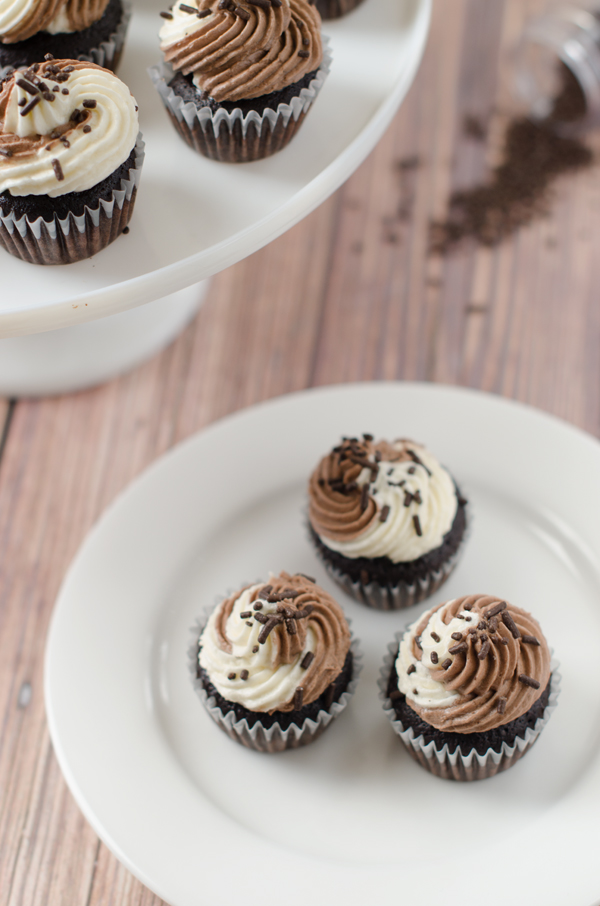 Vegan Mini Vanilla/Chocolate Swirl Cupcakes (and all about mini cupcakes)
Ingredients
For the Cupcakes

For the cupcakes:
1 cup (250 ml) non-dairy milk
1 teaspoon apple cider vinegar
3/4 cup (150 grams) granulated sugar
1/3 cup (79 ml) vegetable oil
1 teaspoon vanilla extract
1 cup (125 grams) all-purpose flour
1/3 (40 grams) cup cocoa
1/2 teaspoon baking powder
3/4 teaspoon baking soda
1/2 teaspoon salt

For the Frosting

3/4 cup (1 1/2 sticks, 170 grams) vegan margarine (I used Earth Balance)
1/2 cup (106 grams) non-hydrogenated shortening (I used Spectrum Organics)
2 1/2 cups (288 grams) powdered sugar (I used Wholesome Sweeteners)
2 teaspoons pure vanilla extract
1/4 (30 grams) cup cocoa powder
Chocolate sprinkles for decorating
Instructions
For the Cupcakes

Preheat the oven to 350. Line the mini cupcake tins with 36 paper liners.
In a large bowl, whisk together the non-dairy milk and vinegar. Set it aside for a couple of minutes to curdle.
Add the sugar, oil, and vanilla to the "buttermilk." Whisk until the mixture is foamy.
In a separate bowl, sift the flour, cocoa, baking soda, baking powder, and salt.
Add the flour mixture into the wet ingredients and mix until all the ingredients are combined.
Divide the batter equally between the cupcake liners and bake for 9-11 minutes.
Cool completely before frosting.

For the Frosting

Beat the shortening and margerine together on medium speed until fluffy.
Add the powdered sugar and beat for another 3 minutes. Start your mixer on low until the powdered sugar is just combined, then increase the speed to medium and continue beating for the remainder of the time.
Beat in the vanilla extract.
Remove half of the frosting and put it into a 16-inch piping bag and snip off approximately one inch of the bottom. Set aside.
Add the cocoa powder to the remainder of the frosting and beat until combined.
Place the chocolate frosting in a 16-inch piping bag, and snip off about one inch of the end of the piping bag.
Place both icing bags in another 16-inch bag that has been fitted with an icing tip.
Pipe the frosting onto the cupcakes cooled cupcakes and decorate with sprinkles.
http://cakemerchant.com/2013/10/08/vegan-mini-vanilla-and-chocolate-swirl-cupcakes/
Notes:
Recipe adapted from Vegan Cupcakes Take Over the World

If you want to make regular sized cupcakes, adjust the baking time to 18-20 minutes.
This cookie scoop
is my favorite for making mini cupcakes and cookies.
Some sprinkles are vegan, and others are not. Check the ingredients to make sure.