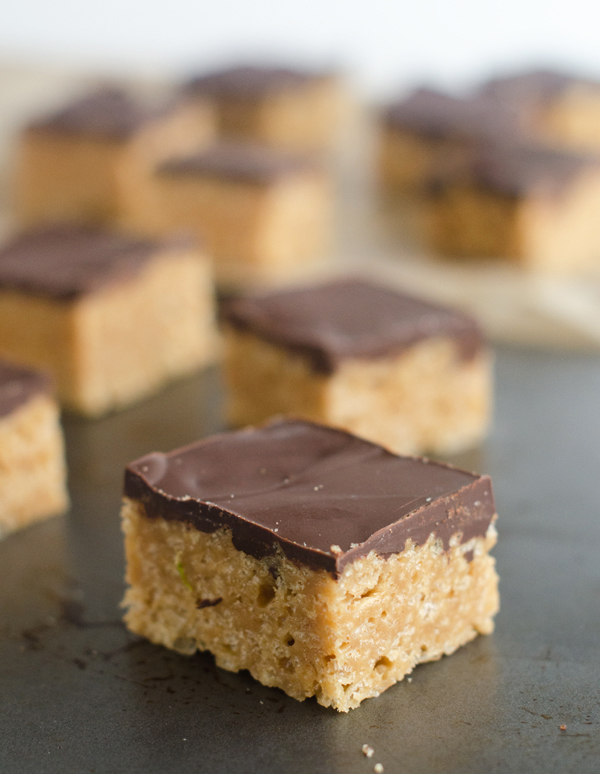 Let me start out by saying that I had no intention of sharing this recipe with you. It's not that I was hoarding it, I just didn't think it was blog worthy. You see, when I plan recipes for the blog, I try to think of desserts that are creative and original, but that also look pretty. These chocolate covered peanut butter rice krispie treats meet none of these criteria.
Since I make so many desserts for the blog, I rarely ever make sweets based on my own cravings anymore, but this was an exception. I really wanted peanut butter rice krispie treats the other day, so I whipped up and devoured them before I even thought about photographing them, but when I made a second batch to send to a friend in a care package, and managed to get a few quick photos. They may not be fancy or original, but sometimes the simplest recipes are the best.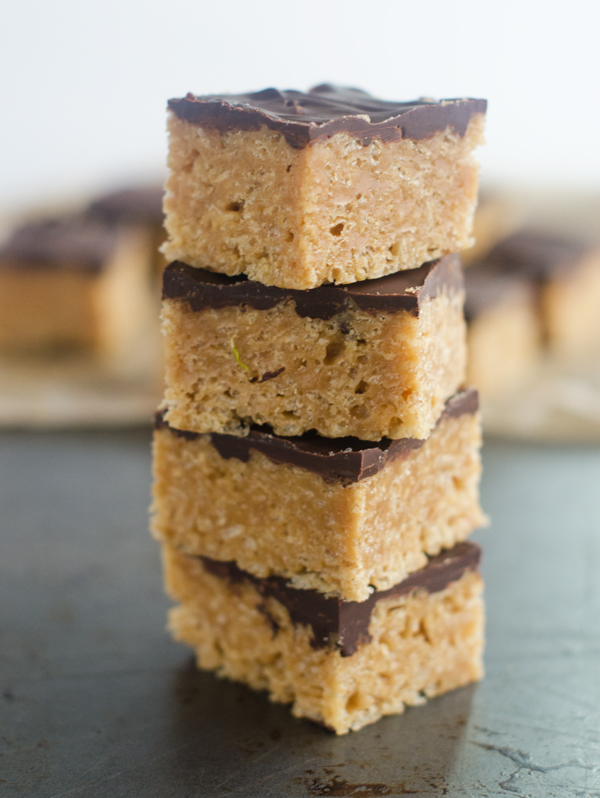 This easy no-bake recipe is originally from here. The only change I made was to make a slightly smaller batch (for the sake of my lack of willpower) with a thicker layer of chocolate on top, because more chocolate is always better.
Update 9/24/15– Since I shared this recipe almost two years ago, this is probably still my favorite recipe on the blog, and the recipe I make the most often. Since I've been known to eat an entire batch in one sitting, I've created a small batch version. Follow the directions in the recipe below, but use these measurements- 1/4 cup corn syrup, 1/4 cup sugar, 1/4 cup peanut butter, 1 1/4 cups rice krispie treats, and 2 ounces chocolate. This small batch recipe fits in a 4 inch x 4 inch pan.
Chocolate Peanut Butter Rice Krispie Treats
Ingredients
3/4 cup light corn syrup
3/4 cup sugar
3/4 cup peanut butter
4 1/2 cups puffed rice cereal
8 ounces chopped chocolate or chocolate chips (I used bittersweet)
Instructions
Line an 8x8 pan with parchment paper, letting some paper hang over each side.
In a 3 quart saucepan, combine the corn syrup and sugar and cook over medium heat, stirring continuously until the mixture comes to a boil.
Remove the pan from the heat and stir in the peanut butter until smooth and combined.
Add in the cereal and stir until well coated.
Press the mixture into the lined pan, and set aside.
In a large microwave safe bowl, heat the chocolate on 50 percent power at 30 second intervals, stirring after each interval until completely melted and smooth.
Spread the melted chocolate over the cereal mixture.
Let stand until firm (If you wish to speed up the process, you can refrigerate the bars, but make sure to bring them back to room temperature before serving).
Hold the parchment paper from both sides and lift the bars out of the pan.
Cut into 16 equal portions.
http://cakemerchant.com/2013/10/22/chocolate-peanut-butter-rice-krispie-treats/