Happy day after Halloween! I made you some whole wheat vegan baked goods to celebrate. You're welcome.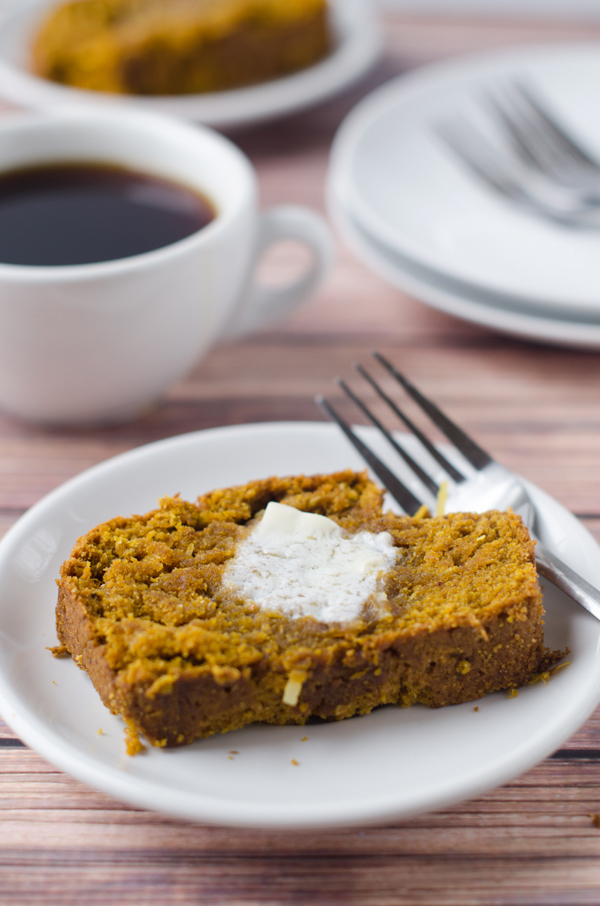 We had one trick-or-treater last night, and enough candy for at least 100. This is the first Halloween in a really long time that I've been in a house and not an apartment, and I was sure we'd get trick-or-treaters, so I wanted to be prepared. Now we have about 10 pounds of leftover candy, some of which I may or may not have already indulged in. I think my tolerance for sugar has gone down significantly since I was of trick-or-treating age, and I definitely feel a bit of a Halloween hangover. It's time for some detox.
This version of pumpkin bread is actually pretty healthy. I replaced the vegetable oil in the original recipe with coconut oil, and replaced the all-purpose flour with whole wheat pastry flour. Whole wheat pastry flour is a great way to sneak in whole grains in cakes and breads, since the texture is more delicate than regular whole wheat flour. You could also try a half and half combo of the whole wheat and all-purpose flours.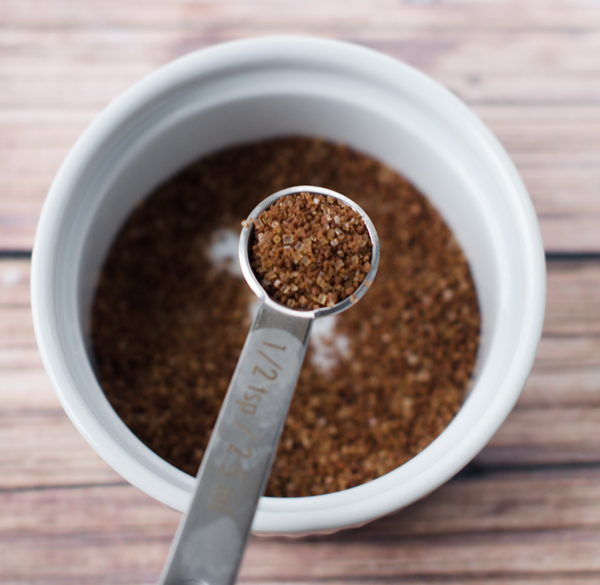 I've made a few batches of this, and decided that I could do without the white sugar completely. It didn't affect the texture negatively when I left it out, and it was plenty sweet. I did, however, add a sprinkling of crystal cinnamon sugar to the top, which is my new favorite thing. You can find the recipe for that here.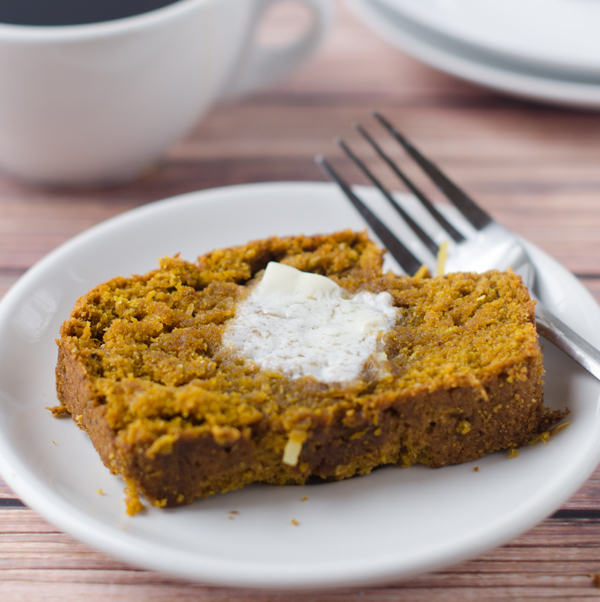 Oh, and the best part about this recipe? It's easy, only requires one bowl, and no mixer is needed. A dump and stir recipe is pretty much all I can handle while I'm still recovering from sugar coma anyway. Serve this with a pat of vegan butter and a side of coffee. Or a green smoothie. Happy detox!
Vegan Whole Wheat Pumpkin Coconut Bread
Ingredients
1 3/4 cups whole wheat pastry flour
1 cup packed dark brown sugar
1 teaspoon baking soda
1/2 teaspoon salt
1/2 teaspoon ground nutmeg
1 teaspoon ground cinnamon
1 cup pumpkin puree
3/4 cup coconut oil, melted and slightly cooled
1/3 cup coconut milk
1/3 cup shredded unsweetened coconut
About 1 teaspoon crystal cinnamon sugar (optional)
Instructions
Preheat the oven to 350 degrees fahrenheit.
Grease an 8x4 inch loaf pan.
In a large bowl, whisk together the flour, brown sugar, baking soda, salt, nutmeg, and cinnamon.
Add the pumpkin puree, coconut oil, and coconut milk and mix together until the flour disappears into the wet ingredients (do not overmix).
Stir in the shredded coconut.
Pour the batter into the prepared pan. If you're going to top the bread with cinnamon sugar, sprinkle it on now.
Bake for 45-55 minutes, until a toothpick inserted into the center comes out clean.
Once you remove the pan from the oven, cover it tightly with foil and allow the bread to steam for 10 minutes.
Remove the foil and let cool completely.
http://cakemerchant.com/2013/11/01/vegan-whole-wheat-pumpkin-coconut-bread/
Recipe adapted from Post Punk Kitchen