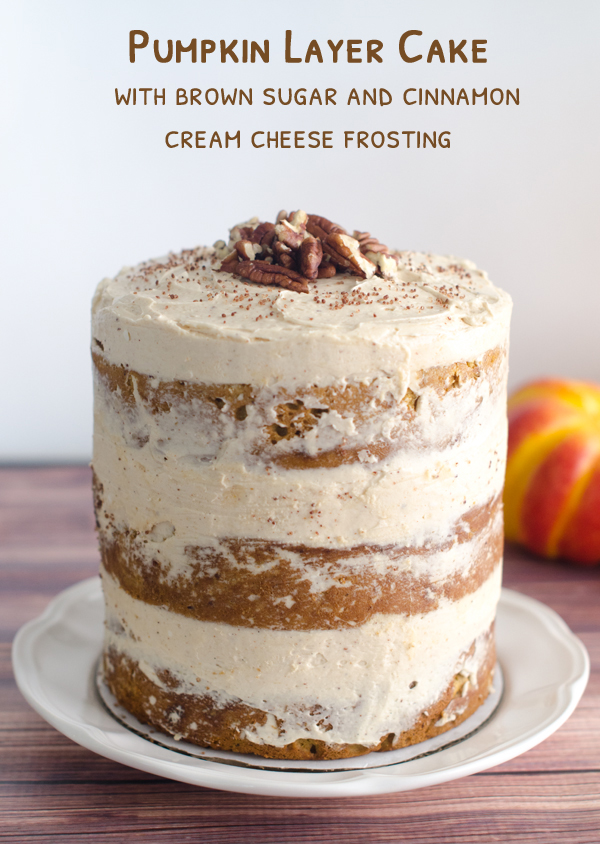 Happy fall! I know fall started weeks ago, but now that I'm visiting my parents in Indiana, it actually fells like it. I haven't lived in a cold climate for almost 10 years now, and it's been a long time since I've seen fall colors. This year, I caught more of the tail end yellows and browns than the bright reds and oranges, but it was still nice to see. This pumpkin layer cake is the perfect fall dessert, and would make a great addition to your Thanksgiving spread.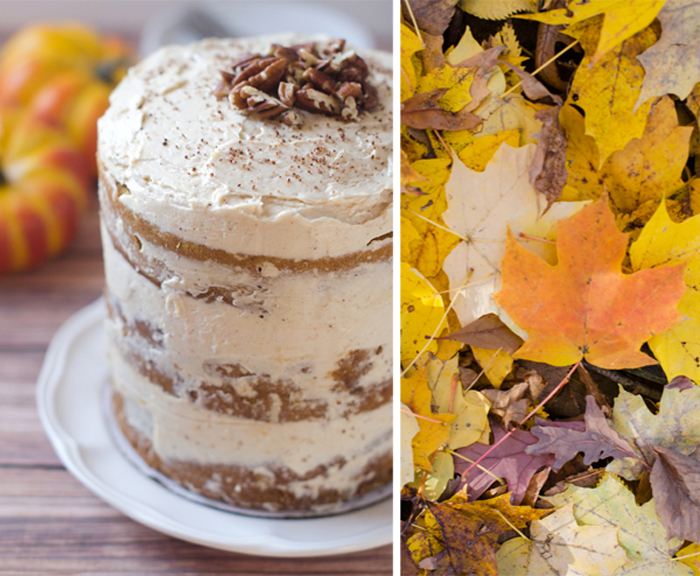 You may be wondering why you should care yet about another pumpkin cake recipe on the internet. Here's why:
1. It's small (only 6 inches) but really tall.
2. Swiss meringue buttercream can be made with cream cheese! (keep reading for details)
3. It looks good naked.
Let's start with the naked part. I've been wanting to try frosting a cake this way forever, but I just can't let go, and I keep frosting until I have smooth sides and a straight top. Seriously, it's like a disease. Who knew there was such a thing as frosting OCD. Anyway, I thought fall might be a good time to experiment with a more rustic look, and luckily this time (partially because I was short on time), I didn't overwork it.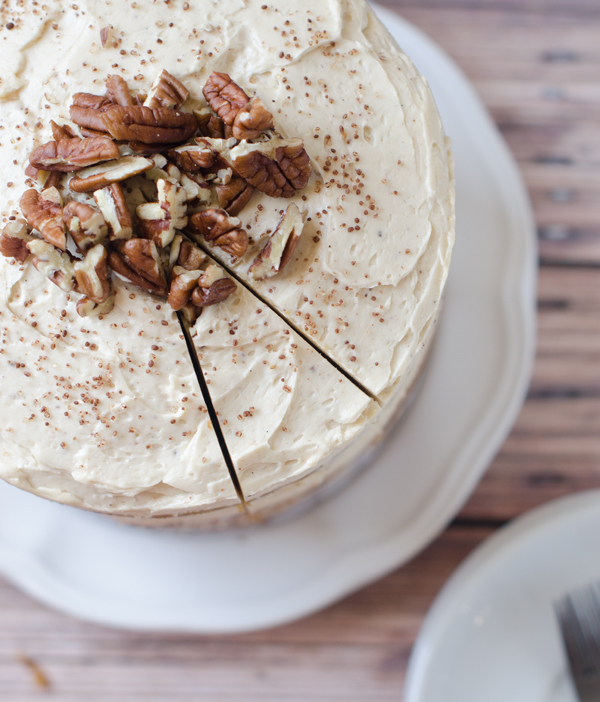 This doesn't mean that the cake is short on frosting by any means. There are piles of Swiss meringue buttercream in between each layer. While we're on the subject of frosting, let's talk about this cream cheesy Swiss meringue buttercream. I was planning to make a regular SMBC with brown sugar instead of white, but when I found this cream cheese variation on Bravetart's website, I was sold. This has to be the world's most perfect frosting. If you think American buttercream is too sweet, you will love the subtle sweetness and caramel notes of this brown sugar frosting. And if you think SMBC is too buttery (a common complaint) the addition of the cream cheese tames the butteriness. I also added a couple of teaspoons of cinnamon, which was enough to give a good kick, but not enough to obliterate the flavor of the brown sugar. It's truly a crowd pleaser.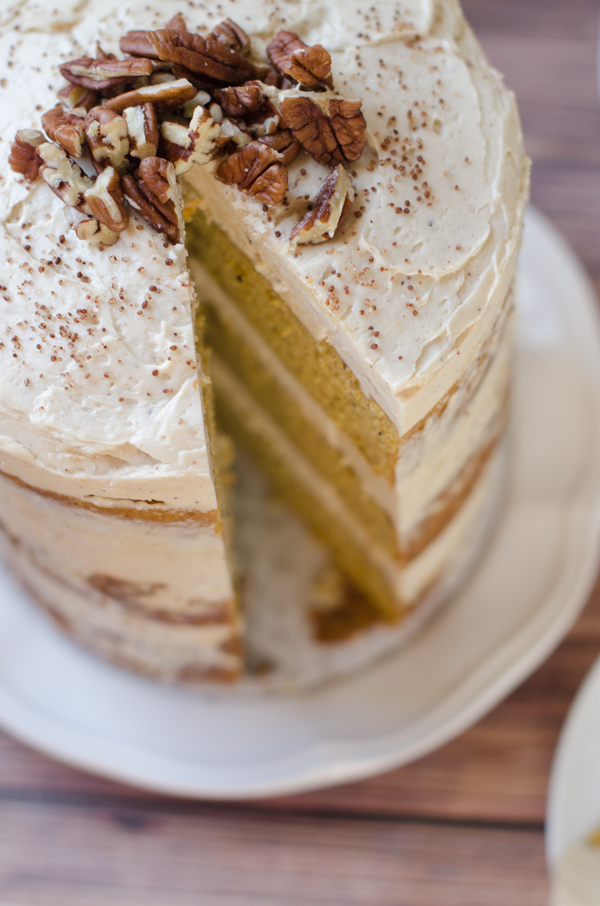 I'm a fan of really tall cakes, but if you want to make this and transport it somewhere, I would recommend using 7-inch pans. The 6-inch version was just a little too tall to fit in my cake caddy, and a 7-inch version would still have the tall, show stopping quality while being a little easier to transport. If you do use 7-inch pans, I would start checking the cake at around 30 minutes, as it won't take quite as long to bake.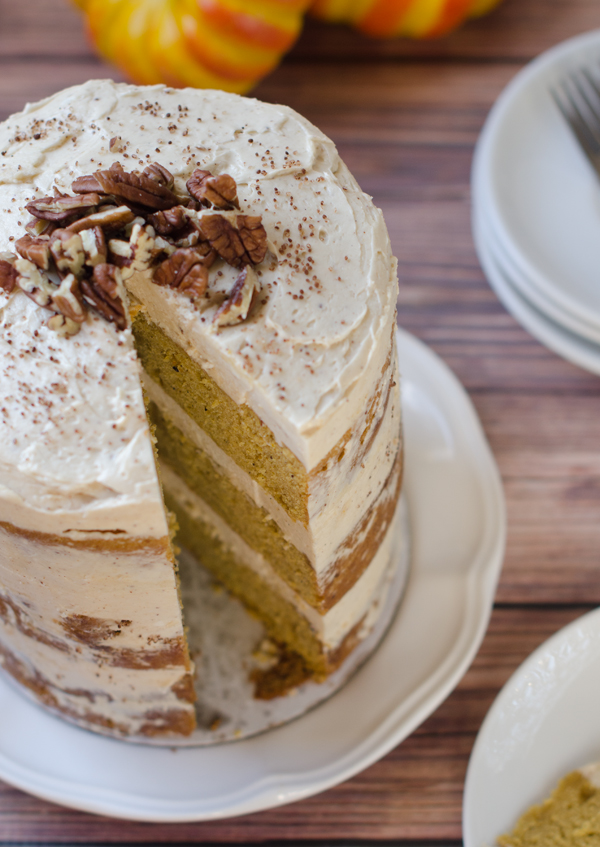 If you're new to or wary of Swiss meringue buttercream, here are a few links that will make your life easier.
Swiss Meringue Buttercream by Bravetart
Swiss Meringue Buttercream Demystified by Sweetapolita- this one has a step-by-step tutorial
Swiss Meringue Buttercream by Sprinkle Bakes- this one has a video tutorial
How To Fix Swiss Meringue Buttercream by Confections of a Foodie Bride- this one has trouble shooting tips that have saved me on more than one occasion. If you keep beating and the frosting just won't come together, the microwave trick really works!
Don't forget to wipe down all of your tools with vinegar before you start, as greasy utensils make for a weepy meringue. Also, some of these tutorials switch over to the paddle attachment at some point, but I use the whisk attachment the whole time.
Update 10/7/15: After making this frosting several times, I've changed the mixing method and have had much better success. I hope you will too!
Pumpkin Layer Cake with Brown Sugar and Cinnamon Cream Cheese Frosting
Ingredients
For the Cake

3 cups (375 grams) all purpose flour
2 teaspoons baking powder
1 teaspoon baking soda
2 teaspoons ground cinnamon
1/2 teaspoon ground ginger
1 teaspoon salt
1 cup (226 grams) unsalted butter, room temperature
1 cup (200 grams) granulated white sugar
1 cup (215 grams) golden brown sugar, packed
4 large eggs, at room temperature
2 teaspoons (10 ml) pure vanilla extract
1 15 oz. can (425 grams) pumpkin puree

For the frosting

5 ounces (140 grams) egg whites
5 ounces (140 grams) golden brown sugar
1/2 teaspoon salt
8 ounces (226 grams) unsalted butter, cut into 2 inch chunks and at room temperature
8 ounces (226 grams) cream cheese, at room temperature
2 teaspoons (10 ml) pure vanilla extract
2 teaspoons cinnamon
Pecans and/or cinnamon sugar for garnish (optional)
Instructions
For the Cake

Preheat the oven to 350 degrees fahrenheit.
Grease and line 3 6x2 inch round pans with parchment paper.
In a large bowl, whisk together the flour, baking powder, baking soda, cinnamon, ginger, and salt.
With an electric mixer, beat the butter, granulated sugar, and brown sugar together on medium high until light and fluffy (about 2-3 minutes).
Beat the eggs in one at a time on medium speed, scraping down the sides of the bowl when necessary.
Add the vanilla extract and beat until combined.
With the mixer on low, beat in the pumpkin puree and flour mixture in 3 additions, alternating between them and starting and ending with the flour mixture.
Divide the batter evenly between the 3 pans (I used a scale to do this) and bake for 35-40 minutes, until a toothpick inserted into the center comes out clean.
Cool on wire racks for 15 minutes.
Turn the cakes out of the pan onto the wire racks and cool completely.

For the frosting:

In a large bowl (I used the bowl of my stand mixer), combine the egg whites, brown sugar, and salt.
Place the bowl over a pot of simmering water and whisk often. The water should not touch the bowl, since it's the steam that will be heating the egg whites. If they heat up too fast, you'll end up with scrambled eggs.
Using a candy thermometer, heat the mixture to 160 degrees fahrenheit while continuing to whisk the mixture. 160 degrees is for food safety issues. If I use pasteurized egg whites (which I do often), i generally stop heating around 145-150 degrees until the sugar has dissolved.
Remove the egg white from the heat and use a whisk attachment to beat the egg whites on medium high until stiff peaks form and the meringue has doubled in volume (about 8-10 minutes). At this point, the meringue should look stiff and glossy, and the bowl should be neutral (not warm) to the touch. If your meringue is still warm, you'll run into problems later.
Turn the mixer down to low and mix in the cubes of softened butter, one at a time until they become incorporated into the mixture. If it looks curdled, keep mixing until it comes together. If it still looks curdled after 5 minutes, place the entire bowl in the fridge for 15 minutes and mix it again until it becomes fluffy.
Add the vanilla extract and cinnamon and beat to combine.
Once the frosting has become light and fluffy, transfer it to a separate bowl.
Add the cream cheese to the mixer and beat it until it is smooth.
Add the finished frosting to the cream cheese a little bit at a time until it has all become incorporated and the frosting is smooth.

To Assemble the Cake:

Place one layer of cake on a 6-inch cake board.
Place 1/3 of the frosting one top, and use an offset spatula to spread evenly over the cake.
Do the same with the next two layers.
Fill in any gaps between the layer with additional frosting if you wish, and top with cinnamon sugar and pecans.
http://cakemerchant.com/2013/11/10/pumpkin-layer-cake-brown-sugar-cinnamon-cream-cheese-frosting/
Cake recipe adapted from Joy of Baking
Frosting recipe adapted from Bravetart