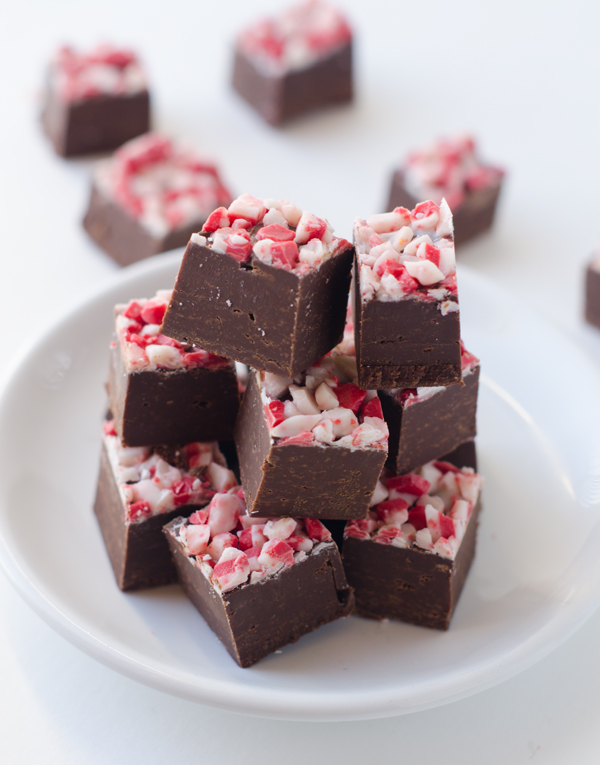 Raise your hand if you haven't even thought about Christmas presents yet. Yup, me too. Procrastinators unite! If you're in the same boat as I am, fear not. I'll be posting several last minute, really easy recipes this week that are perfect for giving as gifts. Today's fudge recipe only has 5 ingredients, takes 5 minutes, and no candy thermometer is required. I've tried a lot of "foolproof" fudge recipes, and this one is by far my favorite. It's smooth and creamy, and it's a great base recipe that can topped with just about anything.
One of my favorite things about this time of year are all the fun holiday baking ingredients that are available. I used Andes Peppermint Crunch Baking Chips in this recipe, since they have a texture that's similar to chocolate chips with just the right amount of crunch. If you can't find these or want a crunchier texture, you can use candy cane bits instead.
Easy Dark Chocolate Peppermint Crunch Fudge
Ingredients
3 cups bittersweet chocolate chips (I used Ghirardelli 60%)
1 14 oz. can sweetened condensed milk
2 tablespoons unsalted butter
1 teaspoon vanilla extract
About 1/2 cup peppermint crunch baking chips
Instructions
Line an 8 or 9-inch square pan with with foil, leaving an overhang on 2 sides. Spray the foil with cooking spray.
In a large non-stick sauce pan, combine the chocolate chips, condensed milk, and butter.
Heat over low heat for about 5 minutes, stirring until the mixture is melted and smooth.
Remove from heat and stir in the vanilla extract.
Pour the chocolate mixture into the lined pan and spread evenly.
Top with peppermint crunch chips immediately, since the mixture will be thick and start to set up quickly. Press them into the mixture lightly before they begin to melt (this prevents them from falling off when you cut the fudge later).
Place the pan in the refrigerator until chilled (about 2 hours).
When you are ready to serve the fudge, use the foil overhang to lift it out of the pan.
Cut the fudge into one inch squares and enjoy!
http://cakemerchant.com/2013/12/18/easy-dark-chocolate-peppermint-crunch-fudge/
Recipe adapted from here