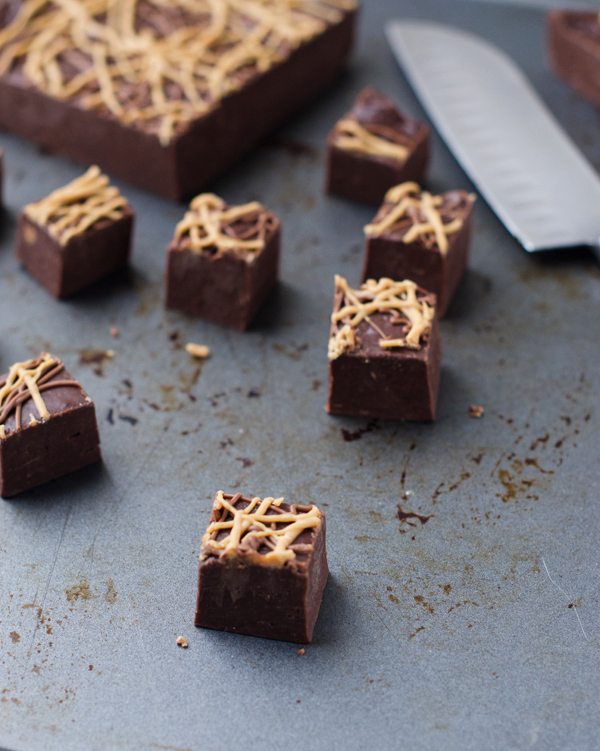 I've got more fudge comin' atcha today! Why? Because it's delicious. And easy. I wish I could find a more articulate way to describe it, but I feel like I've used up all my words for 2013. Seriously, my brain is fried, and I've been stress eating chocolate peanut butter fudge for the last several days. Sorry to all of those friends whose Christmas gift boxes ended up being a little smaller!
My favorite part about this fudge? The swirls on top. They're super easy to do, but they look fancy. Sure, you could buy boxes of candy at the store, but that would require you to leave the house. You can make this at home in your pajamas! Have I sold you yet? Go make this fudge! Your friends/family/neighbors will love you.
Easy Chocolate Peanut Butter Fudge
Ingredients
For the fudge

1 12 oz. package (about 2 cups) semi-sweet chocolate chips
1 cup peanut butter chips
1 14 oz. can sweetened condensed milk
2 tablespoons butter
pinch of salt
1 teaspoon vanilla extract

For the topping

1/4 cup milk chocolate chips
1/4 cup peanut butter chips
1/2 tablespoon creamy peanut butter
Instructions
Line an 8 or 9-inch square pan with with foil, leaving an overhang on 2 sides. Spray the foil with cooking spray.
In a large non-stick sauce pan, combine the chocolate chips, peanut butter chips, condensed milk, butter, and salt.
Heat over low heat for about 5 minutes, stirring until the mixture is melted and smooth.
Remove from heat and stir in the vanilla extract.
Pour the fudge mixture into the lined pan and spread evenly.
Place the pan in the refrigerator until chilled (about 2 hours).
After the fudge has chilled, make the topping.
In a small bowl, melt the milk chocolate chips. You can do this in the microwave on medium heat for 30 second intervals, stirring after each interval.
Do the same with the peanut butter chips and peanut butter (peanut butter chips are thick when melted, so adding the peanut butter will make it easier to drizzle).
Put the melted milk chocolate and peanut butter chips into 2 separate piping bags or plastic bags.
Snip off a small amount off the end or corner and drizzle over the top of the fudge.
Return the pan to the fridge for about 5 minutes, until the drizzle has set.
When you are ready to serve the fudge, use the foil overhang to lift it out of the pan.
Cut the fudge into one inch squares and enjoy!
http://cakemerchant.com/2013/12/21/easy-chocolate-peanut-butter-fudge/