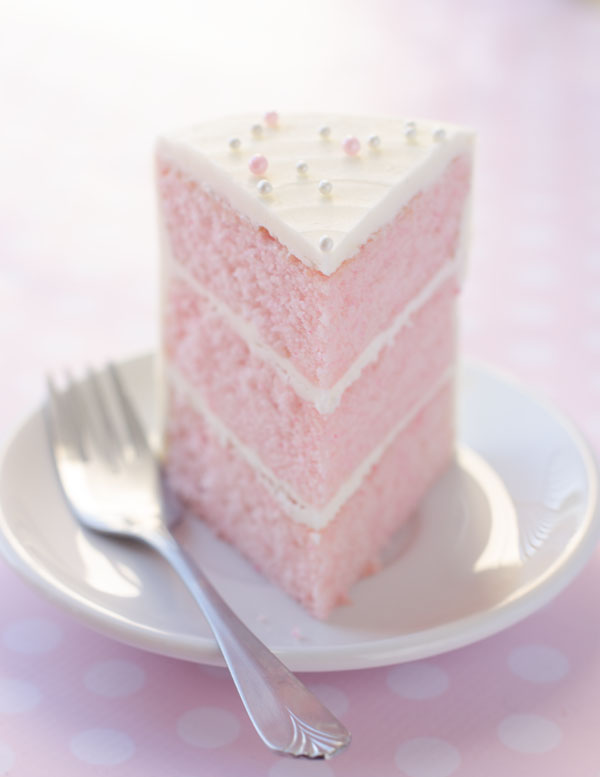 Last week, I was asked to make a sprinkly pink birthday cake for a friend's 3 year old daughter (you can see the photos on instagram). Normally, I'm not really into pink or anything very girly for that matter, but there was something really fun about making a cake with pink frosting, loads of sprinkles, and big ruffly borders.
After looking for pink birthday cake inspiration, I came across this recipe for a Pink Almond Cake. While I didn't end up making it for the birthday party, I couldn't get pink almond out of my head. The original Betty Crocker version uses a boxed mix, but I wanted a light and fluffy cake from scratch. In the end, I ended up pairing down one of my favorite recipes from Baking Illustrated
to make a 3 layer 6-inch cake. I omitted the big ruffly borders this time, but feel free to frill it up as you please.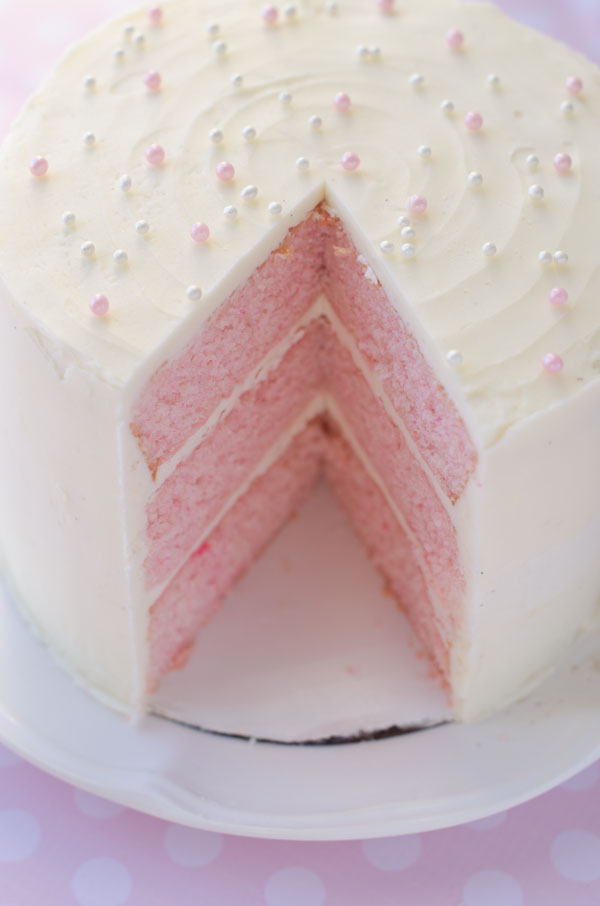 So what makes it a party cake? Well, it's topped with sugar pearls, which automatically makes it festive (and fancy). Plus, my parties tend to be on the smaller side. They usually involve 4 or 5 friends, some music making, cake, and a frosting loving orange cat. This little cake is the perfect size for such a gathering- enough cake for everyone with a piece or two leftover. Having a bigger party? No worries, just multiply all of the ingredients by 2, and you'll have a 3 layer 9-inch cake.
Ingredients
For the Cake:

1 1/2 cups (170 grams) cake flour
2 1/2 teaspoons baking powder
1 cup plus 2 tablespoons (230 grams) granulated sugar
3/4 teaspoon salt
2/3 cup (160 ml) whole milk, at room temperature
4 large egg whites, at room temperature
2 teaspoons almond extract
1 teaspoon vanilla extract
1/2 cup (1 stick, 113 grams)) unsalted butter, at room temperature and cut into chunks
a few drops of pink food coloring (I used Americolor deep pink)

For the frosting:

1 1/4 cups (2 1/2 sticks, 280 grams) unsalted butter, at room temperature
3 cups (360 grams) powdered sugar
1 teaspoon almond extract
1/2 teaspoon vanilla extract
pinch of salt
Sprinkles or sugar pearls for decoration
Instructions
Preheat the oven to 350 degrees fahrenheit.
Grease 3 6-inch pans and line the bottoms with parchment paper.
In a large mixing bowl (or the bowl of a stand mixer), combine the flour, baking powder, sugar, and salt. Whisk or beat together for about 30 seconds.
In a measuring cup, whisk together the milk, egg whites, almond extract, and vanilla extract until well blended.
Add the butter, one chunk at a time, into the flour mixture with the mixer on low speed. Continue mixing until the butter is incorporated and the mixture resembles moist crumbs.
Add all but 1/3 cup of the milk mixture into the crumbs and beat on medium speed for about 90 seconds.
Add the rest of the milk and food coloring and beat for another 30 seconds on medium speed.
Scrape down the sides of the bowl with a spatula and beat for 20 more seconds.
Divide the batter equally between the 3 pans (I used a kitchen scale to do this) and bake for 20-23 minutes, until a toothpick inserted into the center of the cake comes out clean.
Let the cakes cool in the pans for 15 minutes on wire racks.
Turn the cakes out of the pans and cool completely on wire racks before frosting.

For the frosting:

With an electric mixer, beat the butter on medium high speed until light and creamy (about 2-3 minutes).
Add the powdered sugar, and beat on low until combined.
Turn the mixer up to medium high and beat for an additional 2 minutes.
Add the almond and vanilla extract and beat to combine.

To Assemble the Cake:

Place one layer of the cake on a 6-inch cake board.
Spread about 1/2 cup of frosting evenly over the top.
Add the second layer and do the same.
Place a generous scoop of frosting on the top of the cake, and spread evenly across the top of the cake with an offset spatula. Work your way around the sides until the entire cake is covered with a thin layer of frosting. I find that a turntable is helpful when frosting a layer cake. Let the crumb coat set in the fridge for about 30 minutes.
Once the crumb coat has set, spread a thicker layer of frosting on the top and sides of the crumb coat to create a smooth finish.
Top with sugar pearls or sprinkles.
http://cakemerchant.com/2014/01/19/pink-almond-party-cake/
Cake recipe adapted from Baking Illustrated

Inspired by Betty Crocker
Notes:
You can bring eggs to room temperature quickly by placing them in a bowl of warm water for 30 minutes.
You can substitute liquid egg whites for regular egg whites. 4 egg whites = 4 ounces or 113 grams.
The frosting recipe makes enough to fill, crumb coat, and frost the cake. If you want to do borders or more elaborate decorations, multiply the recipe by 1.5.
If you're making a 3 layer 9-inch cake, you will need to adjust the baking time.
Tools I used to make this cake:
6 x 2 Inch Round Cake Pans

Cake Strips

Cake Decorating Turntable

Large Offset Spatula

Small Offset Spatula

Bench Scraper