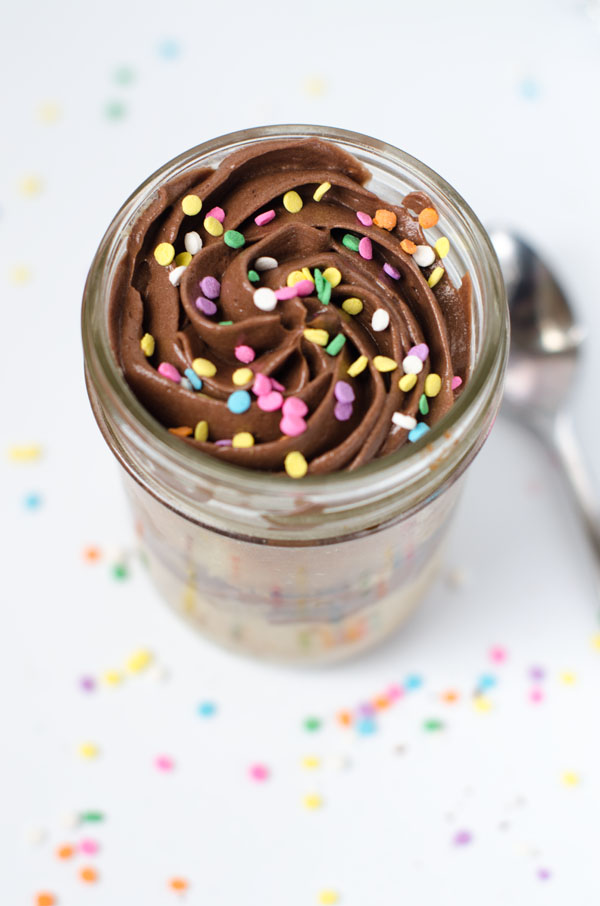 Now that Valentine's Day is over, let's get on to more important things. Like my birthday. Technically it's not until Wednesday, but I like to make my birthday week filled with as many obnoxiously sprinkly posts as possible. Unfortunately, I'm going out of town tomorrow for work for my entire birthday week, so I went with a sprinkly portable cake that I plan to take with me on my trip. Don't worry, though, my real birthday cakes (I always make two) will be coming, but just a little later than usual.
I totally meant to post these little jar cakes for Small Batch Saturday, but Saturday turned into Sunday, so Small Batch Sunday it is. I'm trying my best to stick with the schedule, but this every other week thing is way too complicated for me. Anyway, this recipe makes 2 little cakes which can be baked directly in mason jars.
I chose yellow cake with mocha frosting because when I was a kid, I only liked 2 kinds of cake- yellow cake with chocolate frosting, or mocha cake with mocha frosting. Both were from a cake mix, and I'm embarrassed to say that the frosting was usually from a can. By the way, whatever happened to mocha flavored cake mix? Does anyone else remember that? These little cakes are combination of my two favorite childhood flavors.
Not pictured: Aaron trying to steal a jar of cake and me running after him with a squirt bottle screaming, "Drop the cake!" We are so mature.
Ingredients
For the Cake:

3 tablespoons buttermilk
1/8 teaspoon baking soda
Yolk of 1 large egg
1/2 teaspoon pure vanilla extract
3 tablespoons unsalted butter, melted and cooled
1/2 cup all-purpose flour, sifted
1/3 cup sugar
1/4 teaspoon salt

For the frosting

6 tablespoons unsalted butter, at room temperature
1/2 cup powdered sugar
1 tablespoon good quality cocoa powder (I used Valrhona)
1/2 teaspoon coffee extract
1 teaspoon milk
sprinkles for topping
Instructions
For the Cake:

Preheat the oven to 350 degrees fahrenheit.
Grease and flour 2 half pint sized mason jars (or use a baking spray such as Baker's Joy or Cake Release).
In a small bowl, whisk together the buttermilk and baking soda until the baking soda is dissolved.
Add the egg yolk, vanilla, and melted butter. Whisk to combine.
In a medium bowl, whisk together the flour, sugar, and salt.
Add the buttermilk mixture to the flour mixture and whisk until thoroughly combined.
Divide the batter equally between the prepared jars. Place the jars on a cookie sheet and bake for 25 minutes, or until a toothpick inserted into the center comes out clean.
Cool for 10 minutes. Run a knife around the sides of the cakes, and turn them out onto a cooling rack. Cool completely before frosting.

For the frosting:

With an electric mixer, beat the butter on medium speed for about 2 minutes, until it has become light and creamy.
Add the powdered sugar and cocoa powder and beat on low to combine.
Turn the mixer up to medium and beat for an additional minute.
Add the coffee extract and milk and beat to combine.

Assembly:

Place the frosting in a 12-inch piping bag fitted with a star tip
If your cake has domed up on the top, slice it off to make the cake flat (the dome is perfect for taste testing).
Slice the cake horizontally into 2 even layers.
Place one layer of the cake in the bottom of the jar.
Pipe a layer of frosting over the cake.
Add an additional layer of cake and pipe an additional layer of frosting.
Top with sprinkles.
http://cakemerchant.com/2014/02/16/birthday-cakes-jar/
Cake recipe adapted from Small-Batch Baking