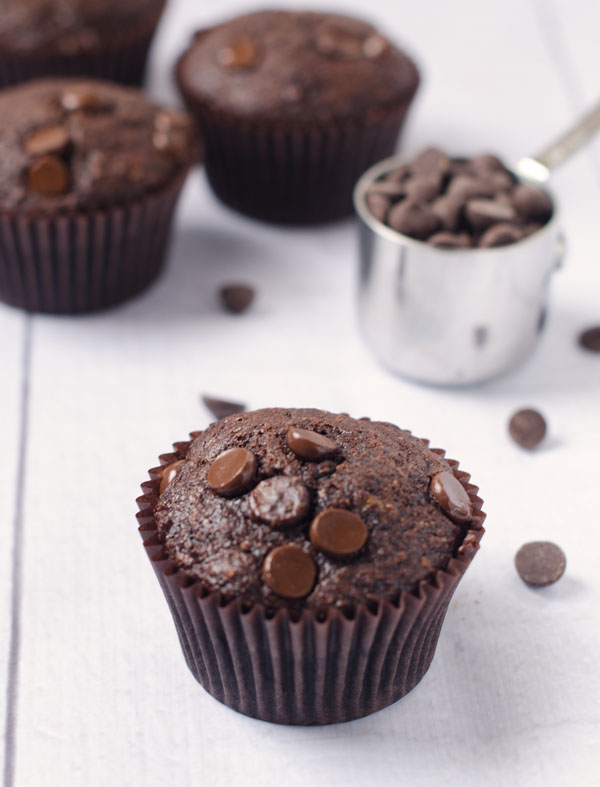 It's Small Batch Saturday! This recipe, like so many others out there in the blogosphere, was inspired by an overly ripe banana (and a chocolate craving). I made this on a whim, dumped a few ingredients I had on hand in my mixer, and ended up with a delicious chocolaty muffin. This has to be some kind of miracle, because nine times out of ten when I experiment, I end up with a gloopy mess.
Since muffins are one of those baked goods that are most definitely best eaten fresh, this small batch recipe is ideal when you're only baking for 2 people. You'll get 5 muffins out of this. The first muffin should be eaten right away by the baker for testing purposes, of course. That leaves one each to be eaten for breakfast, and one each to be eaten the next day. Aaron took his to work to make his coworkers jealous, and I took mine for a snack on my trip home to visit my family. As I sat at the airport eating my chocolaty goodness, I could not help but judge the lady sitting across from me eating her stale Starbucks banana bread.
Whole Wheat Double Chocolate Banana Muffins
Ingredients
1/2 cup white whole wheat flour
2 1/2 tablespoons Dutch-process cocoa
1/3 cup brown sugar
1/2 teaspoon baking powder
1/8 teaspoon salt
1 egg
1 teaspoon vanilla extract
2 tablespoons vegetable oil
1/2 cup (about 1 large) mashed ripe banana
1/4 cup (heaping) semi-sweet chocolate chips, plus additional for topping
Instructions
Preheat the oven to 350 degrees fahrenheit and line a muffin tin with 5 paper liners.
In a medium bowl, whisk together the flour, cocoa, brown sugar, baking powder, and salt.
Add the egg, vanilla, and vegetable oil and beat with an electric mixer on medium low until just combined.
Add the banana and beat on medium low speed to combine.
Add the chocolate chips and stir to combine.
Divide the batter between the 5 liners (they should be about 1/2 full) and sprinkle additional chocolate chips on top of the muffins. Bake for 15-18 minutes, until a toothpick inserted into the center comes out almost clean (there can be a few crumbs, but no wet batter).
Cool completely on wire racks.
http://cakemerchant.com/2014/03/08/whole-wheat-double-chocolate-banana-muffins/
Notes:
White whole wheat flour was just what I happened to have on hand, but you can use whole wheat pastry flour or all-purpose flour as well.
If you don't have an electric mixer, you can make this by hand.