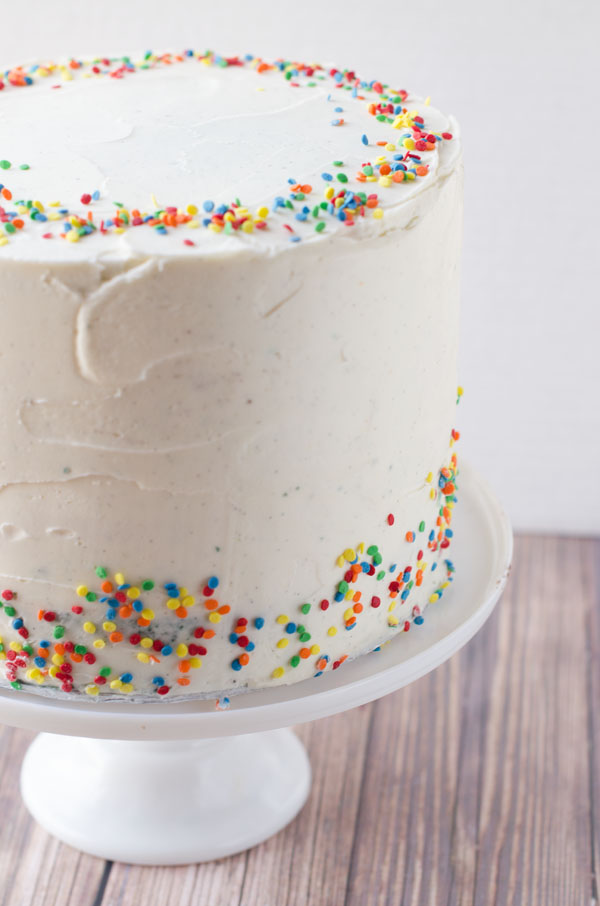 I've got a big, colorful cake for you today! My friend Ruth Ann runs a chamber music series here in Dallas, and I always make the desserts for the receptions after the concerts. Since last week was the final concert of the season, I decided to go all out with this 4 layer cake. I chose to color each layer to match the organization's logo, but you can use whatever colors you want (pastels would be great for Easter). I did have one lady at the reception tell me that the yellow layer was her favorite because it was the most buttery. Hmmm…maybe I'll start dyeing all of my cakes yellow from now on.
This cake serves a lot of people. Seriously, it's a monstrosity- 4 big layers of vanilla cakey goodness. I had originally intended to double my favorite vanilla cake recipe from Baking Illustrated
, but I needed something that was a little bit sturdier and didn't dry out as quickly, since I knew I would be making it in advance. After some experimentation, I decided to replace half of the milk with sour cream, and use a combination of whole eggs and egg whites instead of just egg whites. I was pretty pleased with the result. I omitted the almond extract, since I avoid nuts like the plague when baking for large events, but feel free to add a teaspoon. It really enhances the flavor.
The recipe pictured below was baked in 8-inch pans, which is great if you like tall cakes. However, it was somewhat difficult to frost and didn't fit in my cake caddy. For a more manageable cake, I would recommend using 9-inch pans.
While we're on the subject of layer cakes (specifically vanilla cakes), let talk about tools, shall we? I'm convinced that there are 2 tools every baker needs for a flawless vanilla cake. The first is an oven thermometer
. Chances are, your oven isn't 100 percent accurate, and burnt cakes are no fun. The next is a kitchen scale
. It's necessary. folks. It takes some getting used to, but once you do, the measuring cup method seems like a pain. Plus, there are less dishes with the weight method! They way I see it, you have two choices. You can use cups and hope for a good result, or you can get a kitchen scale and get the perfect cake every time.
Ingredients
For the Cake:

1 cup whole milk (240 ml), at room temperature
8 large egg whites (240 grams), at room temperature
2 large eggs, at room temperature
1 tablespoon vanilla bean paste
4 1/2 cups (515 grams) cake flour, plus more for dusting the pans
3 1/2 (700 grams) cups granulated sugar
2 tablespoons baking powder
2 teaspoons table salt
24 tablespoons unsalted butter (3 sticks/340 grams), at room temperature and cut into chunks
1 cup (226 grams) full fat sour cream
a few drops of gel food coloring

For the frosting:

6 sticks (680 grams) unsalted butter, at room temperature
5 cups (575 grams) confectioners' sugar
1 tablespoon (15 ml) vanilla bean paste
pinch of salt
sprinkles for decorating
Instructions
For the Cake:

Preheat the oven to 350 degrees fahrenheit.
Grease 4 8 or 9-inch pans and line the bottoms with parchment paper.
In a measuring cup, whisk together the milk, egg whites, eggs, and vanilla bean paste until well blended.
In a large mixing bowl (or the bowl of a stand mixer), combine the flour, baking powder, sugar, and salt. Whisk or beat together for about 30 seconds.
Add the butter, one chunk at a time, into the flour mixture with the mixer on low speed. Continue mixing until the butter is incorporated and the mixture resembles moist crumbs.
Add the milk mixture into the crumbs and beat on medium speed for about 90 seconds.
Add the sour cream and beat for another 30 seconds on medium speed.
Scrape down the sides of the bowl with a spatula and beat for 20 more seconds.
If you want to add food coloring, divide the batter equally between the 4 bowls. Add a couple of drops of gel food coloring to each bowl and mix with a spatula until the color is evenly distributed.
Spread each layer into a separate cake pan and bake (about 23 minutes for a 9-inch cake and 27 minutes for an 8-inch cake) until a toothpick inserted into the center comes out clean.
Let the cakes cool in the pans for 15 minutes on wire racks.
Turn the cakes out of the pans and cool completely on wire racks before frosting.

For the frosting:

With an electric mixer, beat the butter on medium high speed until light and creamy (about 2-3 minutes).
Add the powdered sugar, and beat on low until combined.
Turn the mixer up to medium high and beat for an additional 2 minutes.
Add the vanilla bean paste and salt and beat to combine.

To Assemble the Cake:

Place one layer of the cake on an 8 or 9-inch cake board.
Spread about 3/4 cup of frosting evenly over the top.
Do the same with the second and third layer.
Place a generous scoop of frosting on the top of the cake, and spread evenly across the top of the cake with an offset spatula. Work your way around the sides until the entire cake is covered with a thin layer of frosting. I find that a turntable is helpful when frosting a layer cake. Let the crumb coat set in the fridge for about 30 minutes.
Once the crumb coat has set, spread a thicker layer of frosting on the top and sides of the crumb coat to create a smooth finish.
Top with sprinkles.
http://cakemerchant.com/2014/04/04/vanilla-sour-cream-cake/
Notes:
You can bring eggs to room temperature quickly by placing them in a bowl of warm water for 30 minutes.
You can substitute liquid egg whites for regular egg whites.
If your frosting is too stiff, you can add a couple of tablespoons of milk to reach a spreadable consistency.
I like using vanilla bean paste
because you can see the flecks of vanilla bean, but feel free to sub with pure vanilla extract.