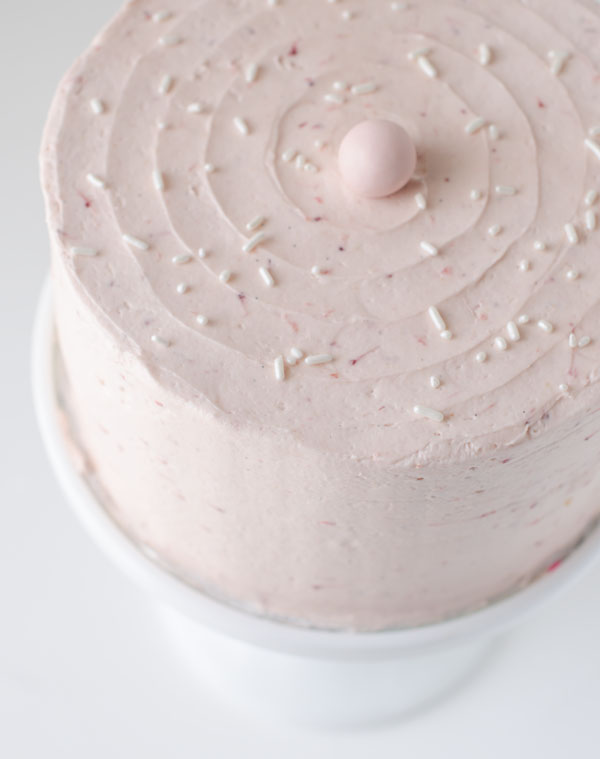 One of the things I miss most about living in Los Angeles is having access to all different kinds of food at any time of the day. After I finished graduate school, like all good starving artists, I worked at a restaurant to make ends meet. My weekend shift usually ended around 10:30, and my roommate and I would often find ourselves at Canter's Deli at midnight, drinking malts and eating fries.
Other than Whoppers, I had never had malted anything until then, but malted milkshakes got me addicted to the flavor. Now I want to put malted milk powder in everything, because it adds such a unique depth of flavor to baked goods. I added just enough to this frosting so that you know something's up, but you're not sure what exactly it is. However, if you want a less subtle malt flavor, feel free to add more.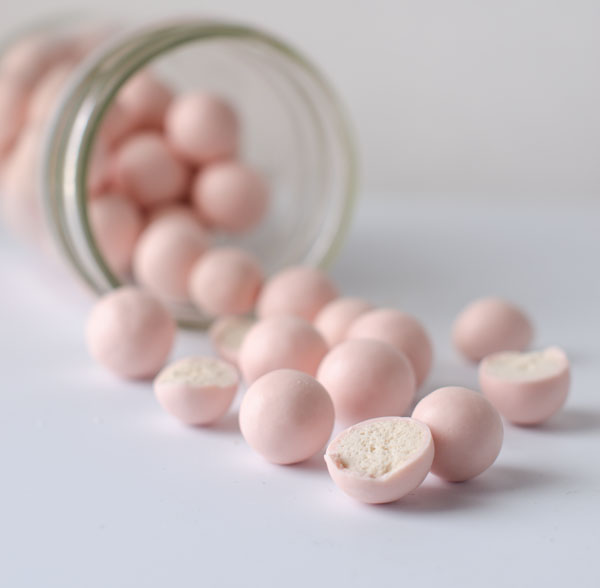 This cake was inspired not only by my LA days, but also by a pack of strawberry malt balls I saw while grocery shopping. I usually got vanilla and chocolate malts when I was at Canter's, but I was intrigued by the combination of strawberry and malt. I kind of expected them to be gross, so I'm not sure why I bought them, but they were surprisingly delicious.
The first time I made this, I added malt powder to the cake as well as the frosting. In the end, I didn't like the texture it gave the cake, and thought the maltiness came through better in the frosting. I ended up using my favorite white cake recipe, and just swapping out strawberry puree for half of the milk.
I've struggled in the past when trying to make strawberry flavored desserts. I'm not a fan of using gelatin, and you can't add a lot of fresh strawberries to cake or frosting without adding too much moisture. I eventually came across this recipe for strawberry frosting, and have been using the cooked strawberry method ever since. Basically, you just cook down fresh or frozen strawberries until they reduce down and the flavor intensifies. It takes some extra time, but you'll get a lot more flavor without adding any artificial ingredients. Without food coloring, the cake is barely pink and the frosting is pale pink like you see in the pictures, but you can add a few drops if you want more color.
Inevitably, someone is going to tell me that this frosting recipe makes way too much and that they had a lot leftover, to which I will respond yes and yes. A smooth cake comes from piling on the frosting and then scraping off to create a smooth finish. The frosting recipe makes enough for a substantial amount between each layer, a crumb coat, a finishing layer, plus some additional to pipe a border if you want. I don't find leftover frosting to be a problem (cake balls, anyone?) but you can cut the recipe by as much as half if you only want a thin layer of filling and no crumb coat.
Strawberry Layer Cake with Malted Strawberry Frosting
Ingredients
For the Strawberry Puree:

10 oz. organic strawberries, fresh or frozen and thawed

For the Strawberry Cake:

1 1/2 cups (170 grams) cake flour
2 teaspoons baking powder
1 cup plus 2 tablespoons (230 grams) granulated sugar
3/4 teaspoon salt
1/3 cup (80 ml) whole milk, at room temperature
1/3 cup (80 ml) strawberry puree (recipe below)
4 large egg whites, at room temperature
2 teaspoons vanilla extract
1/2 cup (1 stick, 113 grams)) unsalted butter, at room temperature and cut into chunks

For the Malted Strawberry Buttercream Frosting:

24 tablespoons (3 sticks/340 grams) unsalted butter, at room temperature
3 cups (345 grams) confectioner's sugar
3/4 cup (75 grams) malted milk powder
2 teaspoons vanilla extract
pinch of salt
4 tablespoons strawberry puree (recipe below)
1/4 cup (60 ml) heavy cream
Instructions
For the Strawberry Puree:

Place the strawberries in a blender and blend until smooth.
In a small saucepan, cook the puree over medium high heat until in comes to a boil, stirring frequently.
Reduce the heat and let the mixture simmer while stirring frequently until the mixture reduces by about half.
Set aside and let cool to room temperature.

For the Strawberry Cake:

Preheat the oven to 350 degrees fahrenheit.
Grease 3 6-inch pans and line the bottoms with parchment paper.
In a large mixing bowl (or the bowl of a stand mixer), combine the flour, baking powder, sugar, and salt. Whisk or beat together for about 30 seconds.
In a measuring cup, whisk together the milk, strawberry puree,egg whites, and vanilla extract until well blended.
Add the butter, one chunk at a time, into the flour mixture with the mixer on low speed. Continue mixing until the butter is incorporated and the mixture resembles moist crumbs.
Add all but 1/3 cup of the milk mixture into the crumbs and beat on medium speed for about 90 seconds.
Add the rest of the milk mixture and beat for another 30 seconds on medium speed.
Scrape down the sides of the bowl with a spatula and beat for 20 more seconds.
Divide the batter equally between the 3 pans (I used a kitchen scale to do this) and bake for 20-23 minutes, until a toothpick inserted into the center of the cake comes out clean.
Let the cakes cool in the pans for 15 minutes on wire racks.
Turn the cakes out of the pans and cool completely on wire racks before frosting.

For the Malted Strawberry Frosting:

With an electric mixer, beat the butter on medium high (or medium with a stand mixer) until light and creamy, about 2-3 minutes.
Add the confectioner's sugar and malted milk powder and beat on low speed until combined.
Turn the mixer up to medium high and beat for an additional 2-3 minutes.
Add the vanilla, salt, and strawberry puree and mix until incorporated.
Add the heavy cream one tablespoon at a time until you reach the desired consistency.

To Assemble the Cake:

Place one layer of the cake on a foil covered 6-inch cake board.
Spread about 1/2 cup of frosting evenly over the top.
Add the second layer and do the same.
Place a generous scoop of frosting on the top of the cake, and spread evenly across the top of the cake with an offset spatula. Using a turntable, work your way around the sides until the entire cake is covered with a thin layer of frosting. Let the crumb coat set in the fridge for about 30 minutes.
Once the crumb coat has set, spread a thicker layer of frosting on the top and sides of the crumb coat to create a smooth finish.
Top with sprinkles and a strawberry malted milk ball.
http://cakemerchant.com/2014/04/19/strawberry-layer-cake-malted-strawberry-frosting/
Cake recipe adapted from Epicurious and here.
Design inspired by Sweetapolita