My second blogiversary was last week, and I am quite belated in posting this blog birthday cake, mostly due to my total inability to make a decision. This is precisely why I always make 2 cakes for my birthday, since choosing one is way too much pressure. Add to that the pressure of being a food blogger and I pretty much had a meltdown. Sometimes I feel like I have be super inventive and make something with exotic flavors because that's totally the trend right now, but the truth is, I don't like exotic flavors in my cake. I think it has to do with the fact that I was force fed saffron and cardamom laced desserts from an early age, and my grandmother insisted on putting rose flavored syrup in my milk, so the little kid in me is still rebelling. Plus, I really like chocolate.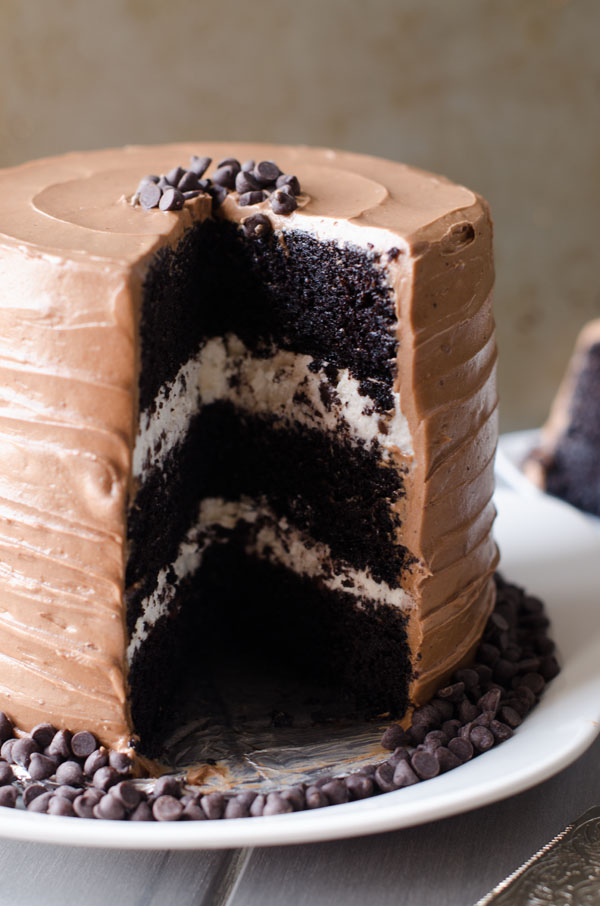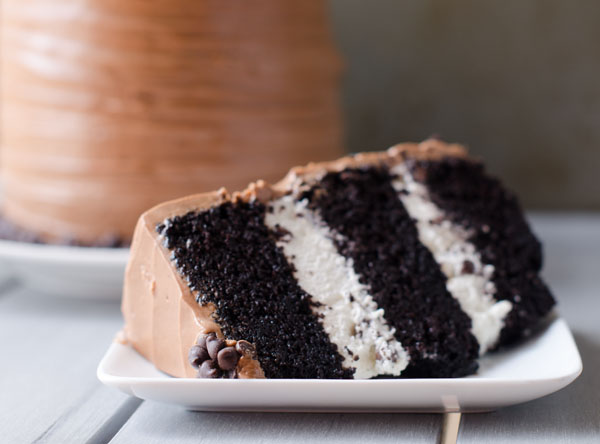 That being said, this cake kind of came about by accident. If you follow me on instagram, you know that I had a major cake fail last week, and that in the process of failing, I ran out of butter and didn't have enough frosting to fill my chocolate cake. Being the lazy baker that I am, I didn't want to go to the the grocery store to buy more butter, so I ended up using whipped cream as the filling. I threw in a few mini chocolate chips for texture, paired it with my favorite one bowl chocolate cake recipe, and frosted the outside with a quick and easy chocolate buttercream. A total make it work cake that has turned into my current favorite. I know, I say that about every cake, but I've made this twice in one week!
Because of the whipped cream filling, this cake should be kept refrigerated (when not being eaten of course). Fear not, though, because this particular chocolate cake holds up really well against refrigeration. Seriously, I'm convinced in has magical powers that will keep it from drying out, and will stay moist for 4-5 days in the refrigerator if kept covered. To keep the whipped cream from deflating in the refrigerator, I mixed in some agar agar powder, which helps it keep it's texture. If you don't have agar agar, you can also use the gelatin method, which is described here.
For the chocolate cake recipe, click here.
Chocolate Chip Birthday Cake
Ingredients
For the Chocolate Chip Whipped Cream:

2 cups (480 ml) heavy whipping cream, chilled
2 tablespoons granulated sugar
1 tablespoon pure vanilla extract
2 teaspoons agar agar powder (not flakes)
3/4 cup (130 grams) mini chocolate chips

For the Chocolate Frosting:

3 sticks (12 ounces/339 grams) unsalted butter, softened but still cool
2 1/2 cups (290 grams) confectioner's sugar
1 1/4 cups (220 grams) good quality milk chocolate chips (I used Guittard)
1/4 cup (45 grams) bittersweet chocolate chips
2 teaspoons pure vanilla extract
pinch of salt
additional mini chocolate chips for topping
Instructions
For the Chocolate Chip Whipped Cream:

With an electric mixer, beat the whipped cream on medium high until stiff peaks are about to form.
Add the sugar, vanilla extract, and agar agar and beat until stiff peaks have formed.
Gently fold in the chocolate chips.
Keep refrigerated until ready to use.

For the Chocolate Frosting:

With an electric mixer, beat the butter on medium high until light and creamy.
Add the confectioner's sugar and mix on low until combined.
Beat in medium high for an additional 2-4 minutes.
Add in the melted milk and bittersweet chocolate, vanilla extract, and salt, and beat until combined.
Scrape down the sides of the bowl and beat on low until no more streaks of butter remain.

To Assemble the Cake:

Place one layer of the cake on an 8-inch cake board.
With an offset spatula, spread half of the whipped cream filling on top of the first layer.
Repeat this process with the second layer, spreading the remainder of the filling on top.
Place the 3rd layer on top.
Place the cake on a turntable, and apply a thin layer of the chocolate frosting on the sides and the top of the cake to lock in the crumbs.
Let the frosting set up in the refrigerator for about 30 minutes.
Apply the remainder of the frosting to the sides and top of the cake and garnish with mini chocolate chips.
http://cakemerchant.com/2014/05/25/chocolate-chip-cake/
Chocolate Cake Recipe adapted from Sky High: Irresistible Triple-Layer Cakes

Whipped Cream recipe adapted from allrecipes.com
Note: The Chocolate Frosting makes enough to crumb coat and frost the cake as well as pipe decorations like you see here.