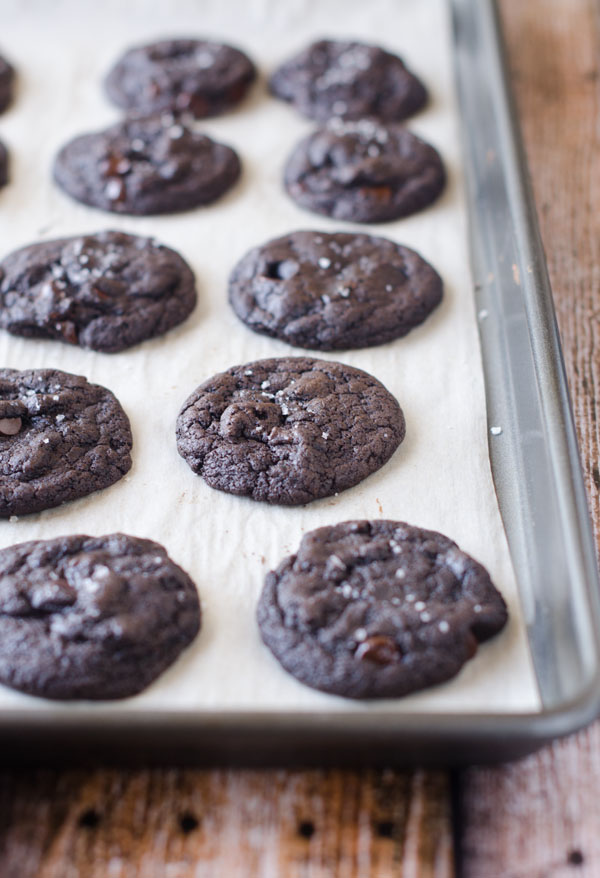 I've never doubted that vegan cakes could taste as good as their non-vegan counterparts, but I wasn't quite sold on vegan cookies. There are a number of good substitutes for butter (although recently, I've been reading how terrible palm oil is), but replacing an egg can be tricky. I've tried the flax egg thing, and maybe I'm doing it wrong, but it just doesn't taste right to me. However, my opinion of vegan cookies changed when I made these.
The egg is replaced by tapioca flour (also known as tapioca starch), which can just be dumped into your recipe as is- no grinding of flaxseeds necessary! I read about this swap in Vegan Cookies Invade Your Cookie Jar
, and apparently, it works well with other starches like arrowroot and cornstarch, although I've never tried them so I can't say for sure.
The Texas heat makes me a little sluggish and I wasn't up for anything elaborate, so this is a total lazy girl's (or guy's, no discrimination here) cookie. One bowl, dump and stir, and no chilling time! Instant cookie gratification! However, the food blogger in me did want a little bit of fancy, so I busted out the good olive oil since I thought it paired nicely with the chocolate and topped the cookies with a little bit of flaky sea salt. I like a salty cookie anyway, but dark chocolate practically screams for it. If you're not a fan of the olive oil in your cookies, this recipe will work just fine with any neutral vegetable oil or even melted coconut oil, but don't knock it until you've tried it. I liked the olive oil/chocolate combo so much, you may see it soon in the form of a cake!
Vegan Dark Chocolate, Olive Oil, and Sea Salt Cookies
Ingredients
1/2 cup (120 ml) good quality extra virgin olive oil
1/3 cup (80 ml) unsweetened non-dairy milk
2/3 cup (150 grams) dark brown sugar, packed
1/3 cup (67 grams) organic granulated sugar
1 tablespoon plus 1 teaspoon tapioca flour
1 teaspoon pure vanilla extract
1 1/2 cups (188 grams) all purpose flour, divided
1/3 cup Dutch process cocoa powder
1/2 teaspoon baking soda
1/2 teaspoon baking powder
1/2 teaspoon kosher salt
1 cup (175 grams) vegan bittersweet chocolate chips
flaky sea salt for topping
Instructions
Preheat the oven to 350 degrees fahrenheit and line 2 baking sheets with parchment paper.
In a large bowl, beat together the olive oil, non-dairy milk, brown sugar, granulated sugar, and tapioca flour, and vanilla extract with a fork for about 2 minutes until the mixture thickens and looks like caramel.
Add 1 cup of the all purpose flour, cocoa powder, baking soda, baking powder, and salt and mix until combined.
Mix in the remaining 1/2 cup of the flour.
Stir in the chocolate chips.
Using a cookie scoop, drop balls of the cookie dough onto the prepared baking sheets one inch apart. The dough will be a little but greasy, so you may need to use your fingers to push the dough together into balls.
Sprinkle the dough with a little bit of sea salt and bake them for about 8 minutes (9-10 minutes for a crisper cookie.
Cool completely on wire racks.
http://cakemerchant.com/2014/05/31/vegan-olive-oil-chocolate-sea-salt-cookies/
For a thicker, puffier cookie, reduce the non-dairy milk to 1/4 cup.
Baking time is based on cookies that I made with a small cookie scoop
. If you make larger cookies, you will need to increase the baking time.
Natural cocoa powder will work in this recipe, but you will end up with a lighter colored cookie.