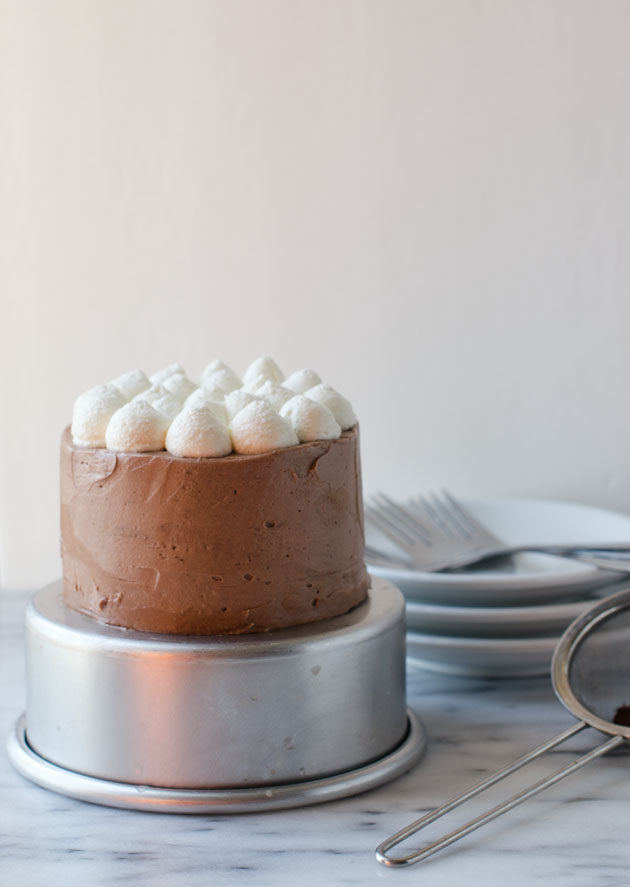 One of the best things about my wedding was seeing family members that I hadn't seen in years. My family is spread out all over the world, and they came from California, Canada, Australia, and India among other places. My grandmother's 89th birthday just so happened to be two days after my wedding, and with so many family members still around, I had the perfect reason to bake a great big chocolate cake. I didn't get a chance to take a picture of it since it was gobbled up so quickly, but the cake I am sharing with you today is a miniature version of what I made for my family.
My grandmother doesn't eat eggs, even in cake. This used to be quite an ordeal for me when I tried to bake her birthday cakes growing up. The lack of eggs along with the fact that her tiny little oven only has 2 settings (off and incinerate) made for some interesting cake like concoctions. Having a good eggless recipe comes in handy not only when baking for my grandmother, but also when trying to pair a recipe down for a mini cake. Have you ever tried to use 1/3 of an egg? It's kind of a pain. Recipes are so much easier to make tiny when there is no egg involved.
For my first recipe after a long hiatus, I just couldn't resist doing a mini layer cake. They are just too cute, and the perfect size for two (or one if you're really hungry). I used a 4-inch cake pan and then sliced the cake into three layers, because I wanted more room for frosting. You can also slice it into two, or just leave it as one layer if you like. I also added a shot of espresso to the frosting to give it a mocha flavor, but you can easily leave it out and add an extra tablespoon of cocoa powder for a rich chocolate frosting.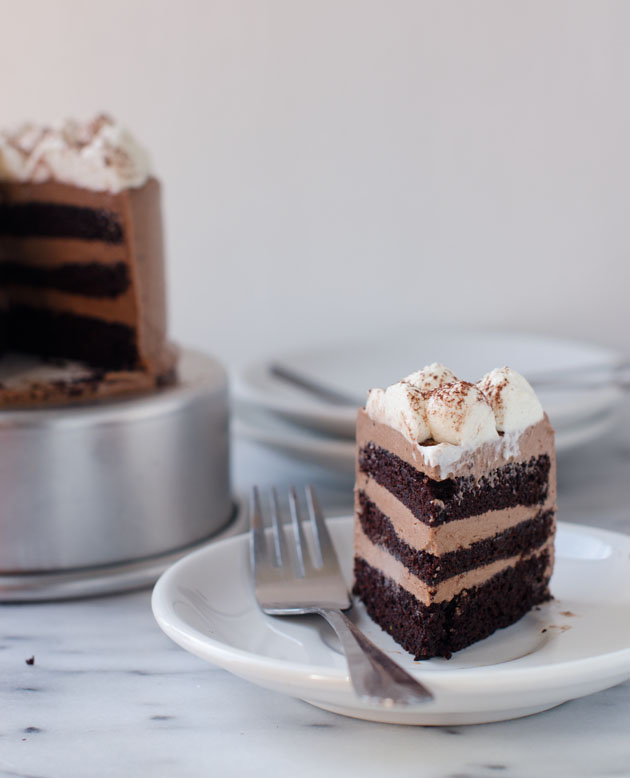 Ingredients
For the Cake:

1/3 cup (80 ml) milk (non-dairy milk is fine)
1/4 teaspoon white or cider vinegar
1/4 cup (50 grams) granulated sugar
2 tablespoons vegetable oil
1/2 teaspoon vanilla extract
1/3 cup all purpose flour
2 tablespoons cocoa powder
1/4 teaspoon baking soda
1/8 teaspoon baking powder
1/4 teaspoon salt

For the frosting:

1/2 cup (110 grams) unsalted butter, at room temperature
1 cup (115 grams) confectioner's sugar
1 tablespoon cocoa powder
1/2 teaspoon vanilla extract
1 ounce (30 ml) espresso, cooled to room temperature
pinch of salt

For the Whipped Cream:

1/4 cup (60 ml) heavy cream, chilled
1 teaspoon granulated sugar
1/2 teaspoon vanilla extract
cocoa powder for dusting (optional)
Instructions
For the Cake:
Preheat the oven to 350 degrees fahrenheit.
Grease and line a 4-inch cake pan with parchment paper.
In a medium bowl, whisk together the milk and vinegar and set aside for a few minutes to curdle.
Add the sugar, vegetable oil, and vanilla extract and whisk together until the mixture becomes foamy.
Add the flour, cocoa powder, baking soda, baking powder, and salt.
Whisk together until combined.
Pour the batter into the prepared cake pan and bake for 20-23 minutes, until a toothpick inserted into the center comes out clean.
Cool for about 10 minutes on a wire rack, and then turn the cake out onto the wire rack and cool completely.

For the frosting:

With an electric mixer, beat the butter, sugar, and cocoa powder together on low until just combined.
Turn the mixer up to medium and continue beating for 2-3 minutes.
Add the vanilla extract, espresso, and salt and beat to combine.

For the whipped cream:

With an electric mixer or the whisk attachment on your stand mixer, beat the cream until stiff peaks are about to form.
Add the sugar and vanilla extract and beat until stiff peaks have formed.
Keep refrigerated until ready to use.
To Assemble the Cake:
Slice the cake into 3 even layers.
Place the bottom layer of the cake on a cake board or plate and spread about 2 tablespoons of frosting on top.
Do the same with the second layer.
Place the last layer on top and apply a thin coat of frosting around the top and the sides of the cake to crumb coat it.
Put the cake in the fridge and let the frosting set for 30 minutes.
Once the crumb coat has set, spread a thicker layer of frosting on the top and sides of the crumb coat to create a smooth finish.
Place the whipped cream in a piping bag fitted with a round tip and pipe the whipped cream on top of the cake.
Dust with cocoa powder.
http://cakemerchant.com/2014/08/21/mini-mocha-layer-cake/
Notes:
The frosting makes enough for a 3 layer cake with a crumb coat and a little left over. If you don't plan to divide your cake into layers or crumb coat, you can cut the frosting recipe in half.
You can make this recipe vegan by using non-dairy milk in the cake, replacing the butter in the frosting with margarine and/or shortening, and omitting the whipped cream.
Cake recipe adapted from Vegan Cupcakes Take Over the World