Sometimes I wonder why the holidays are the most stressful time of year. I mean, shouldn't it be the opposite? They are called the holidays, after all. Last week, I found myself completely stressed out and trying to cram in a bunch of pumpkin recipes before I left for my trip to LA when I stopped and thought to myself, why am I doing this? It kind of got me thinking about why I blog in the first place. Perhaps one day I will take over the world with cake, but for now, the main reason that I blog is because it makes me happy. Baking cakes makes me happy, eating them makes me even happier, sharing them with you makes me the happiest, and if I'm not happy blogging then there's no point. Cake should never be the cause of so much stress.
Most people know that it's important to take a step back every once in a while and do something good for yourself, but sometimes it's easier said than done. The last couple of holiday seasons have been all about to do lists for me, and I don't want another one to go by in a stress frenzy. So today, when I should probably be posting something holiday themed, I am making myself some cake. A mini yellow cake with malted chocolate frosting and crunchy sprinkles. There's just something about this combo that reminds me of childhood birthdays, and I can't not be happy when eating it. Since mini cakes are my most favoritest thing ever, I made a 4-inch layer cake just big enough for two.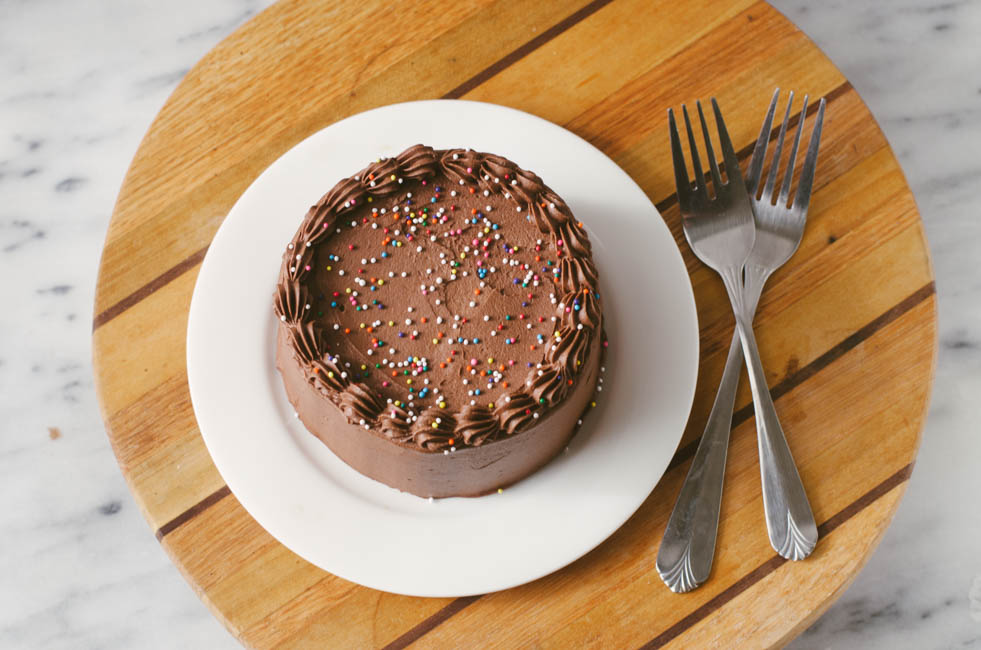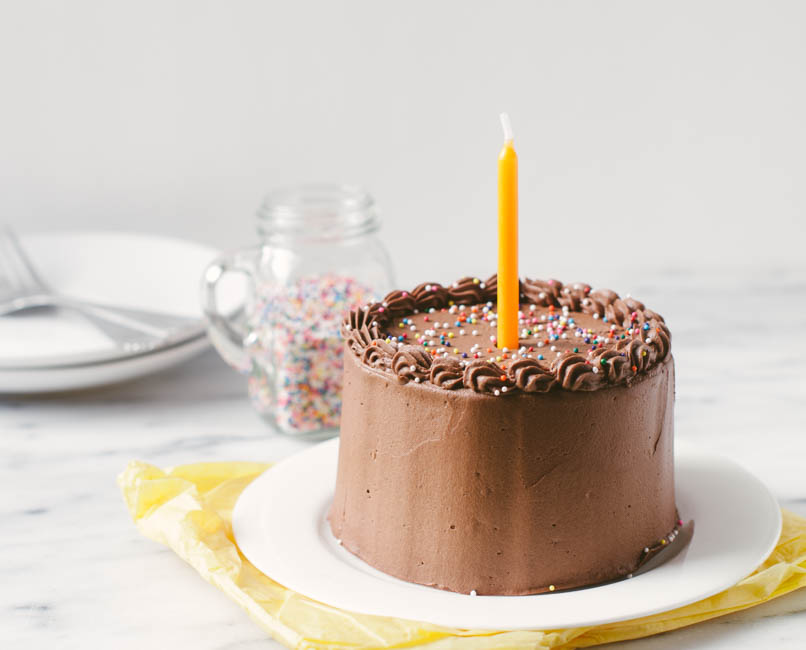 I tried this recipe with both all purpose and cake flour, and I liked the lighter and fluffier cake flour version better. All purpose flour will work if you're in a pinch, although you'll end up with a slightly more dense cake and you'll need to reduce the amount of flour by one tablespoon. If you don't have buttermilk on hand, add a drop of vinegar to the milk and let it sit for a couple of minutes. The frosting recipe makes more than enough, but I like to have plenty on hand because since I like a smooth finish to my cakes. If you don't plan to do a crumb coat and pipe a border, you can cut the frosting recipe in half. I also like the flavor of a little bit of malt powder in my chocolate frosting, but if you're not a fan, you can leave it out.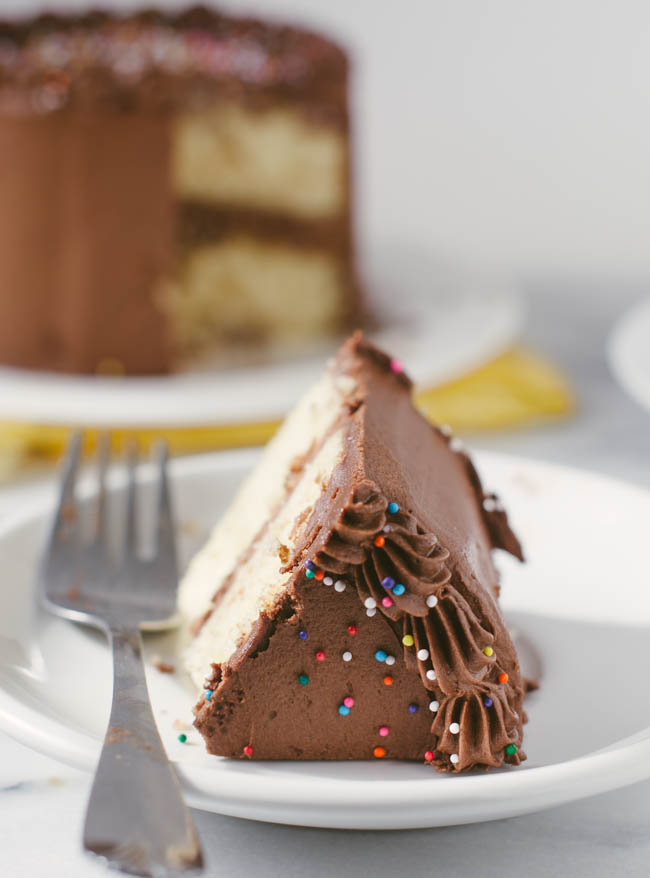 What dessert makes you happy?
Mini One Bowl Yellow Cake with Malted Chocolate Frosting
Ingredients
For the Yellow Cake:

1/2 cup plus one tablespoon (65 grams) cake flour
1/3 cup (65 grams) sugar
1/2 teaspoon baking powder
1/8 teaspoon salt
2 1/2 tablespoons unsalted butter, at room temperature and cut into pieces
3 tablespoons buttermilk
1 large egg
1/2 teaspoon pure vanilla extract

For the Malted Chocolate Frosting:

8 tablespoons (4 ounces/113 grams) unsalted butter, softened but still cool
1 cup (115 grams) confectioner's sugar
1 tablespoon malted milk powder
1/2 cup (85 grams) good quality semi-sweet or bittersweet chocolate chips, melted and slightly cooled
1 teaspoon pure vanilla extract
pinch of salt
1 tablespoon whole milk, half and half, or heavy cream
Sprinkles or nonpareils for topping
Instructions
For the Yellow Cake:

Preheat the oven to 350 degrees fahrenheit.
Grease 2 4-inch cake pans and line them with parchment paper.
In a bowl, whisk together the cake flour, sugar, baking powder, and salt.
Add the butter and 2 tablespoons of the milk, and beat with an electric mixer on medium speed for about 1 minute.
Add the egg, vanilla, and remaining milk and beat on medium for an additional 30 seconds.
Scrape down the sides of the bowl and beat for an additional 20 seconds, until the mixture looks smooth and satiny.
Divide the batter between the 2 pans and bake for 17-20 minutes.
Cool on wire racks for 15 minutes.
Turn the cakes out of the pan and cool completely.

For the Malted Chocolate Frosting:

With an electric mixer, beat the butter on medium high until light and creamy.
Add the confectioner's sugar and malt powder and beat on low until combined.
Beat on medium high for an additional 2-3 minutes.
Add in the melted chocolate and beat until combined, working quickly so the chocolate doesn't start to solidify.
Add the vanilla extract, salt, and milk and beat until combined.
Scrape down the sides of the bowl and beat on low until no more streaks of butter remain.
To Assemble the Cake:
Place one layer of the cake on a 4-inch cake board or plate.
With an offset spatula, spread half a cup of frosting on top.
Place the second layer on top, and then place the cake on a turntable.
Apply a thin layer of the chocolate frosting on the sides and the top of the cake to lock in the crumbs.
Let the frosting set up in the refrigerator for about 30 minutes.
Apply the remainder of the frosting to the sides and top of the cake and use the leftover frosting to pipe a border if you wish.
Top with sprinkles.
http://cakemerchant.com/2014/11/15/yellow-buttermilk-cake-malted-milk-chocolate-frosting/