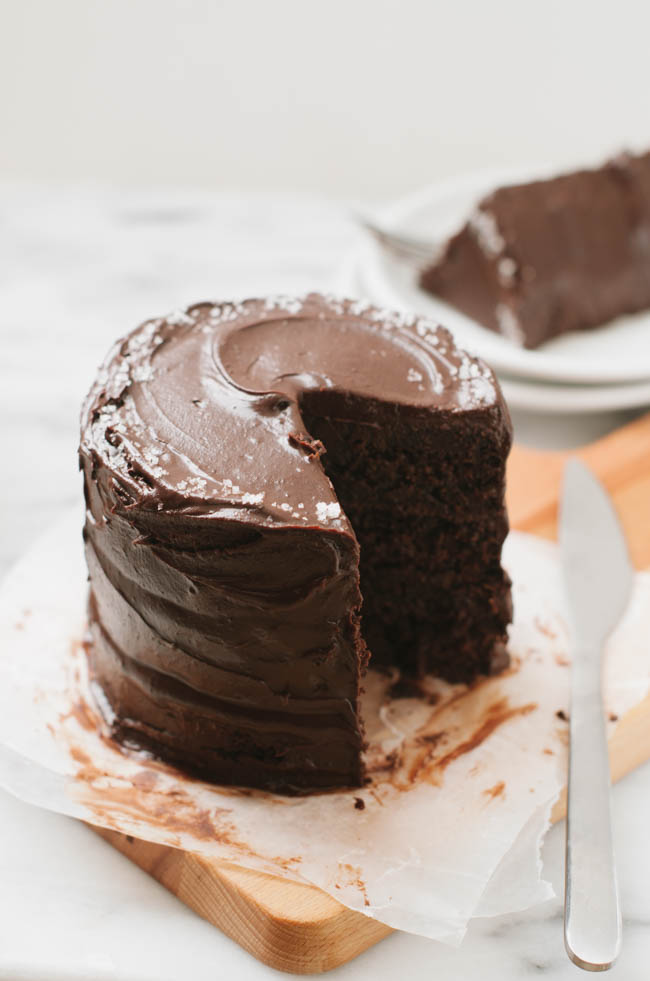 I've decided to up my chances of keeping my New Year's resolutions by making them easier this year. Let's call them goals instead, shall we? I figured I could handle one short term goal and one long term goal.
Long term goal- phone detox. You know that moment when you find yourself on your phone, iPad, and computer all at the same time? Guilty. I'm going to start my detox by NOT looking at my phone first thing in the morning. Doesn't sound like much, but baby steps, people. I may have to buy a real alarm clock.
Short term goal- Go vegan for a month. You can do anything for a month, right? It's not too far of a stretch from my current diet. I wish I could say that I had a really good reason for doing it other than I'm just curious about life without cheese, but I just want to try it. Needless to say, you'll be seeing more vegan recipes than usual on the blog, starting with this one.
And guess what? It's a mini cake! I can't help myself, they are just so cuuute! I healthified it a little bit by replacing half the oil with applesauce and using whole wheat pastry flour. You could also use a half and half mix of whole what pastry flour and all-purpose flour to make it less obviously whole wheat if you want to.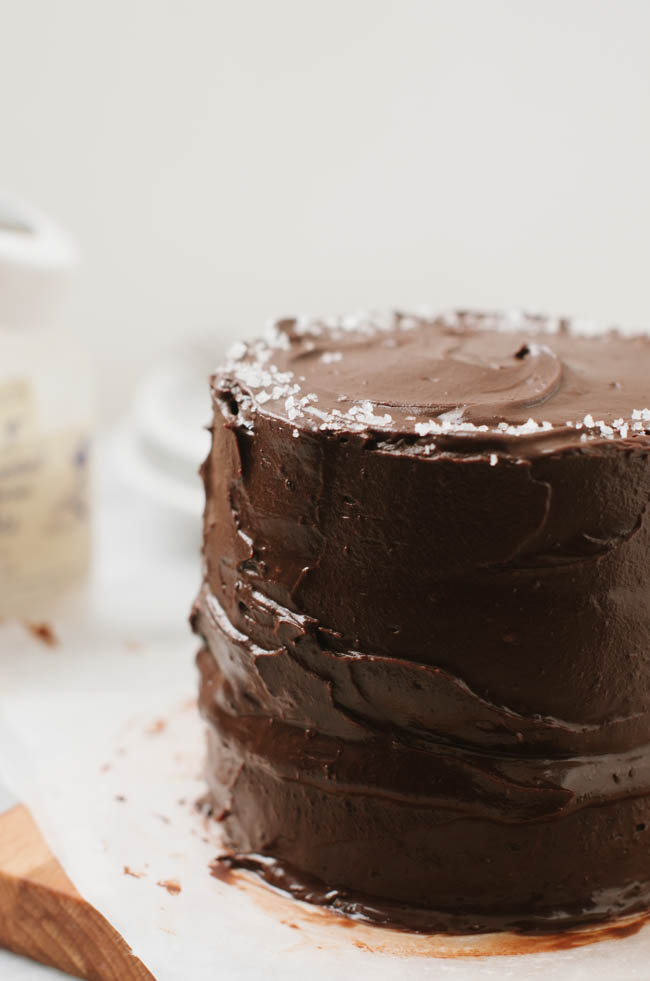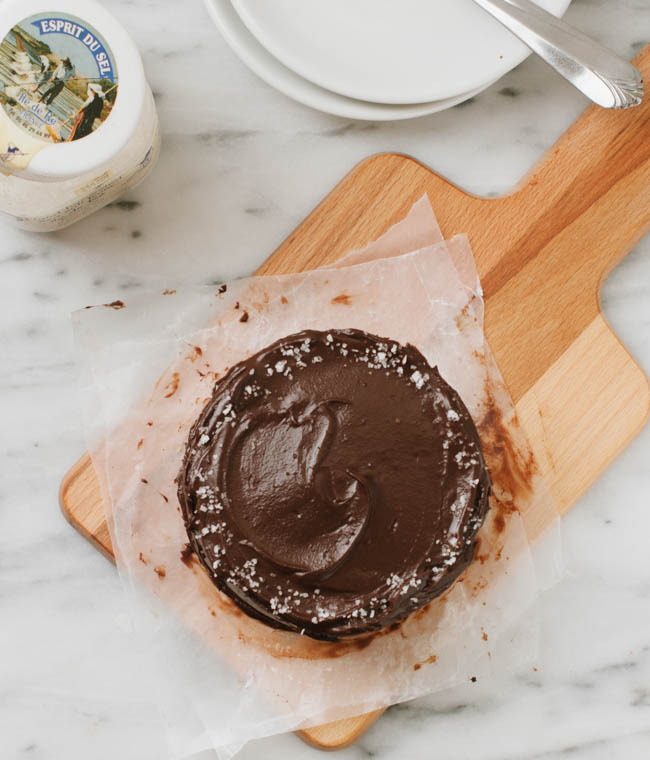 During my vegan month, I'm going to explore other frostings outside of the margarine/shortening/so much powdered sugar your teeth hurt variety. I gather from comments and emails that most of my readers don't like overly sweet frosting (I don't either), but I have yet to find a good version of vegan swiss buttercream. However, I know there are other good vegan frostings out there and I can promise you that this one is not too sweet and very chocolaty. I added corn syrup to keep the frosting shiny and smooth (keep in mind that this is not HFCS) but you can sub golden syrup, maple syrup, or omit it all together.
Whole Wheat Vegan Chocolate Cake
Ingredients
For the Whole Wheat Chocolate Cake:

3/4 cup (180 ml) non-dairy milk (I used almond milk)
1/2 teaspoon white or apple cider vinegar
1/2 cup (100 grams) granulated sugar
3 tablespoons vegetable oil or melted coconut oil
3 tablespoons unsweetened applesauce
1/2 teaspoon vanilla extract
3/4 cup (90 grams) whole wheat pastry flour
1/4 cup (30 grams) cocoa powder (I used Dutch-process but natural will work)
1/2 teaspoon baking soda
1/4 teaspoon baking powder
1/4 teaspoon salt

For the Chocolate Ganache Frosting:

1/3 cup (80 ml) non-dairy milk
8 ounces (224 grams) semi-sweet or bittersweet chocolate chips
1 tablespoon brewed coffee or espresso (optional)
1 tablespoon light corn syrup (optional)
Instructions
For the Cake:

Preheat the oven to 350 degrees and grease and line 3 4-inch cake pans with parchment paper.
In a large bowl, combine the non-dairy milk and vinegar and set aside for 5 minutes to curdle.
Add the sugar, oil, applesauce, and vanilla extract and whisk until frothy.
Add the flour, cocoa powder, baking soda, baking powder, and salt and whisk to combine.
Divide the batter equally between the 3 pans and bake for about 20 minutes until a toothpick inserted into the center comes out clean.
Cool on wire racks for about 15 minutes, and then turn the cakes out onto the wire racks and cool completely.

For the Chocolate Ganache Frosting:

Place the chocolate chips in a heat proof bowl.
Heat the non-dairy milk in a small saucepan over medium heat until it just begins to boil.
Pour the non-dairy milk over the chocolate chips and let stand for about 5 minutes.
Stir until smooth.
Stir in the coffee and corn syrup until smooth.
To make the ganache extra smooth, you can use an immersion blender to blend it.
Put the ganache in the fridge for about 30-45 minutes or until it reaches a spreadable consistency.

To Assemble the Cake:

Place on layer of cake on a 4-inch cake board or a plate.
Spread about 2 tablespoons of ganache on top.
Do the same with the 2nd layer and place the 3rd layer on top.
Place the frosted layer in fridge for 5-10 minutes to set up. This will prevent the cake from sliding around when you frost the outside.
Remove the cake from the fridge and place a large dollop of frosting on top of the cake.
Using an offset spatula, work your way around the sides until the entire cake is covered with a thin layer of frosting.
Let the crumb coat set in the fridge for about 30 minutes.
Once the crumb coat has set, spread a thicker layer of frosting on the top and sides of the crumb coat to create a smooth finish.
Top with fleur de sel or sprinkles.
http://cakemerchant.com/2015/01/07/whole-wheat-vegan-chocolate-cake/
Notes:
Since these cakes are so small and I don't want to lose any when I level the cake, I used Bake Even strips
to keep the cakes flat. Using these may add a couple of extra minutes to the baking time.
You may be wondering, "Who the hell has 3 4-inch cake pans?" I don't, actually, and I had to wash out my 4-inch cake pan in between baking each layer. If you're not as devoted to mini cakes as I am (by devoted I mean insane), you can make two 5-inch cakes, or one 7-inch cake. You might even be able to fit it into a 6×3 inch pan, but I haven't tried it.