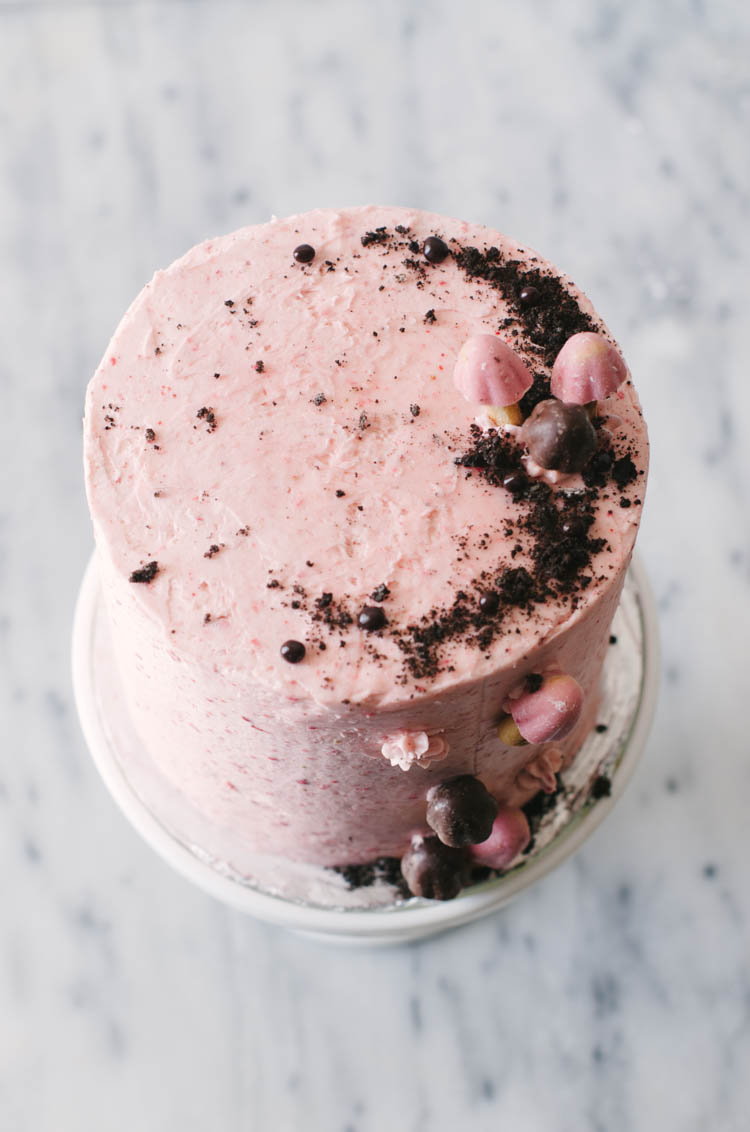 I have a thing for Asian candy. We didn't have a designated Indian grocery store where I grew up. It was all kind of lumped into one "ethnic/all things from the east" store, so when my mom went to buy ghee and mango pickle, I tagged along and got Pocky, Yan Yan, and these little koala cookies
. I think my inner 6-year-old would have gone nuts for little chocolate mushrooms, though. I saw them recently at Daiso, a Japanese version of a dollar(ish) store that opened up near my house. I love browsing all of the miniature knick knacks and aisles of Japanese candy, so when I saw these little mushrooms, I knew I wanted to use them on a cake (except the first time I bought a package I ate the entire thing on the way home and was too embarrassed to go back and get more).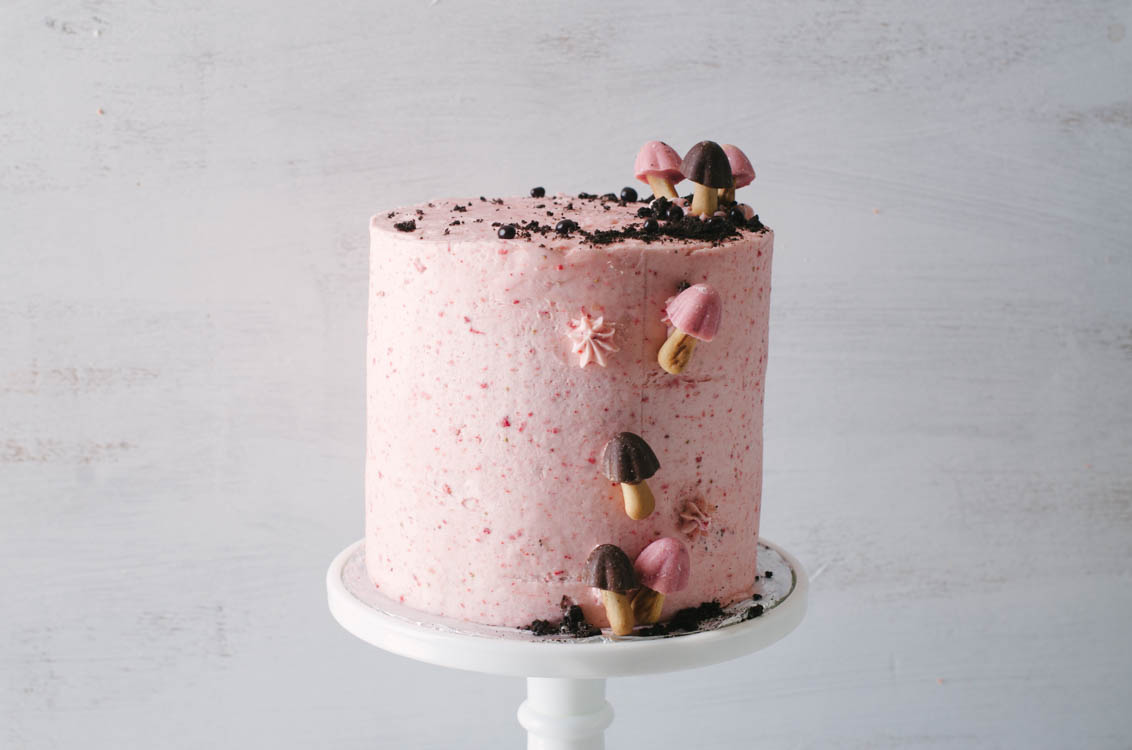 So on my second shopping attempt I bought an extra package for the inevitable snack attack, and this Strawberry Chocoroom Cake was born. It's just in time for Valentine's Day, because nothing says I love you like candy mushrooms.
The cake itself is my go to chocolate cake, which just so happens to be vegan. It's almost exactly the same as what I used for my Marshmallow Madness Cake, but I used water rather than non-dairy milk. I've seen several recipes that do this, and I wanted to see how they compared. I've only tested it once so I can't say for sure if it was because of the water, but this cake was super light and fluffy. I had to chill it for several hours before frosting because it was difficult to work with, but I did like the texture.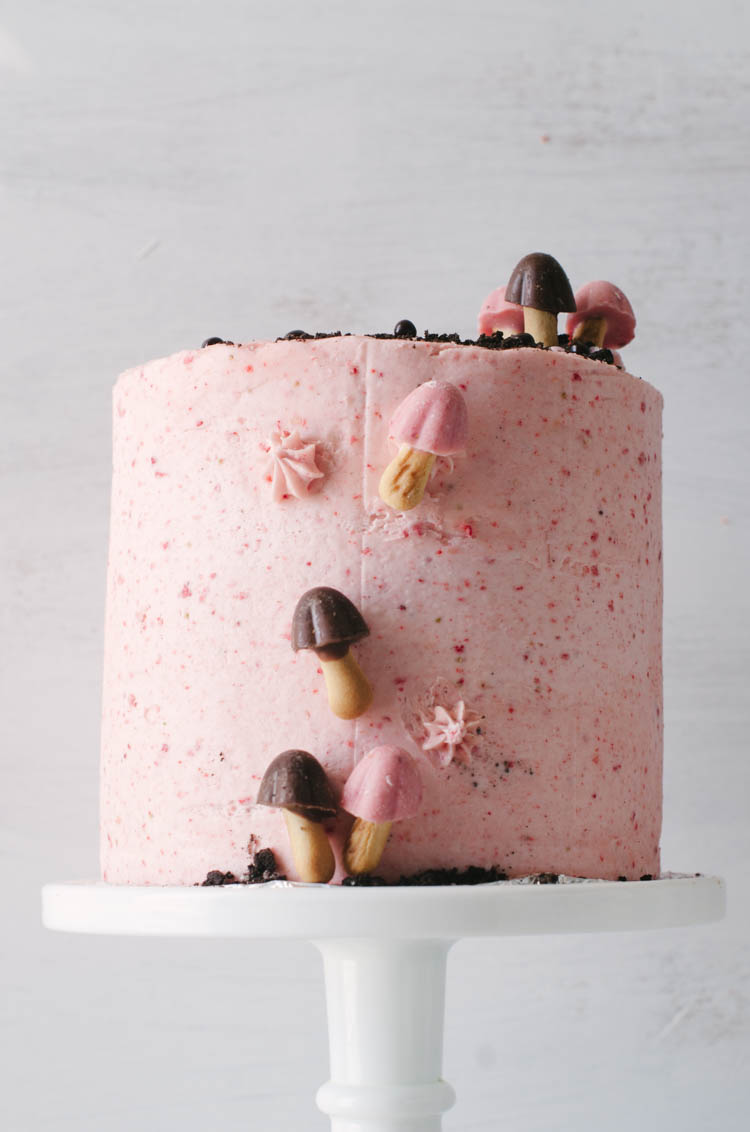 Since fresh strawberries are out of season, I got a package of freeze dried strawberries from Trader Joe's, ground them down into a powder, and then mixed them into the frosting. I liked the end result but it was missing some depth, so I mixed in a teaspoon of red wine vinegar. I do this often to balance out the sweetness of fruit crisps, and I was happy that it worked so well in the frosting.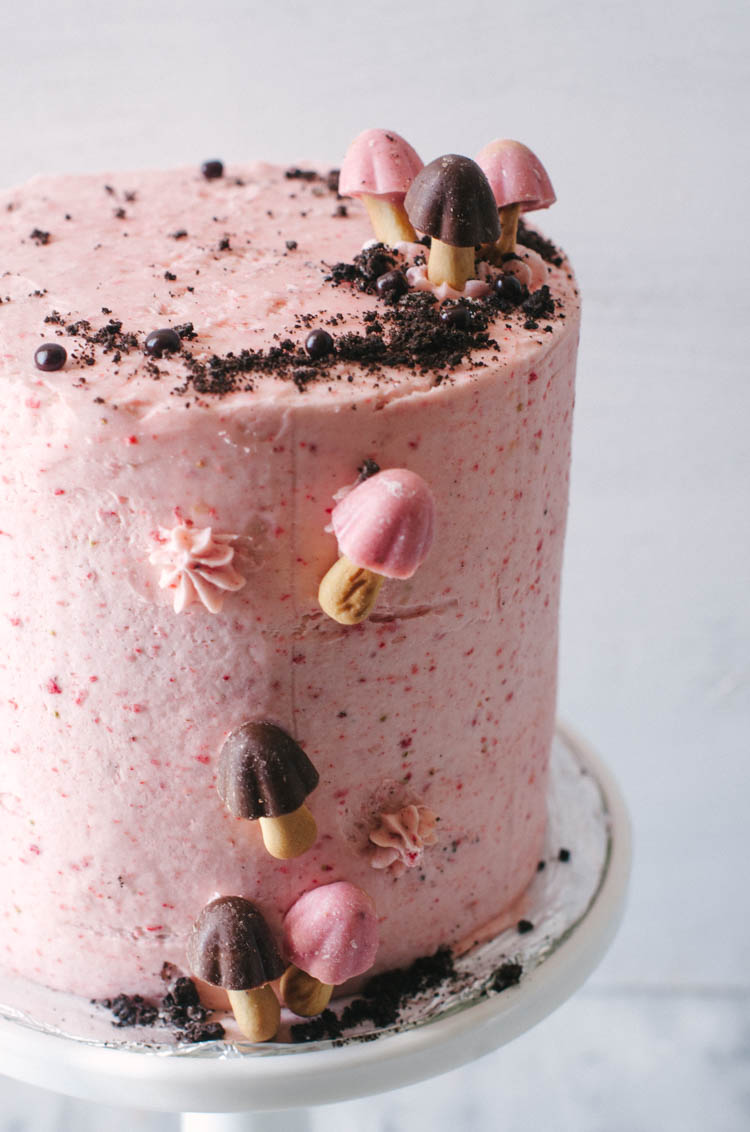 If you can't find Chocorooms
, this cake would be equally adorable covered in meringue mushrooms. If mushrooms are too weird for you, perhaps candy hearts would be a fun substitute.
Not a fan of tall cakes? You can also bake this cake in 2 6-inch cake pans.
Strawberry and Chocoroom Cake
Ingredients
1 1/2 cups (360 ml) water (at room temperature)
1 teaspoon white or apple cider vinegar
1 cup plus 2 tablespoons (225 grams) granulated sugar
1/2 cup (120 ml) vegetable oil
1 teaspoon pure vanilla extract
1 1/2 cups (190 grams) all purpose flour
1/2 cup (60 grams) cocoa powder (dutch process or natural)
1 teaspoon baking soda
3/4 teaspoon baking powder
1/4 teaspoon salt

For the frosting:

20 tablespoons (2.5 sticks or 280 grams) unsalted butter, softened but still cool
3 cups (345 grams) confectioner's sugar
3 tablespoons powdered freeze dried strawberries (I did this in a food processor)
1 teaspoon pure vanilla extract or vanilla paste
1 teaspoon red wine vinegar
1-2 tablespoons water

For decoration:

Strawberry and Chocolate Chocorooms
Crumbled Oreos for dirt
Instructions
For the Cake:

Preheat the oven to 350 degrees fahrenheit and grease and line 3 5-inch pans with parchment paper.
In a bowl, whisk together the water, vinegar, oil, sugar, and vanilla extract.
Add the flour, both cocoa powders, baking soda, baking powder, and salt and whisk until just combined. Careful not to over mix or the cake will become dense.
Divide the batter between the cake pans and bake for about 30 minutes or until a toothpick inserted into the center comes out clean.
Cool on a wire rack for 15 minutes.
Turn the cake out of the pan and cool completely before frosting.
I recommend wrapping the cake layers in plastic wrap and chilling for at least 1 hour before frosting.

For the Frosting:

With an electric mixer, beat the butter until light and fluffy, about 2-3 minutes.
With the mixer on low, add the powdered sugar and salt and beat until just incorporated.
Turn the mixer on medium high and beat for an additional 1-2 minutes.
Add the strawberry powder, vanilla extract, and vinegar and beat to combine.
If the frosting is very stiff, add the water a little bit at a time until it becomes spreadable.

To Assemble the Cake:

Place one layer of the cake on a 6-inch cake board.
With an offset spatula, spread about 1/4 cup of the frosting on top of the first layer.
Repeat this process with the second layer, spreading another 1/4 cup of the frosting on top.
Place the 3rd layer of cake on top.
Place the cake on a turntable, and apply a thin layer of the frosting on the sides and the top of the cake to lock in the crumbs.
Let the frosting set up in the refrigerator for about 15-30 minutes.
Apply the remainder of the frosting to the sides and top of the cake.
Pipe some of the leftover frosting on the top and sides of the cake and cover with Chocorooms.
Sprinkle some Oreo crumbs on top of the cake to look like "dirt."
http://cakemerchant.com/2016/02/08/4947/