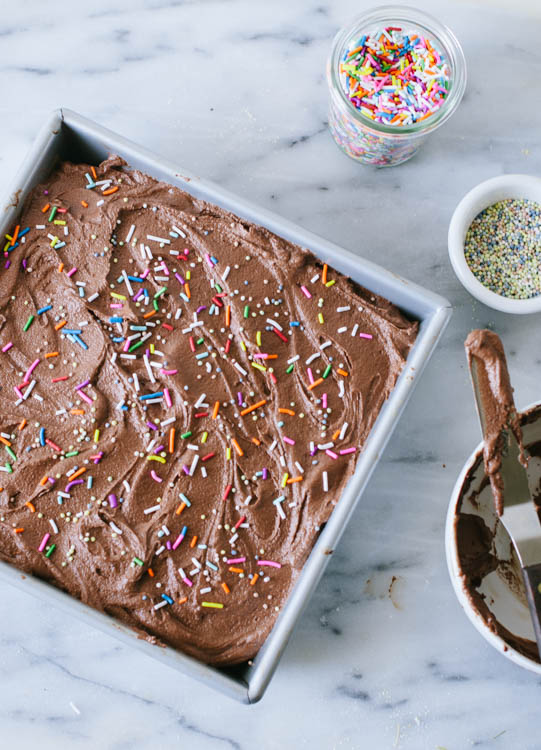 I've got 3 exciting things to share with you today. First, a new post! This shouldn't be all that unusual on a food blog, but considering how rarely I've been posting lately, I think this counts as exciting. Second, a new blog design! It was long overdue. No more of me trying to navigate code, because it's not cute. Third, it's my 4th blogiversary! It was a total coincidence that my new design was completed today, and I forgot about it until after I wrote this post, but Happy Blogiversary to me! I would have put a candle in this cake had I remembered.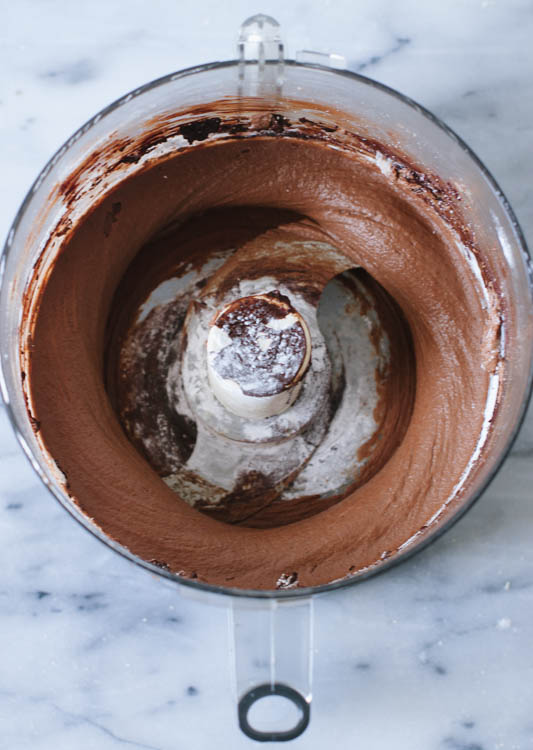 At first, I didn't think this cake was exciting enough to post. I've probably made it a hundred times. In fact, the cake itself is the same recipe of my very first blog post! It's a cupcake recipe that comes from my favorite vegan baking book
, but it also makes a great cake. There are no fancy layers here. Not that I have anything against fancy layers. I mean, fancy layers are practically my life, but sometimes a simple chocolate cake will do. Perfect for small gatherings, and even more perfect for snacking.
The frosting is a super simple veganized version of this frosting from Smitten Kitchen made in a food processor. I love it because you can just dump everything in together, hit process, and you end up with a super fluffy creamy dreamy frosting that you'll never guess is vegan.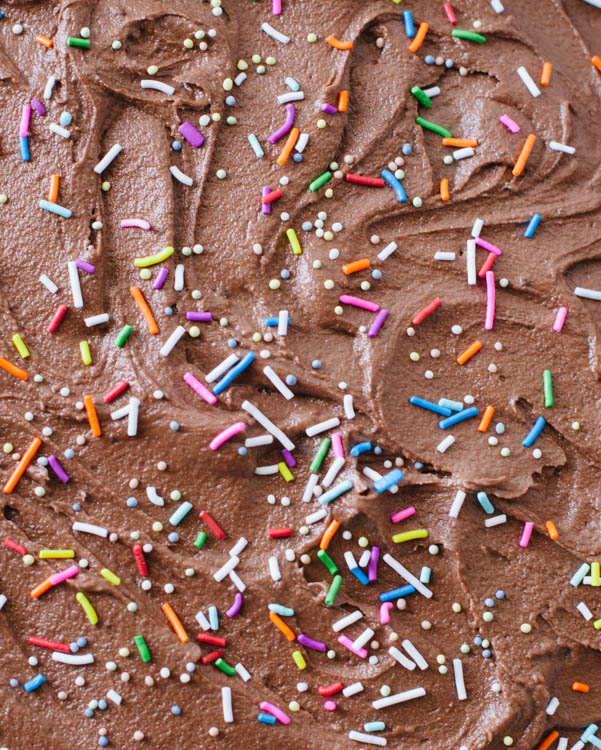 For the sprinkles, I used a combination of these from Sweetapolita's shop (probably the most beautiful vegan sprinkles I have found) and these non-pareils from Sprinkelz
The Easiest Vegan Chocolate Cake
Ingredients
For the Cake:

1 cup (240 ml) non-dairy milk
1 tsp. apple cider vinegar
3/4 cup (150 grams) sugar
1/3 cup (80 ml) vegetable oil
1 tsp pure vanilla extract
1 cup (125 grams) all-purpose flour
1/3 cup (40 grams) cocoa (I used Dutch-process but natural will work too)
1/2 tsp baking powder
3/4 tsp baking soda
1/4 teaspoon salt

For the Frosting:

2 ounces (55 grams) unsweetened chocolate, melted and cooled
1 1/2 cups (180 grams) powdered sugar
1/4 cup (56 grams) vegan butter (from the stick, not the tub)
1/4 cup (48 grams) vegetable shortening
pinch of salt
1 tablespoon non-dairy milk
1/2 teaspoon pure vanilla extract
Instructions
Preheat the oven to 350.
Grease and line an 8-inch x 8-inch pan with parchment paper.
In a large bowl, whisk together the soymilk and vinegar. Set it aside for a couple of minutes to curdle.
Add the sugar, oil, and vanilla to the "buttermilk." Whisk until the mixture is foamy.
In a separate bowl, whisk together the flour, cocoa, baking soda, baking powder, and salt until combined.
Add the dry ingredients to the wet ingredients in 2 batches, whisking after each addition until no large lumps remain (a few small lumps are ok).
Pour batter into the prepared pan and bake for 27-32 minutes (It took about 30 minutes in my oven).
Cool completely before frosting.

For the Frosting:

Place all of the frosting ingredients in the food processor and run until combined.
Scraped down the sides with a spatula and run again until fluffy.
Spread the frosting on the cooled cake with an offset spatula and top with lots of sprinkles!
http://cakemerchant.com/2016/05/19/vegan-chocolate-cake/