I'm super late in posting this, but I'm really excited to have participated in the Cookies for Kids' Cancer Event organized by Julie at The Little Kitchen. A bunch of food bloggers from all around the web have been posting cookie recipes in order to raise money in the fight against pediatric cancer.
So far, we've raised $1750! The goal is $3000, so if you'd like to donate, follow the link here. It has been so nice to see people coming together for a great cause, especially during these stressful times. I already know that most people in the world are good, but this has been a good reminder of that.
I also love having an excuse to make cookies. If you've never made linzer cookies before, they are a lot like shortbread, but better. The addition of an egg yolk makes these already buttery cookies rich, but the almond flour keeps them light. The strawberry jam in between is made from scratch (although store bought will work) using this recipe, but I subbed balsamic vinegar for the lemon juice. The combination of strawberry and balsamic goes really well together, and also makes me feel more grown up while eating cookies. Win win.
The cookie recipe itself is adapted from Joy of Baking. I've tried so many linzer cookie recipes and this one is by far my favorite. It's the perfect texture for rolling and doesn't spread in the oven. If you want to make a vegan linzer cookie, you can try my recipe here that uses coconut oil.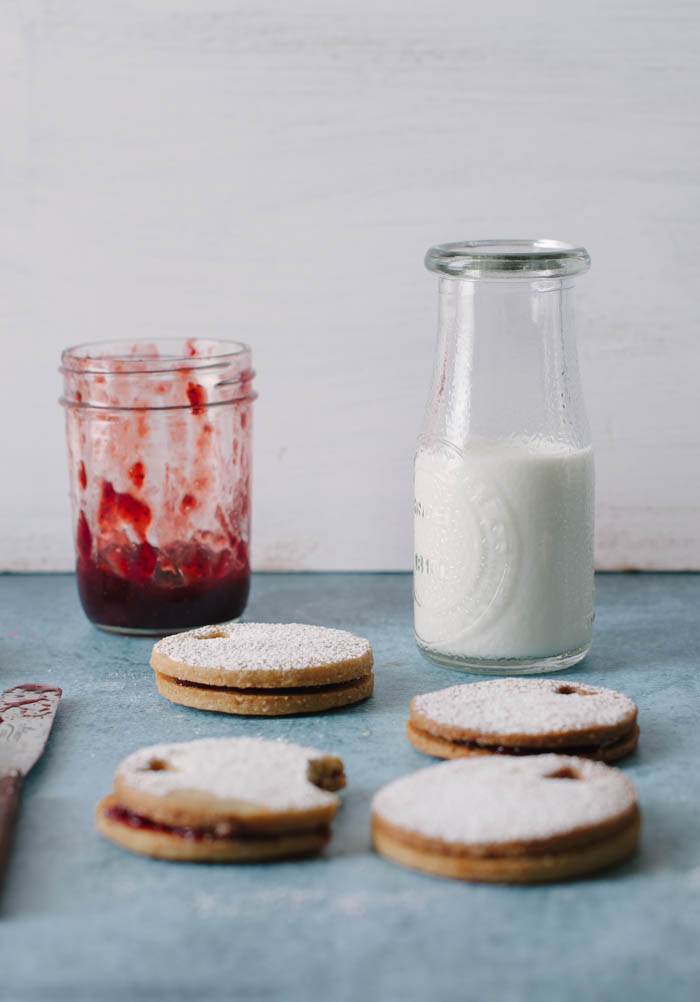 Brown Sugar Linzer Cookies with Strawberry Balsamic Jam
Ingredients
1/2 cup (75 grams) toasted almond meal or flour
1 cup (130 grams) all purpose flour
1/4 teaspoon (2 grams) salt
1/2 cup (113 grams) unsalted butter, room temperature
1/3 cup (75 grams) light brown sugar
1 teaspoon pure vanilla extract
1 large egg yolk
Powdered sugar for dusting
Instructions
In a bowl, whisk together the almond flour, all purpose flour, and salt.
In a separate bowl with an electric mixer (or in the bowl of a stand mixer), beat the butter and brown sugar for about 2 minutes on medium speed.
Add the vanilla extract and egg yolk and beat until combined.
Add the dry ingredients and beat on low until just combined.
Gather the dough into a ball and roll it out between two sheets of parchment paper (or in a gallon sized zipper bag). It should be about 1/8 of an inch thick.
Refrigerate the dough for at least an hour, or for up to 2 days.
When you are ready to bake, use a 2.5 inch round cookie cutter tostamp out as many cookies as you can.
Re roll the scraps and do the same thing. I got about 20 cookies.
Use a smaller cookie cutter or an aspic cutter to cut out shapes in half of the cookies (I used a heart aspic cutter).
Place the cut out cookies on 2 baking sheets and refrigerate for another 15-30 minutes until chilled.
While the cookies are chilling, preheat the oven to 350 degrees fahrenheit.
Bake the chilled cookies for about 10 minutes, until the edges are golden brown.
Once the cookies are cooled, dust the tops with the cut outs with powdered sugar.
Spread the jam on the bottom cookies.
Place the cut out cookies on top and sandwich them together.
These cookies taste great right away but I think they get even better after they have been refrigerated and have time to soften.
http://cakemerchant.com/2017/02/09/brown-sugar-linzer-cookies-strawberry-balsamic-jam/
Cookie recipe adapted from Joy of Baking