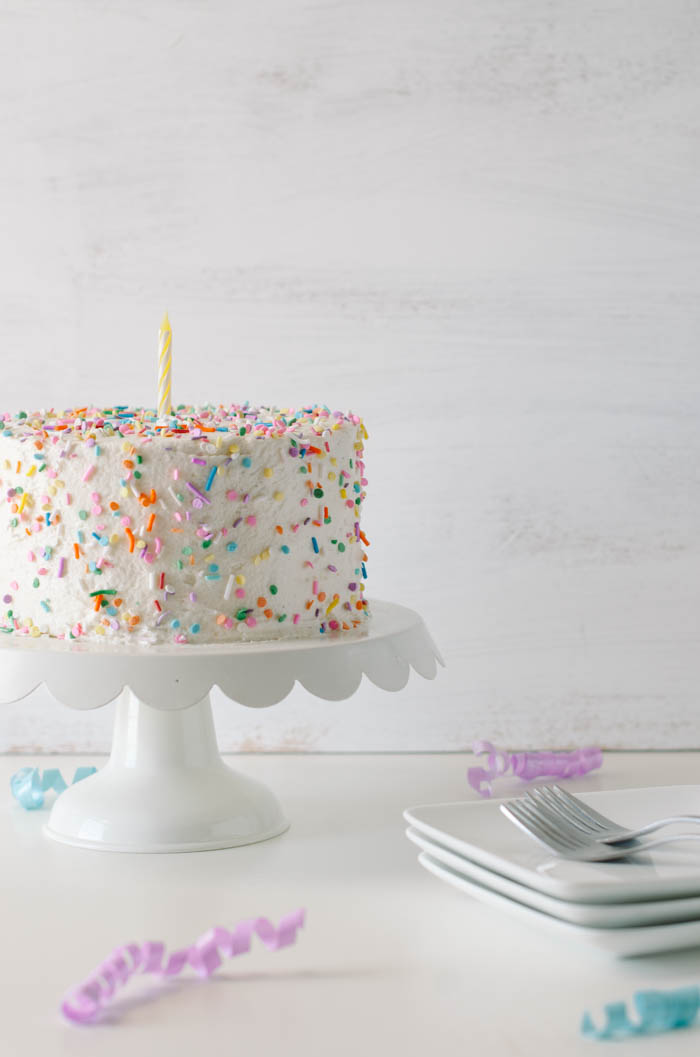 Is there a point where one outgrows funfetti cake? Let me rephrase that. Is there a point where one should outgrow funfetti cake? If so, that point has not yet arrived for me. Or maybe I'm just a 12 year old in a 30-something's body, but funfetti makes me just as happy as it did 20 years ago. Since today is my birthday, I went all out with this sprinkletastic cake!
I knew that I wanted one of my birthday cakes this year to be funfetti (if you've been reading my blog for a while, you know I always make 2 cakes since I'm super indecisive), but I hadn't found a recipe that I really wanted to make. Like chocolate chip cookies, I think everyone has their own preference for the kind of vanilla cake that they like. I like mine light and fluffy, with extra vanilla bean paste
, and full of sprinkles.
A few years ago, I found a recipe for a vanilla cupcake that I really liked (I used it in this recipe), but a good cupcake recipe doesn't always make a great cake. When I made it in cake form, it was dense and a little sturdier than I envisioned, so I made 2 changes.
First, I changed the mixing method from the traditional creaming method to the reverse creaming method. Rather than creaming the butter and sugar together first, the dry ingredients and beaten together with the butter and some of the milk. By coating the flour with fat, gluten formation is inhibited, producing a cake with a finer crumb. It's also harder to over mix, and a foolproof cake recipe is never a bad thing.
I also subbed some of the all-purpose flour with cake flour to get some extra lightness. I thought about replacing it with cake flour entirely, but sometimes I think cake flour has a weird aftertaste, so I didn't want to use too much of it. I know, weird logic, but I was willing to trade in some of the lightness for flavor. Plus, it's my birthday so I can pretty much do what I want (within legal limits).
The frosting if what I like to call "Cream Cheese-ish Frosting." I didn't want a super sweet frosting, even though funfetti cake traditionally calls for it. I ended up taking my regular old American buttercream recipe, cutting back the sugar and swapping out some the butter with cream cheese. The result is a lighter, less sweet buttercream with minimal effort. The secret to getting a great texture with this frosting is the temperature of your ingredients. The cream cheese should be at room temperature, and the butter should be softened but still hold it's shape.
Just for fun, here's a picture of a cat tail photobomb (courtesy of my frosting loving cat, Archie).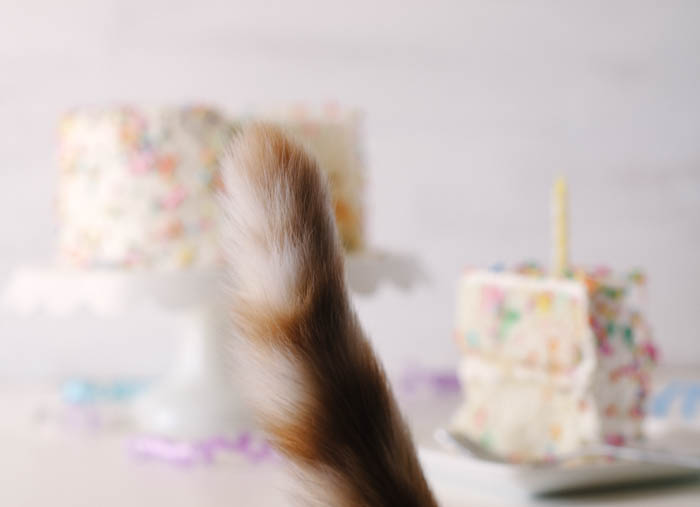 Ingredients
For the Cake:

1/2 cup milk (120 ml), divided and at room temperature
1 whole egg plus 1 egg white, at room temperature
1 tsp. pure vanilla extract or vanilla bean paste
3/4 cups plus 1 tablespoon (93 grams) cake flour
1/2 cups (65 grams) all-purpose flour
1 1/2 tsp. baking powder
1/4 tsp. salt
3/4 cup (150 grams) sugar
6 tablespoons (3/4 stick or 85 grams) unsalted butter, at room temperature and cut into pieces
3 tablespoons sprinkles (I used jimmies and quins)

For the Frosting:

2 ounces (57 grams) cream cheese, at room temperature
12 tablespoons (1 1/2 sticks or 170 grams) unsalted butter, softened but still cool
1 cup (115 grams) powdered sugar
1 tablespoon pure vanilla extract or vanilla bean paste
1-2 tablespoons heavy cream
More sprinkles for topping!
Instructions
For the Cake:

Preheat the oven to 350 degrees fahrenheit.
Grease and line 2 6-inch pans with parchment paper.
In a measuring cup, whisk together 1/4 cup of milk with the egg, egg white, and vanilla.
In the bowl of a stand mixer fitted with the paddle attachment, combine the flours, baking powder, salt, and sugar on low speed for about 30 seconds.
Add the butter and remaining 1/4 cup of the milk and beat on low until moistened.
Turn up the mixer and beat on medium speed for 90 seconds.
Scrape down the sides of the bowl.
Add the egg mixture in 2 separate additions, beating on medium for 20 seconds after each addition.
Fold in the sprinkles.
Divide the batter between 2 6-inch pans and bake for 22-25 minutes (start checking around 20 minutes just in case), until a toothpick inserted into the center comes out clean.
Cool in the pans on wire racks for 15 minutes.
Turn the cakes out of the pans and cool completely before frosting.

For the Frosting:

With an electric mixer or the paddle attachment of a stand mixer, beat the cream cheese and butter on medium speed until combined.
Add the powdered sugar and beat on low speed until combined.
Turn the mixer up to medium speed and beat for 1-2 minutes until light and fluffy.
Add the vanilla extract/paste and beat to combine.
Add the heavy cream 1 tablespoon at a time until you reach a spreadable consistency.

To Assemble the Cake:

Place one layer of the cake on a cake stand or cake board.
With an offset spatula, spread a layer of frosting on top ( used about 1/2 cup).
Place the other layer of cake on top.
Place the cake on a turntable, and apply a thin layer of the frosting on the sides and the top of the cake to lock in the crumbs.
Let the frosting set up in the refrigerator for about 15-20 minutes.
Once the crumb coat has set, apply the remainder of the frosting to the sides and top of the cake.
Top with lots of sprinkles!
http://cakemerchant.com/2017/02/19/funfetti-cake/
Cake recipe adapted from Williams Sonoma and The Cake Bible
.