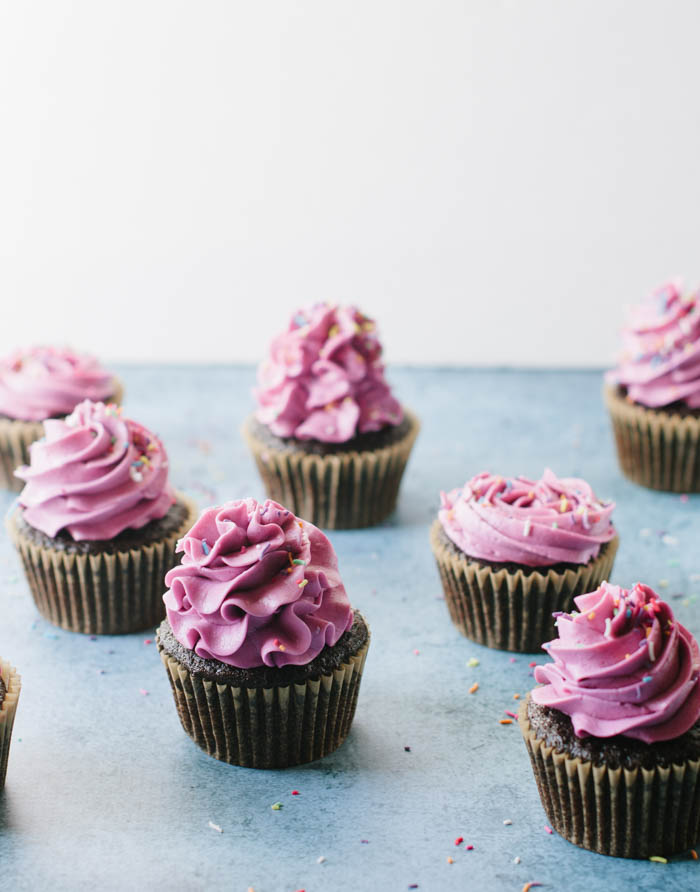 Hey, guess what? I have a video for you today! I've had several requests from readers over the years to do a frosting tutorial, so I'm really happy to be bringing you this post along with a video. It has been a goal of mine to add more how-to videos (you can see my first one here), and I decided to start what I hope will be a series of tutorials with my favorite and most used frosting tip, the Wilton 1M.
Here are the descriptions in order from left to right.
1. The Classic Swirl– This is what you see in most cupcake shops, and it's super easy to do. Start by holding your piping bag 90 degrees over the center of the cupcake and pipe a dollop in the middle. Without releasing pressure, move your piping bag to the outside edge of the cupcake and in a steady motion, piping overlapping circles. Each one should be a little bit smaller until you reach the top of the cupcake.
2. The Ruffle– This is what I use most often when I decorate cupcakes because I love the frilly look that it gives. Beware though, it uses a lot of frosting. This works particularly well when you are using a less sweet frosting like Swiss buttercream, so the sugariness is not as overwhelming. It's the same basic concept as the classic swirl, but you are going to apply more pressure and move slowly as you pipe.
3. The Rosette– The easiest rose ever. Start like you would with a classic swirl, but after you pipe a dollop in the center, move in concentric circles from the inside out.
4. The Beehive– I had a hard time coming up with a name for this one. Aaron thought it looked like an updo, so alas, the beehive. Hold your piping bag at 90 degrees over the center of the cupcake and squeeze. Lift slightly and squeeze again, but a use slightly less pressure so the frosting gets smaller as it goes up. I did this 4 times.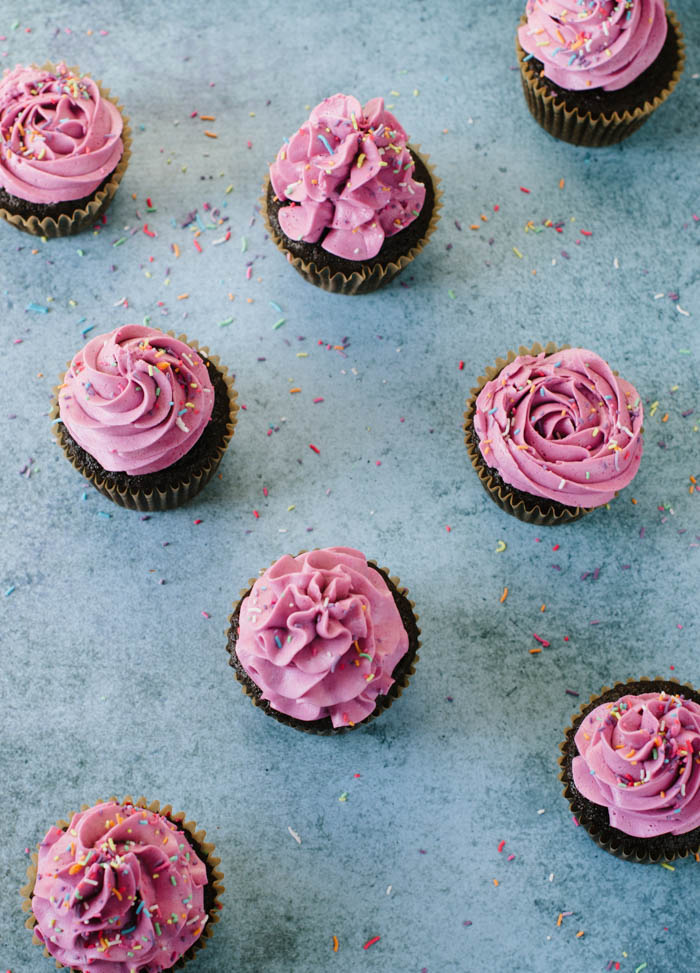 And there you have it. Four easy ways to decorate your cupcakes. If you haven't done a lot of piping before, you can practice on parchment paper first. Then just scoop into a container and put it back in the bad when you are ready to frost your cupcakes. If you practice a lot, your frosting might get melty (unless your frosting is shortening based) so stick it in the fridge for a bit before piping again.