It's my birthday! Well, it was my birthday last week. I'm a little late in posting this. In fact, blogging has been rare treat around these parts lately, and what better day to treat myself than my birthday!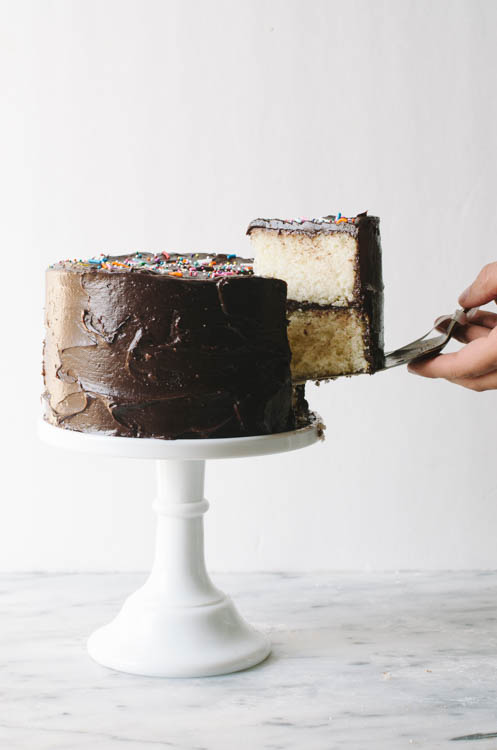 Some people talk about the baker's dilemma. Do you bake your own cake or not? For me, it's a no brainer. Control freak that I am, I always want to bake my own cake. Unless someone wants to deliver a Momofuku cake to my door. Then I might change my mind, but this year nostalgia took over and I chose my childhood favorite- yellow cake with chocolate frosting. Of course, my childhood yellow birthday cake came from a box, so I wanted this cake to resemble that in the light and fluffy department, but perhaps less so in the alarmingly yellow department (seriously, what do they put in there?).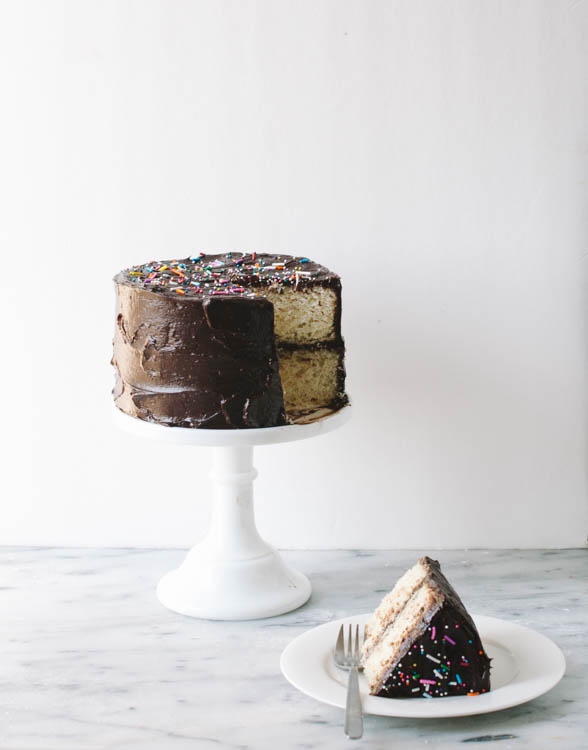 I've never been a big fan of canned frosting, so I wanted to do something different than the traditional chocolate buttercream. I thought about making my go to chocolate sour cream frosting, but after some googling, came across Hummingbird High's recipe for creme fraiche frosting. By swapping out creme fraiche for the sour cream, I ended up with a frosting that was not too sweet, ultra rich, and chocolaty in all the right ways. I dare you not to eat half of it before you even start frosting the cake.
The actual cake recipe is a paired down version of the "All Occasion Downy Yellow Butter Cake" from The Cake Bible
. Even though Rose Levy Berenbaum warns not to mess with the pan sizes, I almost always do. Sometimes I've paid the price for it, but this time it worked out. I love this cake because it has the lightness of a boxed mix that comes from the cake flour, and the egg yolks give it a rich yellow color and flavor. For the ultimate lightness, make sure to use bleached cake flour. Unbleached cake flour will make a denser cake.
In the spirit of being more grown up this year, I was going to leave the sprinkles off of my birthday cake this year. But for me, part of the pleasure of eating birthday cake is the mouthful of crunchy nonpareils that come with it, so I decided to go sprinkle crazy because I'm the birthday girl!