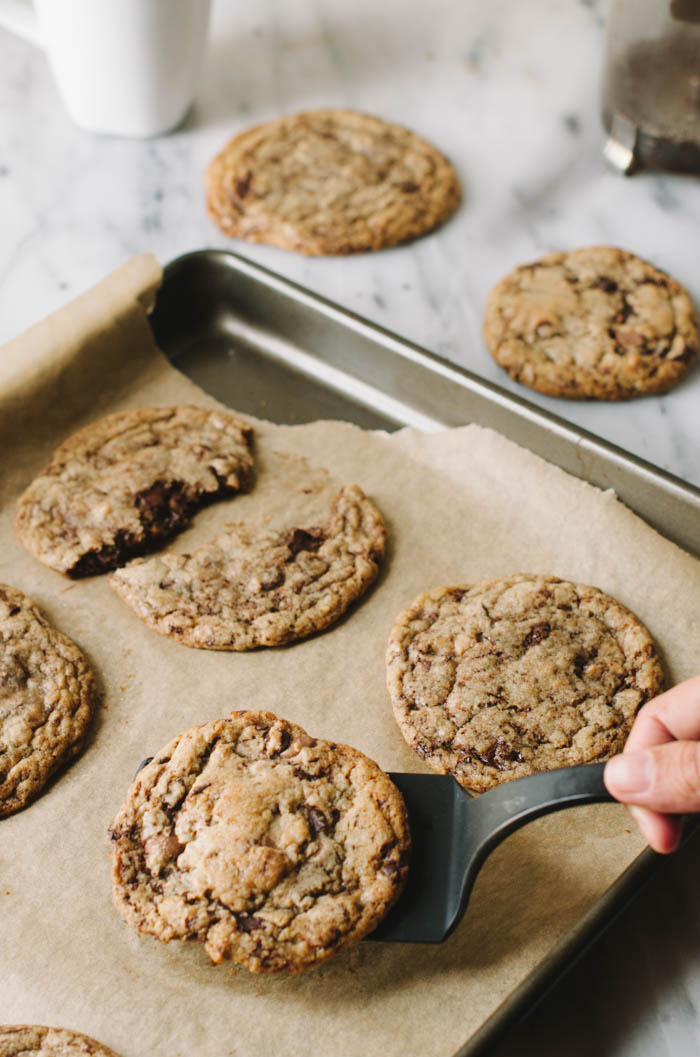 If I could only eat one dessert for the rest of my life, it would be chocolate chip cookies. I don't make them very often (unless it's in a small batch) because I have no self-control around them, but all of that goes out the window during the holidays because cookies are great for gifting. And if a few of those gifts accidentally make their way into my pie hole (cookie hole?) it's all in the name of recipe testing. Plus, calories in December don't count.
These cookies are a mash-up of 3 recipes. I've taken my favorite things about all of them and tweaked them until I got my ideal cookie. Lots of butter was browned and several pounds were added to my hips in the process, but I finally found a winner. The texture of the cookie is dense and chewy with a crispy exterior, and the toffee flavor runs deep. Brown butter, dark brown sugar, and toffee chips all contribute to this. I've measured everything really carefully, so for optimal results, use a scale. The amount of flour really affects the texture and over doing it makes the cookie less magical.
Since this recipe uses melted butter, you don't need anything more than a bowl and a wooden spoon to make it. Dump and stir recipes are the best.
If you've never browned butter before, it's worth the effort. It really adds another dimension of flavor to the cookies. Just make sure that when you brown the butter, you don't try to multitask (like I did) because you'll end up with burnt butter, and no amount of chocolate and toffee can hide that. Put your phone down and watch it.
Be careful not to over mix the dough. I like to leave it a little bit streaky with flour before mixing in the chocolate and toffee so the cookie doesn't get tough.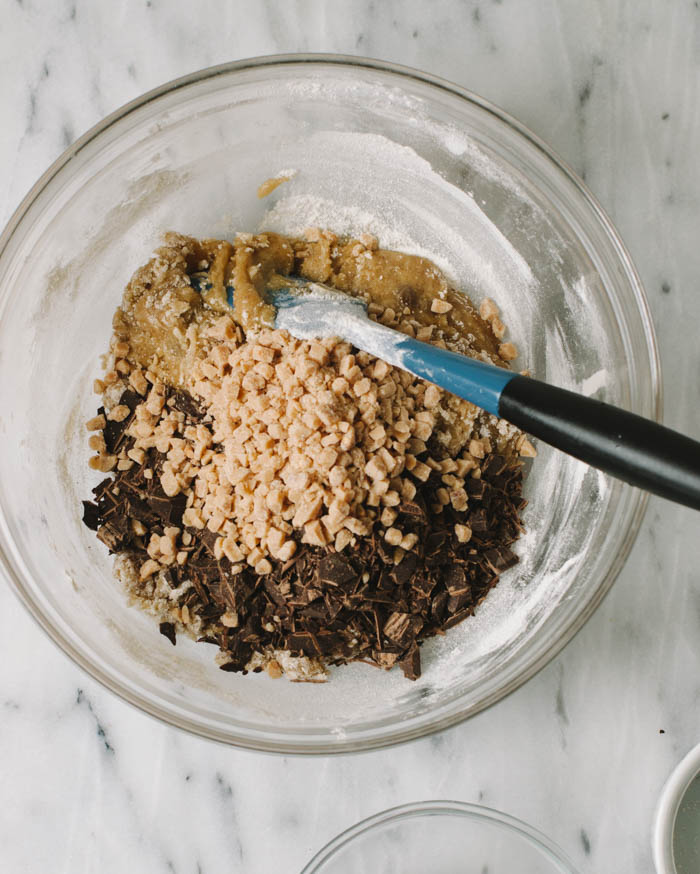 These cookies spread quite a bit in the oven, so make sure you leave enough room for them to do their thing. If you like a thicker cookie, you can increase the flour to 160 grams. However, I like the texture of the flatter version of this cookie better.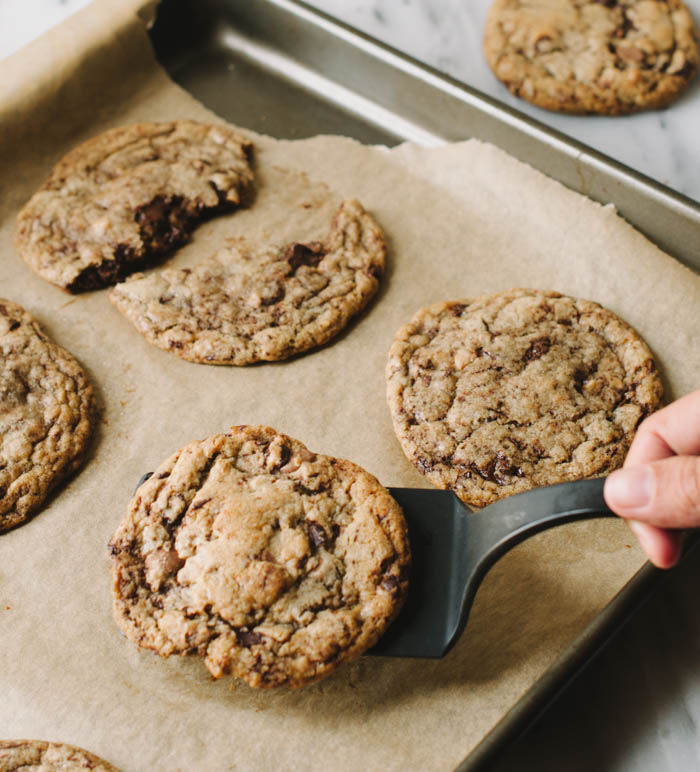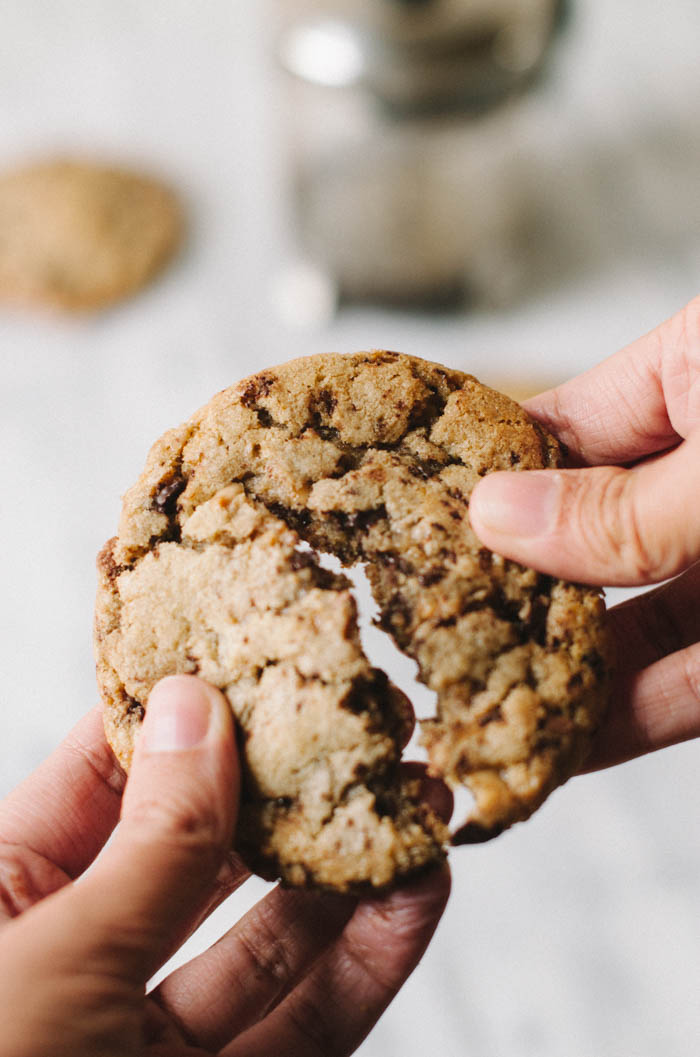 Brown Butter Chocolate Chip Toffee Cookies
Ingredients
4 ounces (1 stick or 113 grams) unsalted butter
1/2 cup (115 grams) dark brown sugar, packed
1/3 cup (66 grams) granulated sugar
1 large egg
145 grams (about 1 cup plus 2 tablespoons) all-purpose flour
1/2 teaspoon baking soda
3/4 teaspoon kosher salt
2/3 cup (100 grams) finely chopped chocolate
1/3 cup (50 grams) toffee bits
Instructions
Start by browning the butter. In a saucepan or a pot with a light colored bottom, place the butter over medium heat. After it melts, it will begin to foam and crackle and the milk solids will begin to brown. Stir the butter with a spatula to keep the milk solids from sticking and burning. Once you are happy with the level of browning, pour the butter into a large heatproof bowl (make sure you scrape the browned bits at the bottom of the pan into the bowl as well).
Add both sugars and whisk to combine.
Add the egg and whisk until combined.
Add the flour, baking soda, and salt and stir gently until it has almost been incorporated, but a few streaks of flour still remain.
Add the chopped chocolate and toffee bits and stir to combine.
Cover the dough and chill for at least one hour in the fridge.
Preheat the oven to 350 degrees fahrenheit.
Roll the dough into balls that are about 3 tablespoons each.
Place the balls on a parchment lined cookie sheet, leaving space in between for spreading (I normally do a maximum of 6 per cookie sheet).
Bake for 12-13 minutes, until the edges begin to brown.
Cool completely on wire racks.
The dough can be refrigerated for up to 3 days. However, it does get hard and crumbly if you refrigerate it for more than a few hours. If you want to refrigerate the dough for more longer, roll the dough into balls, place them onto cookie sheet, and cover with saran wrap.
http://cakemerchant.com/2016/12/12/brown-butter-chocolate-chip-toffee-cookies/
Recipe inspired by Serious Eats, Joy the Baker, and Seven Spoons
.
For more help on browning butter, check out Serious Eats.