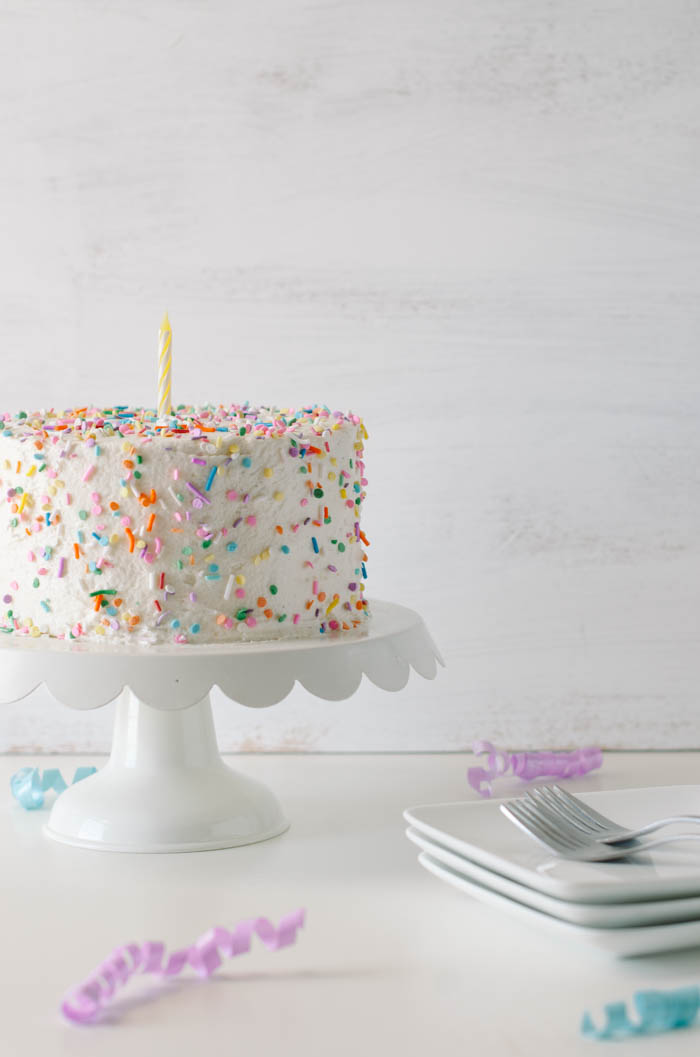 Is there a point where one outgrows funfetti cake? Let me rephrase that. Is there a point where one should outgrow funfetti cake? If so, that point has not yet arrived for me. Or maybe I'm just a 12 year old in a 30-something's body, but funfetti makes me just as happy as it did 20 years ago. Since today is my birthday, I went all out with this sprinkletastic cake!
I knew that I wanted one of my birthday cakes this year to be funfetti (if you've been reading my blog for a while, you know I always make 2 cakes since I'm super indecisive), but I hadn't found a recipe that I really wanted to make. Like chocolate chip cookies, I think everyone has their own preference for the kind of vanilla cake that they like. I like mine light and fluffy, with extra vanilla bean paste
, and full of sprinkles.
A few years ago, I found a recipe for a vanilla cupcake that I really liked (I used it in this recipe), but a good cupcake recipe doesn't always make a great cake. When I made it in cake form, it was dense and a little sturdier than I envisioned, so I made 2 changes.
First, I changed the mixing method from the traditional creaming method to the reverse creaming method. Rather than creaming the butter and sugar together first, the dry ingredients and beaten together with the butter and some of the milk. By coating the flour with fat, gluten formation is inhibited, producing a cake with a finer crumb. It's also harder to over mix, and a foolproof cake recipe is never a bad thing.
I also subbed some of the all-purpose flour with cake flour to get some extra lightness. I thought about replacing it with cake flour entirely, but sometimes I think cake flour has a weird aftertaste, so I didn't want to use too much of it. I know, weird logic, but I was willing to trade in some of the lightness for flavor. Plus, it's my birthday so I can pretty much do what I want (within legal limits).
The frosting if what I like to call "Cream Cheese-ish Frosting." I didn't want a super sweet frosting, even though funfetti cake traditionally calls for it. I ended up taking my regular old American buttercream recipe, cutting back the sugar and swapping out some the butter with cream cheese. The result is a lighter, less sweet buttercream with minimal effort. The secret to getting a great texture with this frosting is the temperature of your ingredients. The cream cheese should be at room temperature, and the butter should be softened but still hold it's shape.