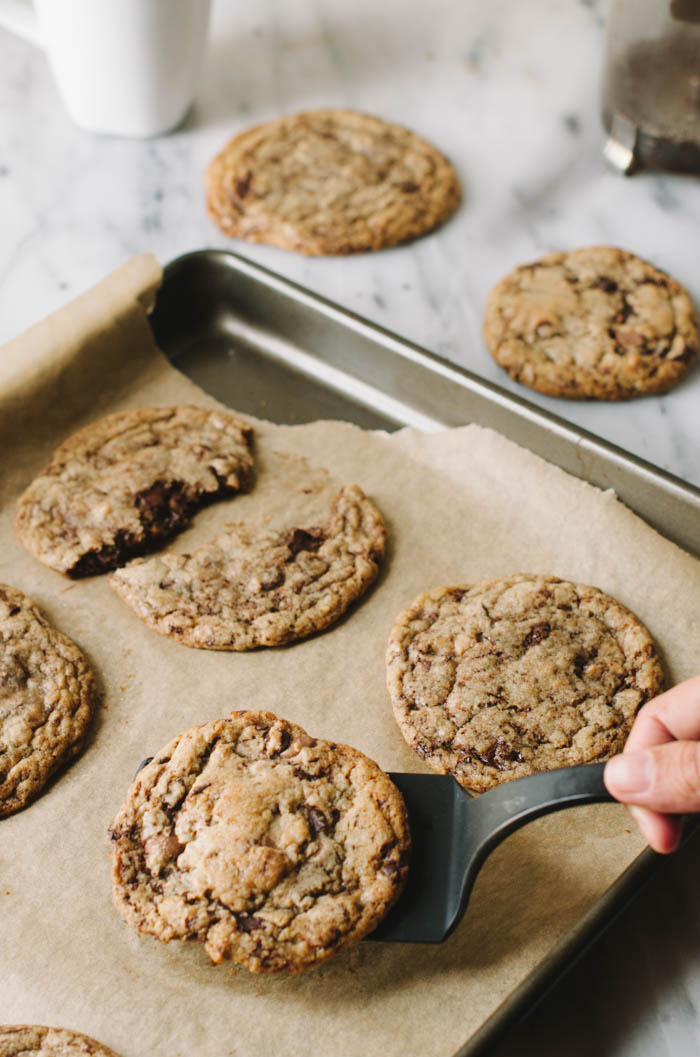 If I could only eat one dessert for the rest of my life, it would be chocolate chip cookies. I don't make them very often (unless it's in a small batch) because I have no self-control around them, but all of that goes out the window during the holidays because cookies are great for gifting. And if a few of those gifts accidentally make their way into my pie hole (cookie hole?) it's all in the name of recipe testing. Plus, calories in December don't count.
These cookies are a mash-up of 3 recipes. I've taken my favorite things about all of them and tweaked them until I got my ideal cookie. Lots of butter was browned and several pounds were added to my hips in the process, but I finally found a winner. The texture of the cookie is dense and chewy with a crispy exterior, and the toffee flavor runs deep. Brown butter, dark brown sugar, and toffee chips all contribute to this. I've measured everything really carefully, so for optimal results, use a scale. The amount of flour really affects the texture and over doing it makes the cookie less magical.
Since this recipe uses melted butter, you don't need anything more than a bowl and a wooden spoon to make it. Dump and stir recipes are the best.
If you've never browned butter before, it's worth the effort. It really adds another dimension of flavor to the cookies. Just make sure that when you brown the butter, you don't try to multitask (like I did) because you'll end up with burnt butter, and no amount of chocolate and toffee can hide that. Put your phone down and watch it.
Be careful not to over mix the dough. I like to leave it a little bit streaky with flour before mixing in the chocolate and toffee so the cookie doesn't get tough.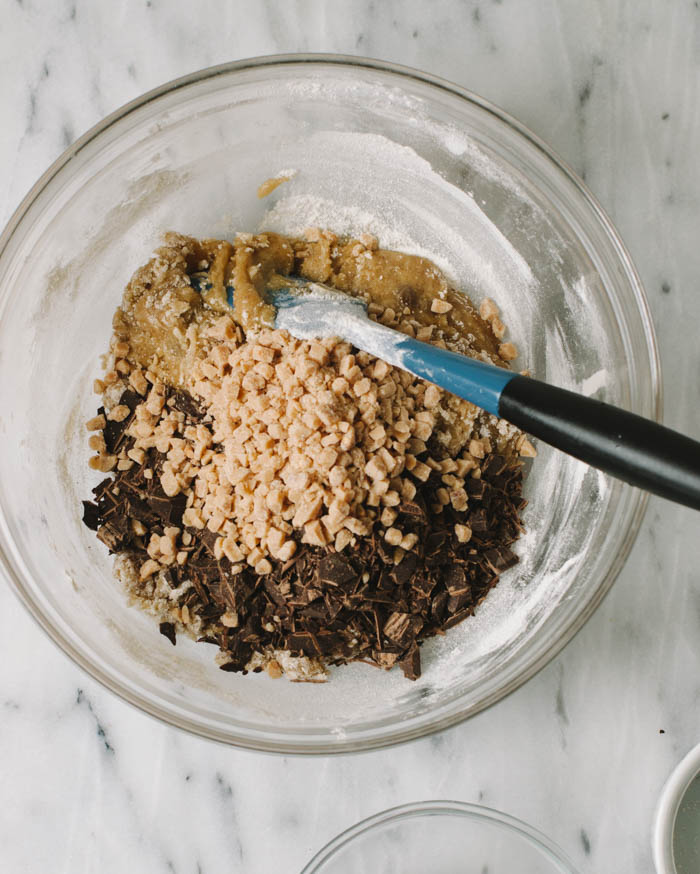 These cookies spread quite a bit in the oven, so make sure you leave enough room for them to do their thing. If you like a thicker cookie, you can increase the flour to 160 grams. However, I like the texture of the flatter version of this cookie better.