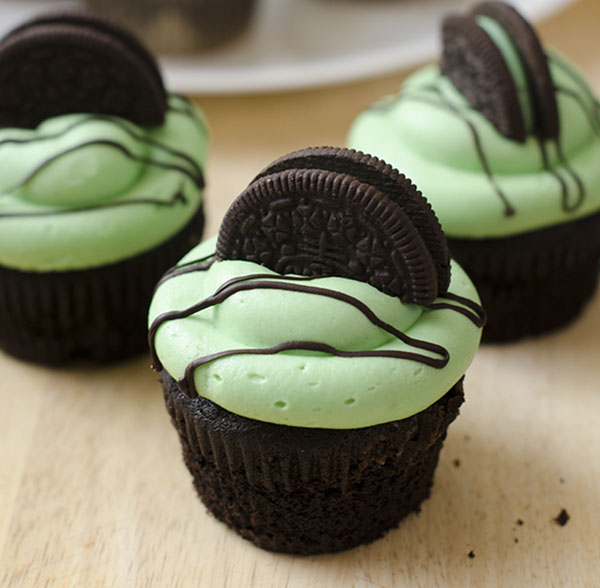 You know how they say that you should never go to the grocery store when you're hungry? I don't know who they are, but apparently, they knew what they were talking about. Chocolate and mint are one of my favorite flavor combinations, so when Christmas time comes around, my will power at the grocery store is almost non-existant. Needless to say, I walked out of  there with a package of Cool Mint Oreos. I'm not usually a big fan of pre-packaged cookies, but I'm not going to specify how many of these I ate in the car on the way home. Whatever was left got turned into these cupcakes.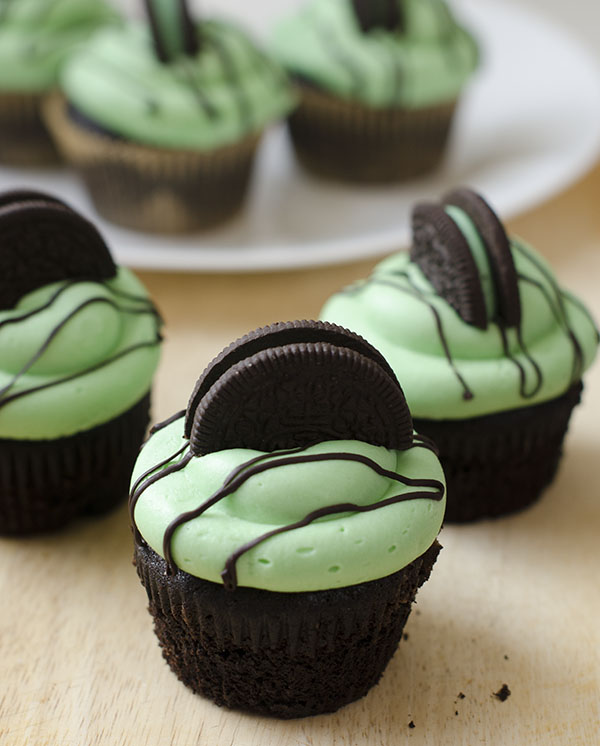 In order to get the frosting to match the Oreo filling, I used a couple of drops of Americolor Leaf Green food coloring. I didn't want to taint the pretty frosting with cookie pieces, so I mixed pieces of the cookies into the batter.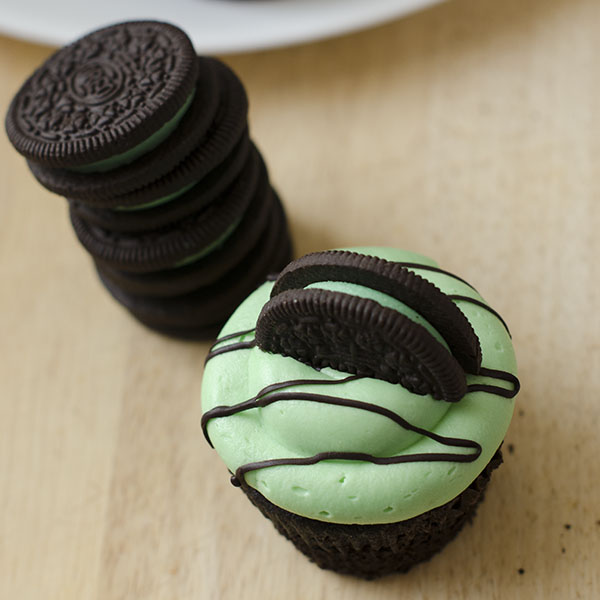 I used a no fuss one bowl chocolate cupcake recipe. It makes a lighter cupcake, which is a nice contrast to the crunchy cookie pieces. These cupcakes are egg and dairy free. I used organic unrefined sugar in the cupcakes. However, the Oreos contain refined sugar, so depending on your stance on sugar, these can be considered vegan.
After all of the comments I have received, I am no longer saying these are vegan. I will say that the cupcakes themselves are vegan (yes, there is such a thing as vegan powdered sugar). As for the oreos, that's up to you to decide. You could always use Newman O's instead, or if you wanted to be really sure, just make your own.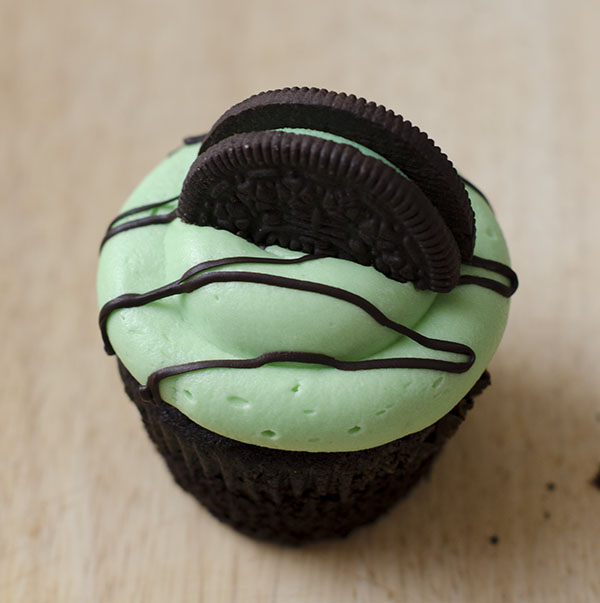 Mint Chocolate Oreo Cupcakes
Ingredients
For the cupcakes:

1 cup soy milk
1 tsp. apple cider vinegar
3/4 cup sugar
1/3 cup vegetable oil
1 tsp vanilla extract
1 cup all-purpose flour
1/3 cup cocoa
1/2 tsp baking powder
3/4 tsp baking soda
1/2 teaspoon salt
About 10 Mint Oreos, chopped

For the frosting:

1/2 cup non-hydrogenated margerine (I used Earth Balance)
1/2 cup non-hydrogenated shortening (I used Spectrum Organics)
3 cups powdered sugar (I used Wholesome Sweeteners)
1 teaspoon vanilla extract
1 teaspoon mint extract
A few drops of green gel food coloring

For decoration:

3 tablespoons soymilk
1/3 cup vegan chocolate chips (such as Ghirardelli Semi-Sweet or 365 brand)
6 Mint Oreos, cut in half
Instructions
For the cupcakes:

Preheat the oven to 350. Line a cupcakes tin with 12 paper liners.
In a large bowl, whisk together the soymilk and vinegar. Set it aside for a couple of minutes to curdle.
Add the sugar, oil, and vanilla to the "buttermilk." Whisk until the mixture is foamy.
In a separate bowl, sift the flour, cocoa, baking soda, baking powder, and salt.
Add the flour mixture into the wet ingredients and mix until all the ingredients are combined. Stir in the cookie pieces.
Divide the batter equally between the 12 cupcake liners and bake for 18-20 minutes.
Cool completely before frosting.

For the frosting:

Beat the shortening and margerine together on medium speed until fluffy.
Add the powdered sugar and beat for another 3 minutes. Start your mixer on low until the powdered sugar is just combined, otherwise you'll be wearing it. Then increase the speed to medium.
Add the vanilla extract, mint extract, and food coloring. I added the food coloring a drop at a time, until in matched the inside of the oreo. Beat on medium high until combined.
Pipe the frosting onto the cupcakes cooled cupcakes

To make the ganache:

In a small saucepan, heat the soymilk until it is just about to simmer. Remove the saucepan from the heat, add the chocolate chips, and stir to combine. Set aside to cool for about 5 minutes. Once the ganache has cooled, put it into a piping bag or plastic bag, snip off a small amount from corner of the bag, and drizzle over the top of the cupcakes. Top with half an Oreo.
Notes
Recipe adapted from Vegan Cupcakes Take over the World. You can substitute regular butter for the Earth Balance and regular milk for the soy milk.
http://cakemerchant.com/2012/12/04/mint-chocolate-oreo-cupcakes/
Cupcake recipe adapted from Vegan Cupcakes Take Over the World