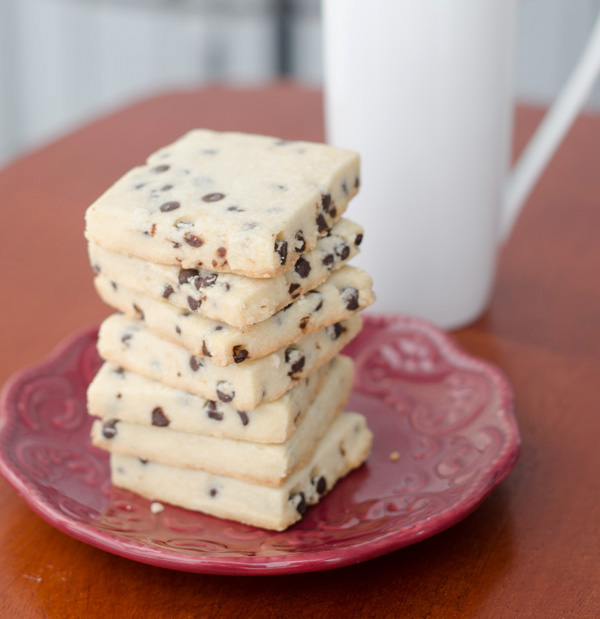 I'm ashamed to say that I only recently began making shortbread cookies, but I've more than made up for it lately. You may remember these shortbread cookies that I made a few weeks ago. Since then, I've made (and eaten) more of these than I count, given them as Christmas gifts, and brought them to holiday parties.
While I was in Indiana last week, my friend Kelly decided to brave the cold and drive down from Michigan to visit me. Kelly happens to be vegan, so I decided to veganize the original recipe. After all, vegans deserve shortbread, too. Especially after driving for 3 hours in the snow to hang out with me.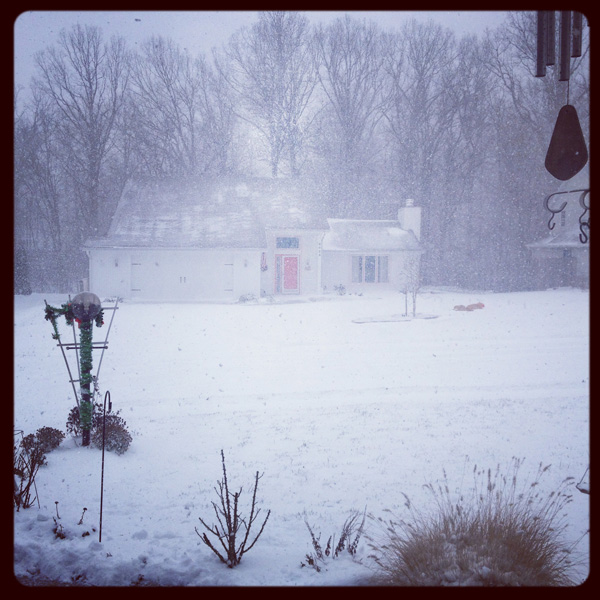 Check out my brother with the snowblower! This is not something I see often in Dallas.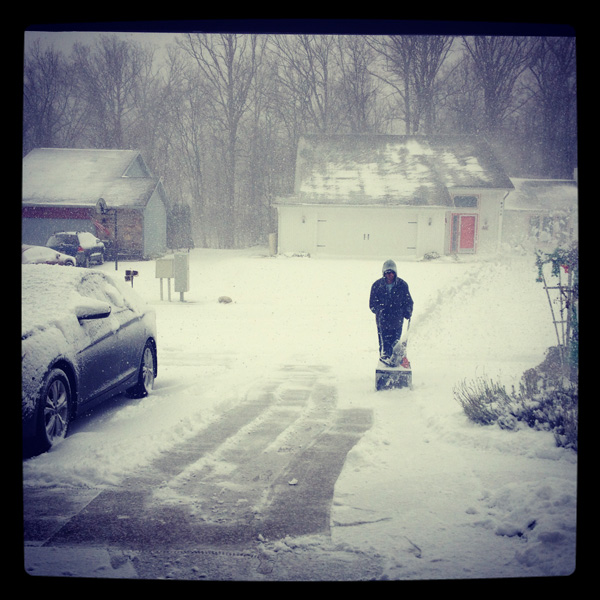 My intent was to update my original post with a veganized option, but I thought these cookies were good enough to have a post of their own. So good, in fact, that I will forevermore make my chocolate chip shortbread cookies vegan. I feel ever so slightly guilty that I adapted this recipe from Use Real Butter's blog, and then didn't use real butter, but I swear you'll never know the difference.
Make these cookies, grab a cup of tea, and keep yourself warm by the fire while you enjoy them. Now if you'll excuse me, I'm off to whip  up another batch for my Downton Abbey viewing party. Free Bates!
Vegan Chocolate Chip Shortbread Cookies
Ingredients
8 oz. (2 sticks) vegan butter, room temperature (I used Earth Balance Vegan Buttery Sticks)
2/3 cup confectioners' sugar (I used Wholesome Sweeteners)
1/2 tsp. vanilla extract
2 cups all-purpose flour
3/4 cup mini chocolate chips (I used Enjoy Life brand)
Instructions
With an electric mixer, beat the butter and confectioners' sugar on medium for about 3 minutes, or until smooth. Beat in the vanilla extract.
With the mixer on low, beat the flour in until it just disappears into the butter mixture. Do not overmix.
Fold in the mini chocolate chips. (I used my hand to knead them in gently).
Transfer the dough into a gallon sized ziploc or freezer bag. On a flat surface, use a rolling pin to roll the dough out about 1/4 inch thick. Chill the dough until firm (about 2 hours).
Preheat the oven to 325 degrees fahrenheit and line 2 cookie sheets with parchment paper.
When the dough is ready, take it out of the fridge, slit the plastic bag and remove the dough. Use a cookie cutter to cut out shapes, or use a knife to cut the dough into squares. I divided the dough into 4 rows each way.
Bake the cookies for about 15-20 minutes, or until the edges just begin to brown, rotating the pans halfway through the baking time. These cookies taste better when they are still slightly pale, so watch them carefully near the end to ensure that they don't get too brown. Cool completely.
http://cakemerchant.com/2013/01/04/vegan-chocolate-chip-shortbread-cookies/
Recipe adapted from Use Real Butter
Update: When choosing vegan butter/margerine, make sure to go for the stick variety. The stuff in the tubs will be too runny.