It's hard to believe that a up until a few years ago, I had never had red velvet cake. Since moving to Texas, I have made (and eaten) more than my fair share of the stuff, and while I was reluctant to jump on the red velvet band wagon at first, I'm officially a fan. The cream cheese frosting that is usually paired with it is just an additional bonus.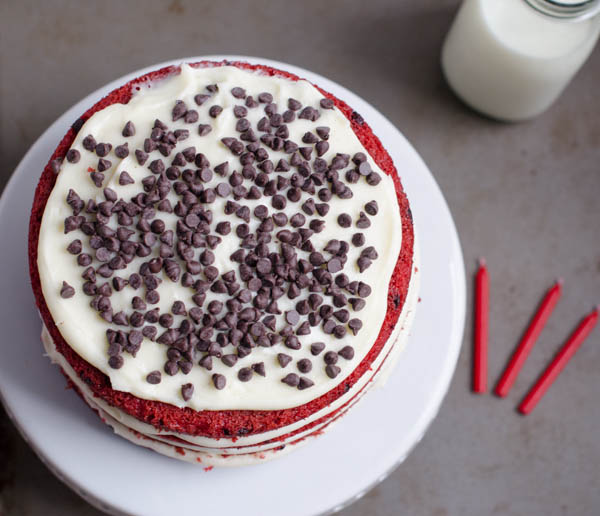 This is the first time I have used this particular recipe for Red Velvet, which is originally from the popular Brooklyn Bakery Cake Man Raven. It has less cocoa in it than other recipes I've tried, so the color is a very bright red. I added some chocolate chips to the batter to amp up the chocolate flavor and add some texture, but if you don't like chocolate chips (is this even possible?!) feel free to leave them out. I liked them so much that I decided not to frost the outside of the cake just so that they could be seen. For cleaner looking layers, I spread some frosting in between the layers and then piped a ring around the outside of each layer with a large round pastry tip.
This cake was made for a birthday get together, and since there were only 4 of us, I halved the original recipe to make a 6-inch cake.Valentine's Day is just around the corner, so this would also make a great cake for you and your sweetie (or a Single's Awareness Day get together). The paired down recipe made 2 6-inch layers, but I sliced them in half so that I could sneak some more frosting in there. Did I mention that I love cream cheese frosting?
6 inch Red Velvet Chocolate Chip Cake with Vanilla Bean Cream Cheese Frosting
makes one 2 (or 4) layer 6-inch round cake
Ingredients
For the cake:
1 1/4 cups (162 g) all-purpose flour
3/4 cups (150 g) sugar
1/2 teaspoon (2.5 g) baking soda
1/2 teaspoon (3 g) fine salt
1/2 teaspoon (3 g) cocoa powder
3/4 cup (177 ml) vegetable oil
1/2 cup (120 ml) buttermilk, at room temperature
1 large egg, at room temperature
1 tablespoon (15 ml) red food coloring
1/2 teaspoon (3 ml) white distilled vinegar
1 teaspoon (5 ml) vanilla extract
1/2 cup mini chocolate chips plus more for topping the cake
For the frosting:
8 oz (230 g) cream cheese
3/4 cup (1 1/2 sticks or 173 g) unsalted butter
3 1/2 cups (435 g) powdered sugar
2 teaspoons (10 ml) vanilla bean paste or vanilla extract
pinch of salt
Directions
For the cake:
1. Preheat the oven to 350 degrees fahrenheit and line 2 6-inch round cake pans with parchment paper.
2. In a large bowl, sift together the flour, sugar, baking soda, salt, and cocoa powder.
3. In the bowl of a stand mixer, use the paddle attachment to whisk together the oil, buttermilk, egg, food coloring, vinegar, and vanilla.
4. Add the dry ingredients to the wet ingredients and beat on low until the dry ingredients are just incorporated. Fold in the chocolate chips.
5. Divide the batter between the 2 cake pans (I use a scale for this) and bake for 25-28 minutes, or a toothpick inserted into the center comes out clean.
6. Let the cakes cool for about 10 minutes, run a knife around the edge of the pans to loosen them, and invert them onto cooling racks. Cool completely.
For the frosting:
1. Beat the cream cheese, butter, and salt on medium until creamy, about 2-3 minutes.
2. Turn the mixer down to low and add the confectioner's sugar. Beat until incorporated, scraping down the sides of the bowl when necessary. Add the vanilla bean paste and salt and continue beating until combined.
To assemble the cake:
1. When the cakes are completely cool, use a serrated knife to divide the cakes in half horizontally.
2. Put about 1/3 of the icing in a decorating bag fitted with a large round pastry tip.
3. Place one layer of the cake on an 6-inch cake board. Place a scoop of the frosting on top, and spread evenly with a palette knife.
4. With the pastry bag, pipe a ring of frosting around the edge of the cake. Place the next layer on top and repeat this process until you get to the top layer.
5. Spread the remainder of the frosting on top of the cake and top with additional mini chocolate chips.
Recipe adapted from here