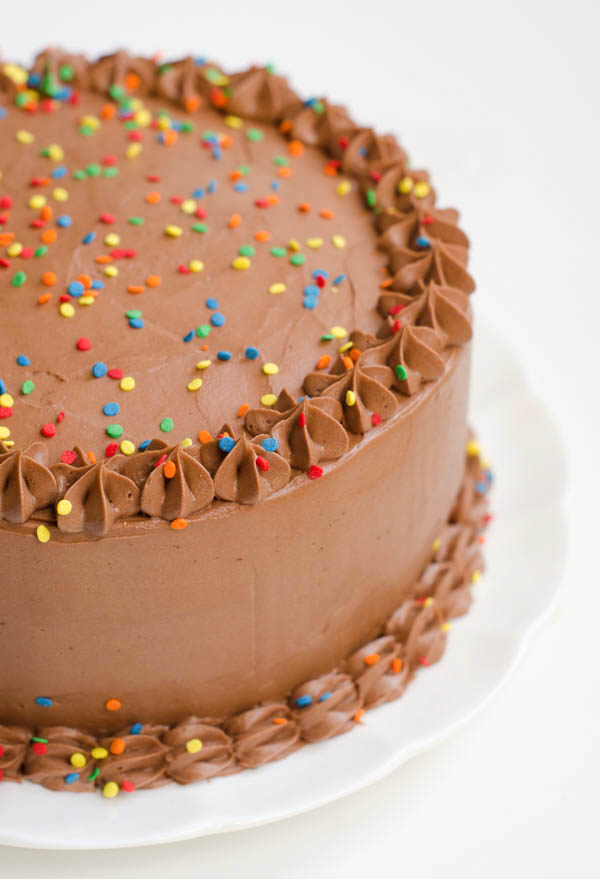 Has February come and gone already? I'm not sure when that happened, but I have one last birthday post for you (I told you I could really drag out the celebration). In previous years, I have made elaborate cakes exotic flavor combinations, but this year, I kept it simple. One vanilla cake and one chocolate cake. And while I have become more open to vanilla cakes in my 30's, chocolate is where my heart is and always will be. Is there anything better in the world than a good chocolate cake? I think not. The more chocolatey, the better.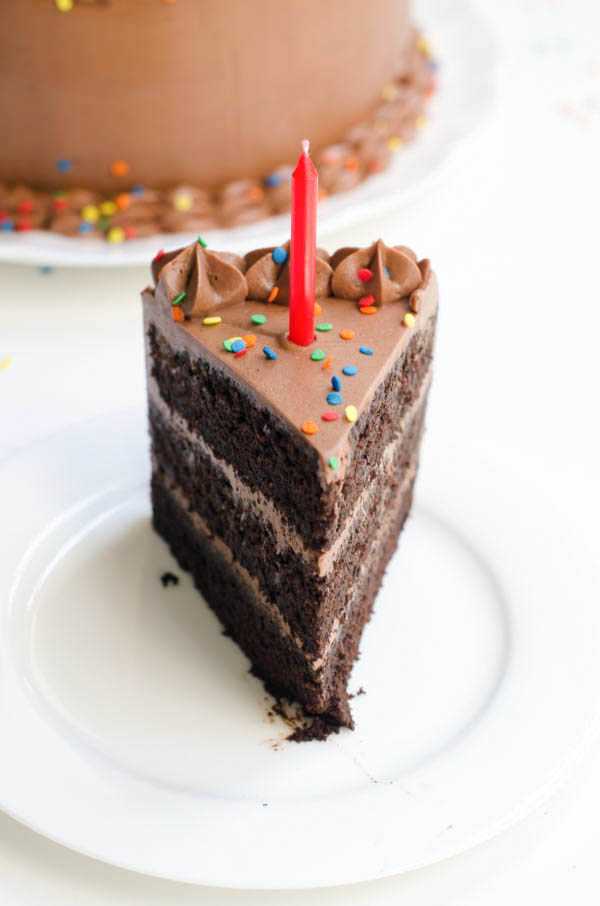 After scouring through some old recipe books, I came across a few different recipes in Baking Illustrated
. I love making cakes from this book, since it gives a long explanation and the science behind each recipe. I have made the Old Fashioned Chocolate Cake and the Sour Cream Chocolate Cake and loved them both, but I was looking for something richer for my birthday cake. This Devil's Food recipe boasted "a velvety, more intense chocolate experience" than regular chocolate cakes, so I was sold. I also loved that it made a 3 layer, 8-inch cake, which is my favorite cake profile. Is it weird to have a favorite size for a cake?
The result: exactly what I was craving, and quite possibly my new favorite chocolate cake (sorry, Ina). I paired it with a rich and creamy but not too sweet chocolate buttercream. The frosting recipe that I've included makes a lot- enough to crumb coat, frost, and pipe lots of decorations.
Chocolate Birthday Cake: Devil's Food Cake with Rich Chocolate Buttercream Frosting

Ingredients
For the cake

4 ounces (113 grams) unsweetened chocolate, chopped
1/4 cup (21 grams) Dutch processed cocoa
1 1/4 cups boiling water
3/4 cup (92 grams) unbleached all-purpose flour
3/4 cup (85 grams) cake flour
1 teaspoon (5 grams) baking soda
1/4 teaspoon (1 gram) salt
16 tablespoons (2 sticks, 227 grams) unsalted butter, softened but still cool
1 1/2 cups packed (297 grams) dark brown sugar
3 large eggs, at room temperature
1/2 cup (120 ml) sour cream
1 teaspoon (5 ml) vanilla extract

For the frosting

2 cups (4 sticks/ 454 grams) unsalted butter, at room temperature
2 cups (250 grams) powdered sugar, sifted
1 1/2 (15 ml) teaspoons vanilla extract
8 ounces (226 grams) bittersweet chocolate, melted and cooled (I used Ghirardelli 60 percent)
2-3 (30-45 ml) tablespoons milk or heavy cream
Instructions
For the cake:

Preheat the oven to 350 degrees fahrenheit. Grease and line 3 8-inch baking pans with parchment paper.
In a medium bowl combine the chocolate and cocoa. Pour the boiling water over and whisk until combined and smooth. Set aside.
In another bowl, sift together the flours, baking soda, and salt. Set aside.
In the bowl of a stand mixer, beat the butter on medium high speed until creamy. Add the brown sugar and beat on for an additional 3 minutes, until light and fluffy.
Scrape down the sides of the bowl, and beat the eggs in one at a time, beating for 30 seconds in between each addition.
Add the sour cream and vanilla and beat on medium until just combined.
With the mixer on low, add the flour mixture and the chocolate mixture, alternating between both and starting and ending with the flour mixture. Beat until just combined, but be careful not to overmix.
Divide the batter equally between the prepared pans (I used a kitchen scale for this). Place 1 pan on the upper-middle rack and 2 pans on the lower middle rack and bake for 18-23 minutes, or until a toothpick inserted into the center comes out clean.
Cool the pans on wire racks for about 15 minutes. Use a knife to run around the edge of each pan, invert the cakes onto the wire racks, and cool completely before frosting.

For the frosting:

With an electric mixer, beat the butter on medium speed until light and creamy (about 2-3 minutes).
Add the powdered sugar, mix on low until combined, then beat on medium for an additional 2-3 minutes.
Add in the vanilla and beat to combine.
Gradually add in the melted chocolate and beat on low until smooth. Add in the milk one tablespoon at a time until you reach the desired consistency.

Assembly

Place one layer of the cake on an 8-inch cake board. Place 1 cup of the frosting on top, and spread evenly with a palette knife. Place the second layer on top of the first, followed by another cup of frosting, and spread evenly.
Place the third layer on top and put a generous scoop of frosting on the top of the cake. Spread evenly across the top of the cake. Work your way around the sides until the entire cake is covered with a thin layer of frosting. I find that a turntable is helpful when frosting a layer cake. Let the crumb coat set in the fridge for about 30 minutes.
Once the crumb coat has set, spread a thicker layer of frosting on the top and sides of the crumb coat to create a smooth finish. Use the leftover frosting to pipe onto the cake and top with sprinkles.
http://cakemerchant.com/2013/03/01/chocolate-birthday-cake-devils-food-cake-with-rich-chocolate-buttercream-frosting/
Notes:
The cake layers are thin and rather fragile. I would recommend using a cake lifter 
to move them.
I've cut back significantly on the sugar from the original recipe. It was plenty sweet for me, but if you want a sweeter frosting (or a frosting with a more stiff texture), you can use 3-4 cups powdered sugar.
Cake recipe adapted from Baking Illustrated

Frosting adapted from Magnolia Bakery via Food.com