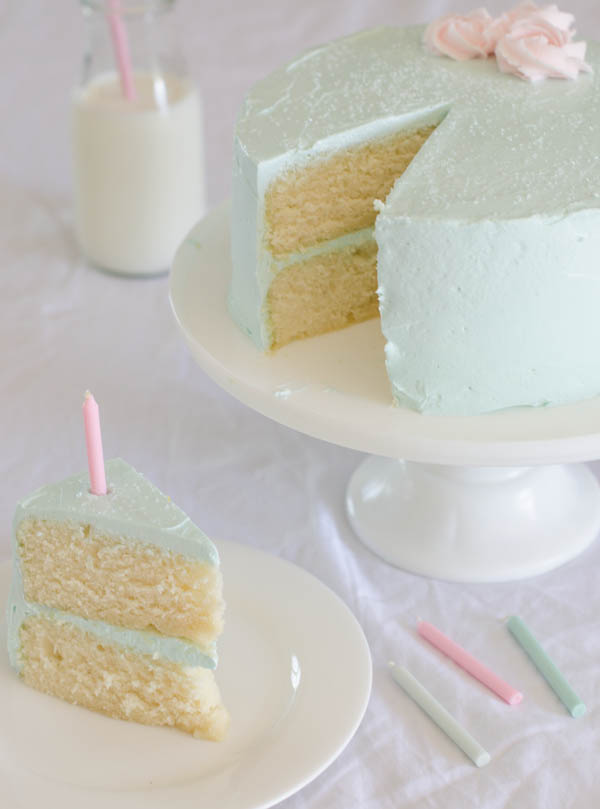 Keep it simple. It's a wonderful life lesson that can also be applied to baking. Although cakes that take hours to prepare and lots of dishes to create can be worth the time and effort, there's no point to them if they never get made. The "one day I'll have the time to try that recipe" cakes have their place, but I guarantee that this one will get made again and again. And nobody will know that it's a dump and stir recipe. It's just as easy as a cake mix, but without all the chemicals.
This recipe comes from Piece of Cake
, a book devoted entirely to one-bowl recipes. The only change I made was to pair it down from the original 9-inch variety to a 7-inch layer cake. For me, 7-inch cakes are the perfect size, since they don't look diminutive, but aren't too overwhelming for a small gathering. Plus, I just don't get enough use out of my 7-inch pans.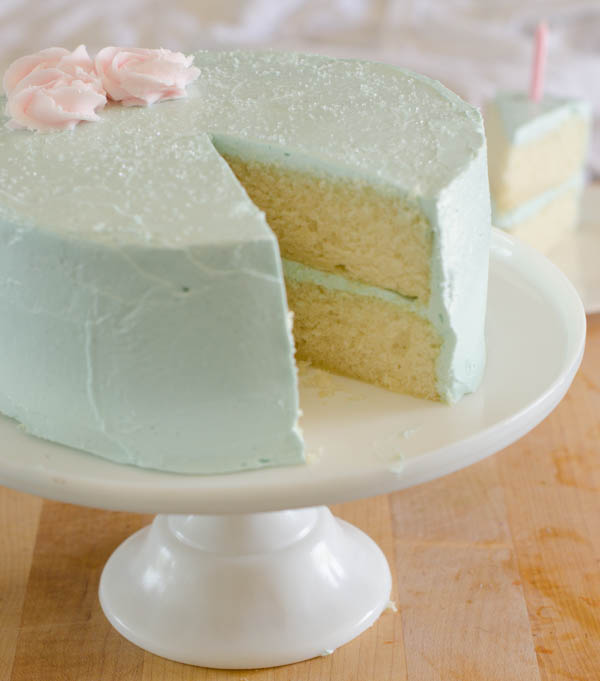 The vanilla cake recipes on this blog are piling up, mostly due to my slight obsession to find the perfect one. If you've never made a cake from scratch before, this is a great recipe to begin with. It's almost foolproof, and frosting is also really quick and easy. Neither the cake nor the frosting require a stand mixer.
While this cake isn't quite as light and fluffy as this one, it's moist and full of vanilla flavor. If you prefer not to use the almond extract, you can leave it out. It doesn't make the cake taste like almond, but just adds some nice depth.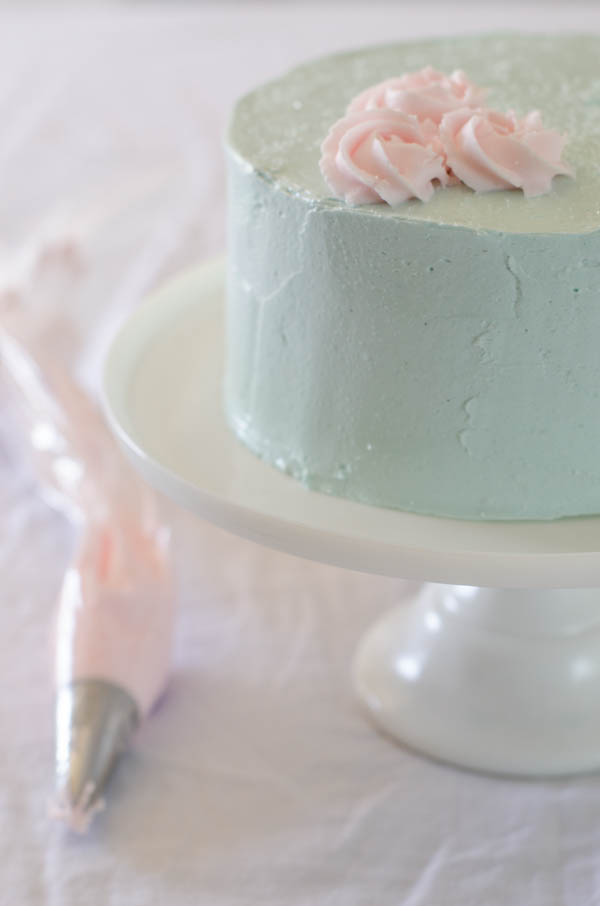 To finish it out, I used a few drops of Sky Blue food coloring to the frosting (although it turned out to be more of a mint green), piped some pink roses on the side, and topped it off with some white sanding sugar.
One Bowl Vanilla Cake with Quick Vanilla Buttercream Frosting
Ingredients
For the cake

2 cups (250 grams) all-purpose flour
1 cup (200 g) granulated sugar
2 teaspoons baking powder
1/4 tsp salt
4 large egg whites (120 grams), at room temperature
2/3 cup (161 grams) milk
5 1/2 tablespoons (78 grams) unsalted butter, softened and cut into pieces
2 teaspoons (10 ml) vanilla extract
1/2 teaspoon (3 ml) almond extract

For the frosting

1/2 lb (226 grams) unsalted butter, softened but still cool
1 jar (7 oz, 198 grams) marshmallow creme
1 cup (125 grams) powdered sugar
2 teaspoons (10 ml) vanilla extract
A couple of drops of Americolor Sky Blue food coloring (optional)
Instructions
For the cake

Preheat the oven to 350 degrees fahrenheit.
Grease two 7-inch baking pans and line them with parchment paper.
In a large bowl (or the bowl of a stand mixer), whisk together the flour, sugar, baking powder, and salt.
Add the egg whites, milk, butter, vanilla extract, and almond extract.
With an electric mixer, beat the mixture on medium low speed, until combined.
Turn up to high speed and beat for an additional 2 minutes. (If you are using a stand mixer, reduce this time to one minute).
Divide the batter evenly between the 2 prepared pans (I used a scale to do this).
Bake in a preheated oven for 28-34 minutes, until a toothpick inserted into the center comes out clean.
Cool on wire racks for 10-15 minutes.
Turn the cakes out of the pans onto the wire racks and cool completely.

For the frosting

With an electric mixer, beat the butter until light and fluffy, about 2-3 minutes.
Add the marshmallow creme and beat until incorporated.
With the mixer on low, add the powdered sugar and beat until just incorporated.
Turn the mixer on medium high and beat for an additional 1-2 minutes.
Add the vanilla extract and beat until just combined.
If you are going to add food coloring, add a couple of drops and beat until the color is mixed evenly throughout.

To assemble the cake:

Place one layer of the cake on a cake board.
Place 1 cup of the frosting on top, and spread evenly with a palette knife.
Place the second layer on top of the first.
Place a generous scoop of frosting on the top of the cake, and spread evenly across the top of the cake.
Work your way around the sides until the entire cake is covered with a thin layer of frosting. I find that a turntable is helpful when frosting a layer cake.
Let the crumb coat set in the fridge for about 30 minutes.
Once the crumb coat has set, spread a thicker layer of frosting on the top and sides of the crumb coat to create a smooth finish.
Decorate the cake by piping with additional frosting or topping with sprinkles.
http://cakemerchant.com/2013/08/15/one-bowl-vanilla-cake-with-quick-vanilla-buttercream-frosting/
Notes:
Cake and frosting recipe adapted from Piece of Cake

For a two layer 9-inch cake, multiply the ingredients by 1.5
I used two of these
7-inch pans for this recipe.