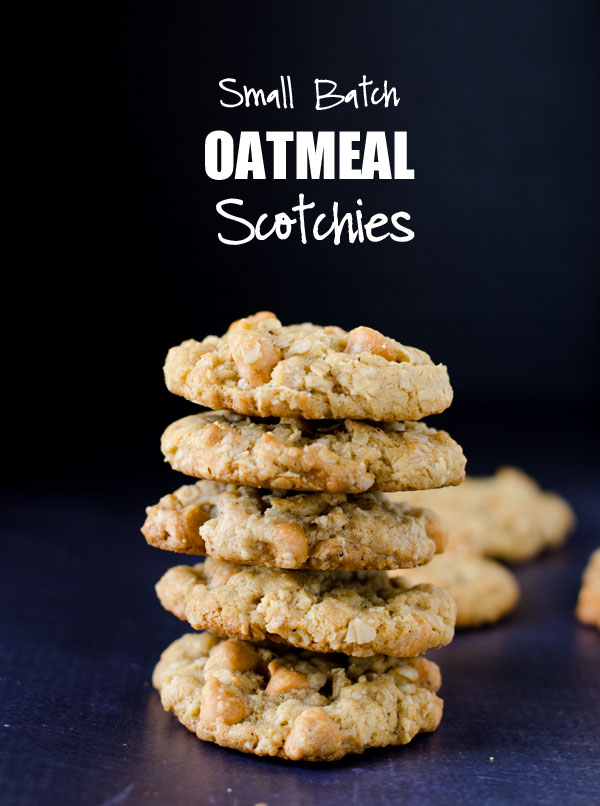 In my 20s, I could eat pretty much whatever I wanted and not gain weight.  In my 30s, I can eat dessert in moderation, exercise on a very regular basis, and not gain that much weight. Let's just say that this whole dessert blogging thing has been an exercise on self control, and I've failed on more than one occasion. Like when I made this cake. And this one. Yikes. Major fail.
As I approach my 32nd birthday, I realize that my 20s will soon be a distant memory. Gone are the days of eating pints of ice cream for dinner, but forget dieting. Who can follow a diet anyway? Depriving myself of desserts just results in a sugar binge, so I'm starting a new series on the blog- Small Batch Saturdays. Every other Saturday, I'll be posting a dessert recipe that has been paired down to a manageable size. That way, you get a portion controlled dessert recipe, and I don't have a dozen cupcakes staring me in the face. Win win.
I'm starting Small Batch Saturday with a cookie recipe, since cookies are my biggest weakness. Yes, I'm a cookie monster at heart. I know, I don't have to bake all of the cookies at once, cookie dough freezes well, etc. But I'm telling you, I'm not above eating cookie dough straight out of the freezer. It's not pretty, folks.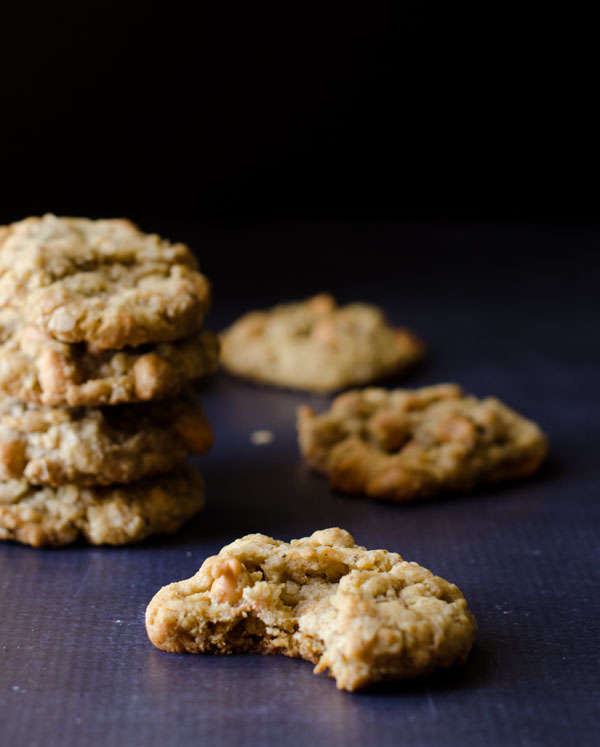 My favorite cookie of all time would probably have to be the oatmeal scotchie, which is basically just an oatmeal cookie with butterscotch chips. Growing up, there was a cafe we used to go to that had oatmeal scotchies the size of your head, and I could eat a whole giant cookie in one sitting. I knew that this would be the perfect recipe to kick off my small batch series, since a full batch of these would not stand a chance around me.
It took me a few tries to get the right texture to these cookies (which kind of defeated the whole purpose of the small batch thing for me, but I'll take one for the team). I don't know why, but every oatmeal scotchie recipe I've tried has a tendency to spread and be thin. I've finally figured out the ratios that I like, but there are a few tricks to get the cookies to turn out with the right texture. First, don't over beat the butter and sugar. If you're using an electric mixer, don't mix them for more than 30 seconds. I prefer the wooden spoon method with this recipe- sometimes lazy is better! Second, don't over mix once you add the flour, or you'll end up with a tough cookie. Third, chill the dough for at least 1/2 hour, preferably one hour. I know it sucks to wait that long, but trust me, you'll be happy you did. Depending on the size of your cookie scoop, you should end up with about 8 cookies.
Small Batch Oatmeal Scotchies
Ingredients
2 1/2 tablespoons unsalted butter, at room temperature
2 tablespoons light brown sugar, packed
1 tablespoon granulated sugar
1 large egg yolk
1/4 teaspoon pure vanilla extract
1/4 teaspoon kosher salt
1/4 cup all-purpose flour
1/4 teaspoon baking soda
1/4 teaspoon cinnamon
1/4 cup plus 1 tablespoon quick cooing oats
heaping 1/4 cup butterscotch chips
Instructions
In a mixing bowl, cream together the butter and sugar until well combined (about 30 seconds to 1 minute if using an electric mixer).
Add the egg yolk, vanilla, and salt and stir to combine.
In a separate bowl, whisk together the flour, baking soda, and cinnamon.
Add the flour mixture to the butter mixture and stir until just combined.
Add the oats and stir to combine.
Add the butterscotch chips and stir until incorporated. The dough is not sticky, so it may be easier to gently knead the chips into the mixture with your hands.
Transfer the dough into a container and refrigerate for about 1 hour.
Preheat the oven to 350 degrees fahrenheit and line a baking sheet with parchment paper.
Use a spoon or a cookie scoop to form the dough into balls and place them about 1 inch apart on the lined baking sheet.
Flatten the dough balls slightly and bake for 8-9 minutes.
Cool completely on a wire rack.
http://cakemerchant.com/2014/01/25/small-batch-oatmeal-scotchies/
Notes:
-I used quick cooking oats, but if you only have rolled oats, you can make your own. Just pulse them in the food processor a few times- just enough to chop them up but enough to make them into a powder.
-If you liked this recipe, check out these Small Batch Chocolate Chip Cookies