Have you noticed the sudden popularity of BuzzFeed quizzes lately? They're popping up all over my Facebook feed. I'm guilty of spending too much time taking them myself, and in case you're wondering, I'm a Shuba Inu, The Dowager Countess, Rachel, Dumbledore, an oboe (ha!), should live in Portland, and know entirely too much about Gilmore Girls. Now that I've exhausted the BuzzFeed quizzes, I've moved on to the BBC America quizzes, which have turned out to be a even better procrastination tool. How would I die in Victorian England? Acid milk, of course.
When researching carrot cakes (because I'm cool and I research cake), I felt like I needed to make a new quiz. "What Kind of Carrot Cake Would You Be?" Pineapple or no pineapple? Nuts, raisins, both, or neither? What kind of frosting would you have? If I were a carrot cake, I would be this one.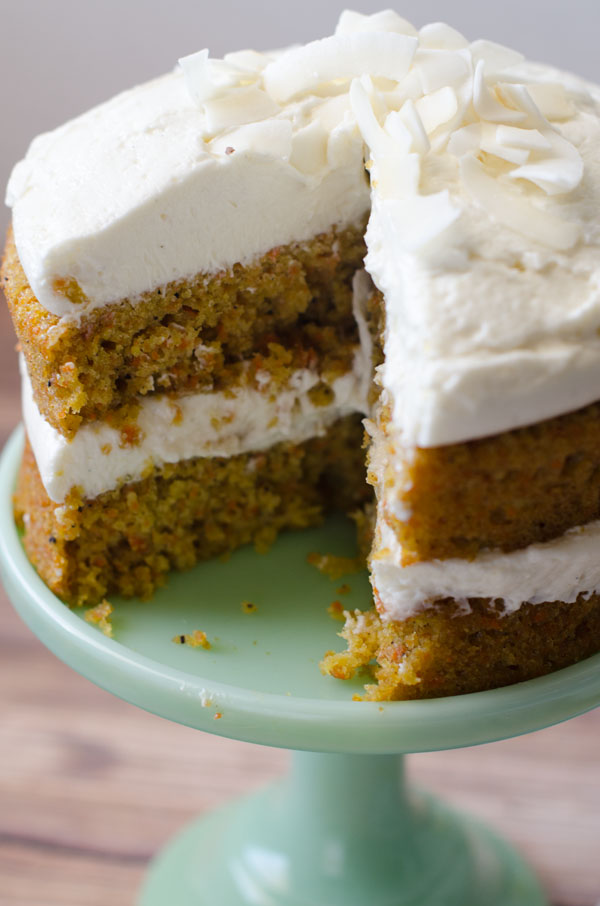 The cake itself is not your typical carrot cake. It's lighter on the spices as well as the texture, and I opted for pineapple over nuts or raisins. I tested this recipe with both white sugar and a brown/white sugar combo, but in the end I liked the texture of the white sugar only cake since I found it to be less dense.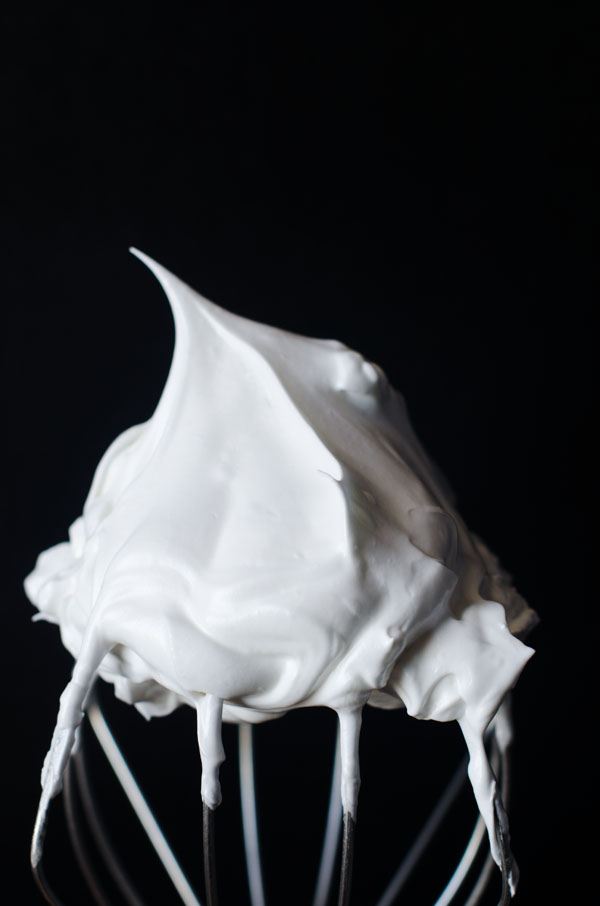 Since the cake itself if sweet, I paired it with a not too sweet cream cheese Swiss meringue buttercream, which is similar to the one I made in this cake and have been dying to recreate ever since. When adding cream cheese to Swiss buttercream, I would recommend that you make the buttercream as you normally would and let it come together with the butter before adding the cream cheese. If you add the butter and cream cheese at the same time, it takes forever to not look like a soupy, curdled mess. Also, your cream cheese will mix into the buttercream much better if it's at room temperature.
I ended up adding some coconut milk to the frosting, since I thought it would go with the pineapple in the cake (hence the Tropical Carrot Cake title). With the coconut milk and cream cheese, the texture is almost like a light and tangy whipped cream. It's not very sweet, so feel free to pile it on as high as you like. I'm not a big fan of shredded coconut, so I added some roasted coconut chips from TJs. However, if you do like shredded coconut, you can add it in between the layers or even bake some right into the cake.
I chose to keep the cake small (2 6-inch layers) because I knew I wouldn't be able to share this one. It's just too good! However, if your making it for a bigger party, feel free to double the recipe for a 2 layer 9-inch cake. I also used a combination of all-purpose flour and whole wheat pastry flour, but the cake would work equally well with just AP flour. I was just attempting to healthify it a little bit (who am I kidding, it's cake).
So here it is, folks. This is pretty much me in carrot cake form. Well, technically, that's not 100 percent true since I left it naked. If  it were really me in cake form, it would be wearing flour stained yoga pants. But maybe that's being too literal.
Ingredients
For the Carrot Cake:

1/2 cup (65 grams) all-purpose flour
1/2 cup (65 grams) whole wheat pastry flour
1/2 teaspoon baking soda
3/4 teaspoons baking powder
1/4 teaspoon salt
3/4 teaspoons ground cinnamon
2 large eggs
3/4 cup (150 grams) granulated white sugar
1/3 cup (80 ml) vegetable oil
1 teaspoon pure vanilla extract
1 1/4 cups (170 grams) finely grated raw carrots
1/4 cup (55 grams) crushed pineapple (juices drained)

For the Coconut Cream Cheese Swiss Meringue Buttercream:

3 large (85 grams) egg whites
3 ounces (85 grams) granulated sugar
pinch of salt
12 tablespoons (170 grams) unsalted butter, at room temperature and cut into chunks
6 ounces (170 grams) cream cheese, at room temperature
1/3 cup (80 ml) full fat coconut milk (the canned kind)
Roasted coconut chips or coconut flakes for topping.
Instructions
For the Carrot Cake:

Preheat the oven to 350 degrees fahrenheit.
Grease two 6-inch round cake pans and line them with parchment paper.
In a medium bowl, whisk together both flours, baking soda, baking powder, salt, and cinnamon.
With an electric mixer, beat the eggs for about 1 minute until they get frothy.
Add the sugar and continue beating until the mixture becomes thickened and pale (about 3-4 minutes).
With the mixer on low, add the oil in a steady stream and beat until combined.
Beat in the vanilla extract.
Add the flour mixture and beat on low until just combined.
Fold in the grated carrots and pineapple.
Divide the batter evenly between the two baking pans and bake for 20-25 minutes, or until a toothpick inserted into the center comes out clean.
Cool the pans on wire racks for about 15 minutes.
Run a knife around the edge of the pans and turn the cakes out onto the wire racks.
Cool completely before frosting.

For the Coconut Swiss Meringue Buttercream:

In a heatproof bowl (I used the bowl of my stand mixer), combine the egg whites, sugar, and salt.
Place the bowl over a pot of simmering water and whisk often. The water should not touch the bowl, since it's the steam that will be heating the egg whites. If they heat up too fast, you'll end up with scrambled eggs.
Using a candy thermometer, heat the mixture to 160 degrees fahrenheit while continuing to whisk the mixture. 160 degrees is for food safety issues. If I use pasteurized egg whites (which I do often), i generally stop heating around 145-150 degrees until the sugar has dissolved.
Remove the egg white from the heat and use a whisk attachment to beat the egg whites on medium high until stiff peaks form and the meringue has doubled in volume (about 8-10 minutes). At this point, the meringue should look stiff and glossy, and the bowl should be neutral (not warm) to the touch.
Turn the mixer down to low and mix in the cubes of softened butter one at a time until they become incorporated into the mixture.
It may look curdled at first, but continue mixing until the frosting has become smooth.
Add the softened cream cheese, one spoonful at a time, until it has become thoroughly incorporated
Add the vanilla extract and beat to combine.
With the mixer on low, and the coconut milk in a few tablespoons at a time until it is thoroughly combined.

To Assemble the Cake:

Place one layer of the cake on a 6-inch cake board (or directly on a plate/stand).
Spread half of the frosting on top. I used a round piping to evenly apply the frosting.
Place the second layer on top and spread the remaining frosting on top of the cake.
Top with coconut chips or flakes.
http://cakemerchant.com/2014/04/10/tropical-carrot-cake/
Cake recipe adapted from Joy of Baking
Frosting recipe adapted from Flour: Spectacular Recipes from Boston's Flour Bakery + Cafe