I'm bringing you more jar food today! This time, the jars actually serve a purpose- PORTABLE CAKE! Ok, I'll stop yelling now, but you get the picture. Cakes in jars excite me.
My friend Jon moved to Oregon last week, and even though I still haven't quite forgiven him for leaving, I thought I would be a supportive friend and do the drive from Dallas to Eugene with him. I'm fairly certain that any good road trip needs to include portable cakes, just in case of emergencies. You may think this is a little extreme, but we did actually have an emergency, which I'll get to in a bit.
Ever since I made these cookies a few weeks ago, I've been fixated on combining chocolate and olive oil in cake form. The flavors really go well together, and this time I added a little almond to the mix as well. This recipe is another super simple one- a one bowl cake with no mixer required, not even for the frosting! It's a small batch recipe that makes only 2 cakes, which are baked directly in the mason jars that you will later be spooning them out of. This recipe is also egg and dairy free.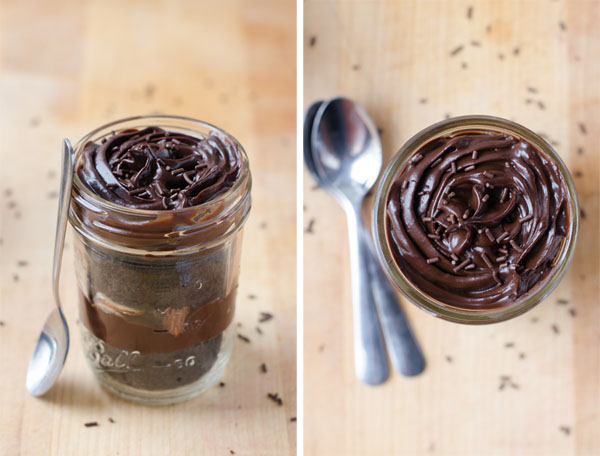 The frosting is a chocolate ganache made with coconut milk, cooled to room temperature, and then piped onto the cakes. If you're not a fan of coconut, don't worry. I couldn't taste it at all, especially after adding a little bit of amaretto liquor to the ganache. I topped my cakes with chocolate sprinkles and some honey roasted almonds that I got at Trader Joe's, but if you're vegan, maple roasted almonds would be a good substitute.
Now on to the road trip. We drove though Texas, Oklahoma, Kansas, Colorado, Utah, Idaho, and Oregon.
Oklahoma always surprises me with their restaurants. We found a place in Norman called Local with lots of veggie options and a great green chili chowder.
I continued my love/hate relationship with Colorado. It was beautiful, as always, but I swear I'm allergic to everything that blooms there, and the altitude drives me bonkers. Also, just as we were crossing into the Colorado border, we got caught in a terrible hail storm and Jon's windshield got smashed. After getting pummeled for about 15 minutes, we managed to take cover at a gas station and ate cake out of a jar while waiting out the storm. I told you it came in handy!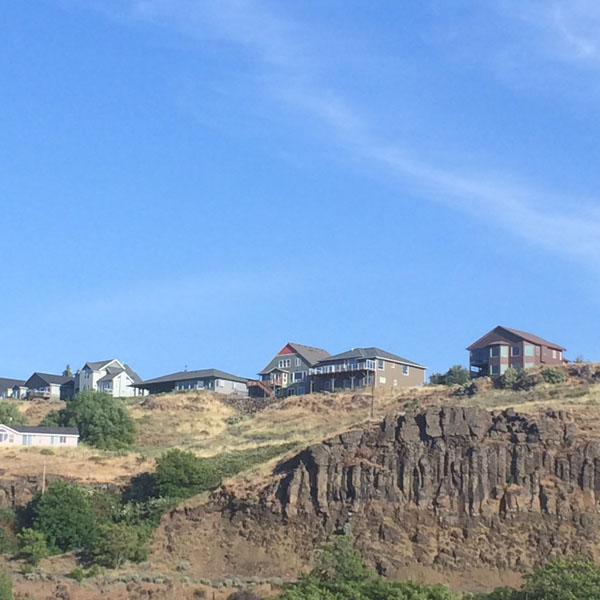 We waited at a lovely little coffee shop while getting the windshield fixed in Idaho, but it set us back several hours in our trip, so the time that we had planned to stop in Portland got cut short. We did, however, get to stop at Salt and Straw (best ice cream ever!) which was recommended to me by Erika (check out her blog post all about Portland). There was a line out the door, which made me feel as though I was among kindred spirits. Anyone willing to wait in line for 30 minutes for ice cream understands me.
I also got to have Divine Pie! I saw these raw vegan pies on the Cooking Channel last year, and I've been dying to try them ever since. They sell them at the Portland Farmer's Market on Saturdays, and even though we were there on Friday, I was able to locate one at a Whole Foods. They lived up to every expectation, and now I'm obsessed with raw vegan pie. You can see my experiments on Instagram.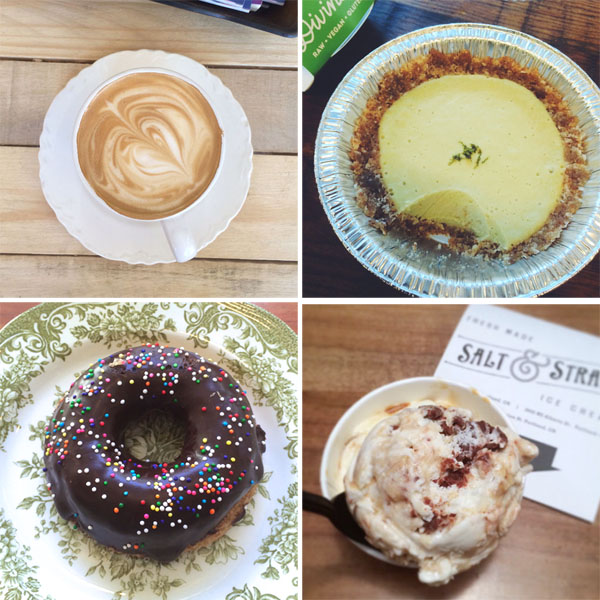 Even though we missed the Portland market, we did get to see a little bit of the Saturday Market in Eugene. Highlights included cherries for miles, rhubarb (which I have yet to find in Dallas), every flavor of goat cheese imaginable, teeny tiny potted plants, and more dreadlocks than I have ever seen in my life. I feel like Oregon is my food soul mate and I can't wait to go back!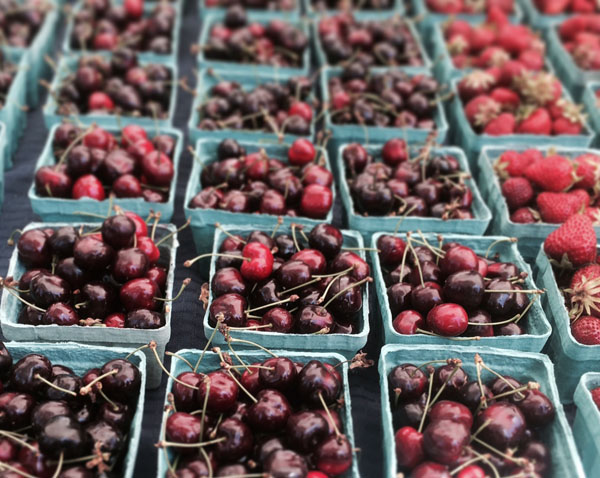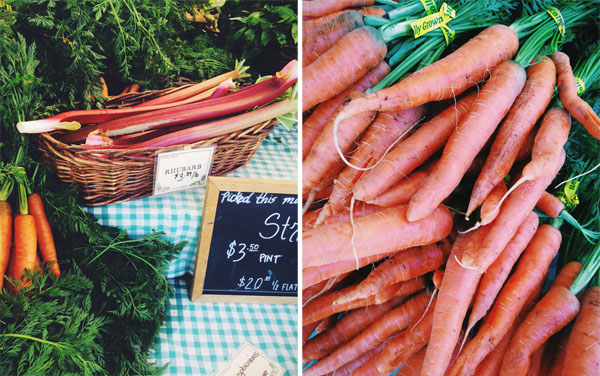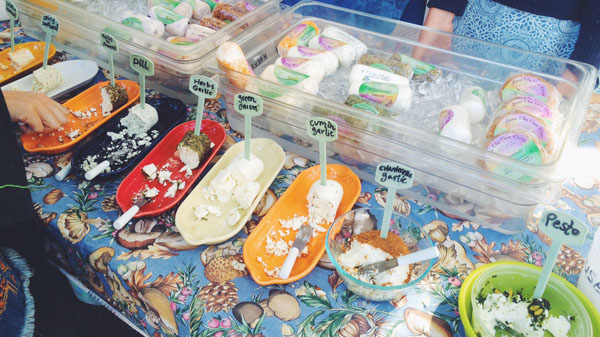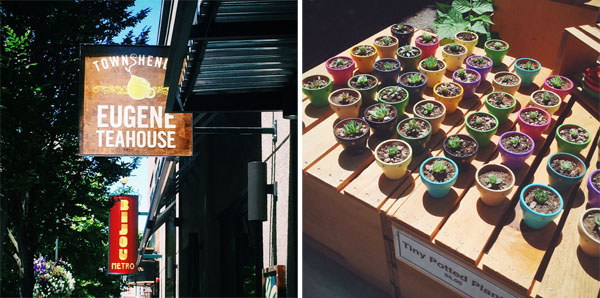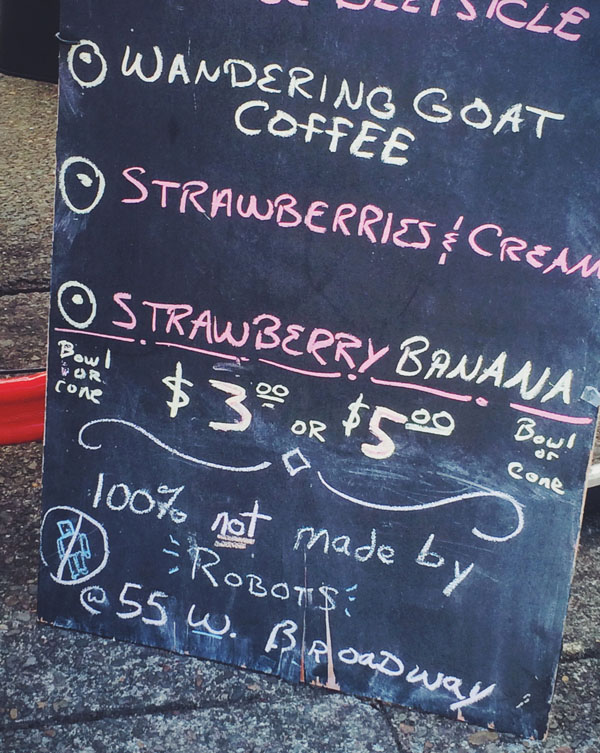 Portable Chocolate Olive Oil Cakes
Ingredients
For the Cake:

4 tablespoons non-dairy milk
1/4 teaspoon vinegar
1/2 teaspoon vanilla extract
3 tablespoons granulated sugar
3 tablespoons olive oil
1/4 cup all purpose flour
2 tablespoons cocoa powder (I used Dutch process)
1/4 teaspoon baking soda
1/8 teaspoon baking powder
pinch of salt

For the Ganache:

1/3 cup full fat canned coconut milk
6 ounces semi-sweet chocolate
1 tablespoon amaretto liquor (optional)

Toppings:

Chocolate sprinkles
Honey roasted almonds
Instructions
For the Cake:

Preheat the oven to 350 degrees fahrenheit.
Grease and flour 2 half-pint sized mason jars (I used Bake Easy non-stick spray) and place them on a baking sheet for easier handling.
In a small bowl, combine the non-dairy milk and vinegar. Set aside for a couple of minutes to curdle.
Add the vanilla extract, sugar and olive oil and whisk until frothy.
Add the all purpose flour, cocoa powder, baking soda, baking powder, and salt.
Whisk until combined.
Divide the batter between the mason jars and bake for 20-23 minutes, until a toothpick inserted into center of the cake comes out clean.
Cool on wire racks for about 15 minutes.
Run a knife around the sides of the cakes and turn them out of the mason jars to cool completely.

For the Ganache:

In a small sauce pan, heat the coconut milk over medium heat until it just beings to boil.
Remove the pan from the heat and whisk in the chocolate and liquor until the mixture is smooth.
Let the mixture come to room temperature.

To Assemble the Cakes:

Place the frosting in a piping bag fitted with a star tip
If your cake has domed up on the top, slice it off to make the cake flat (the dome is perfect for taste testing).
Slice the cake horizontally into 2 even layers.
Place one layer of the cake in the bottom of the jar.
Pipe a layer of frosting over the cake.
Add an additional layer of cake and pipe an additional layer of frosting.
Top with sprinkles and/or honey roasted almonds.
http://cakemerchant.com/2014/06/13/portable-chocolate-olive-oil-cakes-road-trip-west/