I've never been much of a pie person. I rarely eat it and I make it even less often, mostly because of how I feel after I eat a slice. I'm not saying that cake is light or healthy, but even with a strong tolerance for rich desserts, a slice of pie (especially cream pie) can put me down like nothing else. Case in point: a few weeks ago, I ate a slice of coconut cream pie and immediately wanted to take off my pants and lay down on the floor for the rest of the afternoon. Totally not worth it, especially for mediocre pie.
My outlook on pie changed a few weeks ago when I went to Oregon. I had heard about these raw vegan pies that were sold at the Portland Farmer's Market on Saturday, but I was in Portland for only a couple of hours on a Friday night (you can read about the road trip debacle here). After some research, I was able to locate a key lime pie at a Whole Foods, and have been completely infatuated with recreating them ever since. The texture was so creamy, and not at all what I expected from a raw vegan dessert.  Did I mention that they are mini? Even better.
It wasn't hard to figure out what ingredients were in the pie, since they were listed on the package, but where was I going to find a young coconut? And how the heck was I going to get it open? The only experience I've ever had with young coconuts is on the side of the road in Bombay where they lop off the top in about 2 seconds and stick a straw in it for you (it's way more of a pain in the arse than it looks in this video). My trip to Whole Foods was fruitless. Literally. They had no coconuts, and 2 people tried to convince me that canned coconut water and coconut meat were the same thing. They are not. I actually ended up finding everything I needed within minutes of my house. I live next to a large Asian grocery store that had a plethora of young coconuts, and I found a variety of non-GMO soy lecithin
at Sprouts, which a grocery/health food store. After watching some YouTube videos, a little bit of practice, and almost losing a few fingers, I finally figured out how to open the young coconut.
Now, this is far from health food. It has a lot of fat in the form of coconut, coconut oil, nuts, and avocado, so I wouldn't recommend eating this in large quantities. However, the way I felt after eating this pie was completely different than the dairy laden coconut cream pie of the previous week. I ate most of my mini key lime pie for breakfast after my morning run (again, not recommended, but yummy) and felt pretty good the rest of the day. No pants were immediately removed.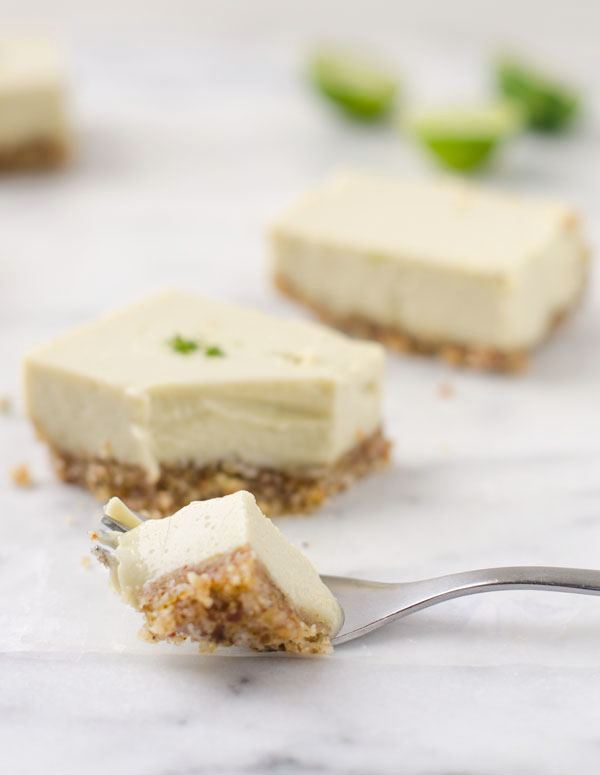 I almost didn't post this recipe because of the unusual ingredients, and I wasn't happy with the photos either. I happened to take these photos on a day with poor light that was also hot and humid and my pie was melting fast. But then I thought, screw it. Good dessert is good dessert, so it's getting shared. If you don't want to search for/open a young coconut, you can sub 1 cup of raw cashews soaked in water for 4-8 hours. Drain them and blend them as you would the young coconut meat. The texture will be slightly softer and the pie will take longer to set up. I also found canned young coconut at my local asian store, but it was packed in sugar syrup and obviously not as fresh. I wouldn't recommend omitting the lecithin. I tried a test pie without it and it ended up more like a key lime puddle. You can sub pretty much any nuts for the crust. Almonds, pecans, and walnuts also work well.
Ingredients
For the Crust:

1 cup nuts (I used a combination of macadamia and hazelnuts)
1 cup shredded unsweetened coconut
1/2 cup dates, soaked in warm water for about 10 minutes and drained
pinch of salt
1-2 teaspoons coconut oil, as needed

For the Filling:

1 cup young coconut meat (approximately the inside of one young coconut)
1 cup young coconut water (approximately the inside of one young coconut)
1/4 cup key lime juice
about 1/2 small ripe avocado
1/2 cup raw agave nectar
1/2 cup coconut oil
1 1/2 teaspoons soy lecithin granules
key lime zest as needed
Instructions
For the Crust:

Line an 8x8 pan with parchment paper, leaving an overhand on 2 sides for easy removal.
Blend the macadamia nuts in a food processor until crumbly until you get a meal (if you blend too long you'll get macadamia butter)
Add the coconut, dates, and salt and blend until the mixture comes together. If you pinch it between your fingers, it should hold together.
If the is too dry, add some coconut oil, 1 teaspoon at a time and pulse until it holds together.
Press the mixture into the pan and set aside.

For the Filling:

In a high powered blender, blend the young coconut meat, young coconut water, key lime juice, avocado, and agave nectar until smooth. My blender is not that powerful, so it took about 7 minutes, but it would probably go much faster in a Vitamix.
Add the coconut oil and lecithin and blend for an additional minute until smooth.
Taste the mixture, and if you want it to be more tart, add some lime zest a little bit at a time.
Pour the mixture into the pan and let set in the fridge for at least 2 hours.
Cut into squares and serve cold.
http://cakemerchant.com/2014/06/22/raw-vegan-key-lime-pie-bars/
Recipe adapted from Divine Pie