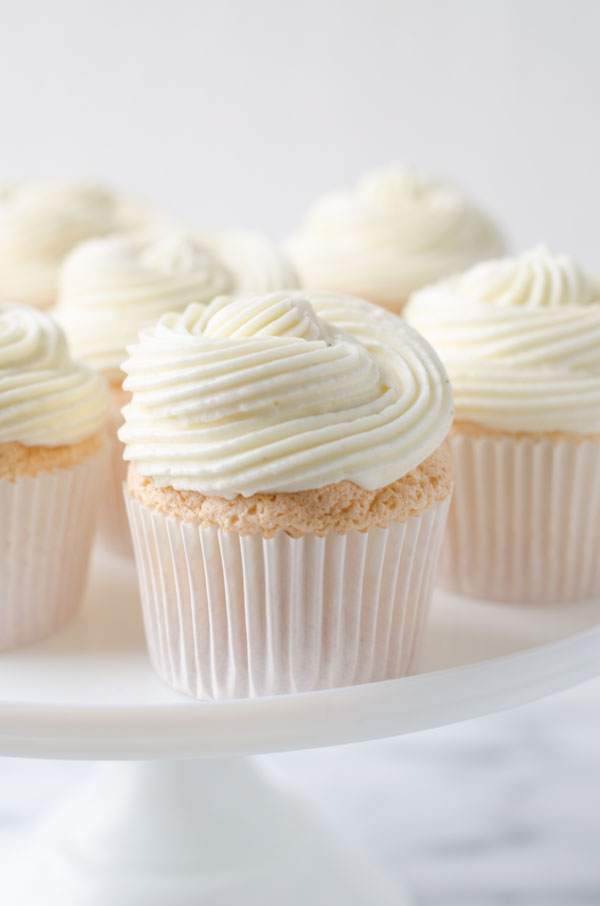 My wedding is 2 weeks from tomorrow. Wow, that snuck up on me so fast! I'm just now realizing how behind I am on everything. For example, I should have started a Pinterest board the day after I got engaged (does a cake pinterest board count?) or maybe I should have though about how I want to wear my hair before now. And I probably should not have waited until this week to start my wedding diet. Does angel food count as diet food? Probably not. I'm pretty much the worst bride ever.
Luckily, these angel food cupcakes are easy enough for even a stressed out bride to be. Believe it or not, this was my first time making angel food cake. I was a little intimidated by the folding of the egg whites, but it's easier than you might think. I've added a link to a tutorial just before the recipe in case you're not sure how to do it. Also, if you don't have superfine sugar, you can easily make your own by putting granulated sugar through the food processor. Don't skip this step- your cupcake will have a better texture.
For those of you who like the not too sweet frostings but don't want to mess with European style buttercreams, this frosting is for you. I first blogged about this sturdy whipped cream frosting in one of my very early blog posts (please ignore the pictures!) but haven't posted about it since because some people wrote me and told me that they had trouble getting it to work. However, I've made it quite a few times since then and I've adjusted some things as well as come up with some troubleshooting tips.
First, make sure your cream cheese is at room temperature and whip it until it's really smooth. It's difficult to incorporate the heavy cream otherwise. You heavy cream should be really cold when you add it into the whipped cream cheese. You'll want to drizzle it in SLOWLY while beating at the same time and you should end up with a light and fluffy frosting that holds up much better than regular whipped cream and is slightly tangy from the cream cheese and lemon. Also, be careful not to over whip, or you'll end up with a curdled mess. If you'd rather, you can also whip the heavy cream and cream cheese separately and then fold them together, but I just hate to dirty two bowls.
I topped these cupcakes with berries because the 4th of July is coming up and 'tis the season for fresh berries! Plus, I just can't be trusted with food coloring right now.
Click here for a link to the folding tutorial.
Also, don't forget to wipe down your bowl and utensils with vinegar before making your meringue. A greasy meringue is a weepy meringue!
Lemon Berry Angel Food Cupcakes
Ingredients
For the Lemon Angel Food Cupcakes:

1/2 cup (57 grams) cake flour
3/4 cup (85 grams) powdered sugar
5 large egg whites or 140 grams liquid egg whites
1/4 teaspoon salt
3/4 teaspoon cream of tartar
1/2 cup (100 grams) superfine or caster sugar
1/2 teaspoon pure vanilla extract
2 teaspoons lemon zest

For the Whipped Cream Cheese Frosting:

8 ounces (227 grams) of cream cheese, at room temperature
1/2 cup (100 grams) superfine sugar
1 1/2 cups (360 ml) heavy whipping cream, cold
2 teaspoons pure vanilla extract
1 tablespoon fresh lemon juice
Assorted berries for topping
Instructions
For the Cupcakes:

Preheat oven to 350 degrees fahrenheit
Place 16 muffin cups with paper liners.
Sift together cake flour and powdered sugar into bowl and repeat the this process 2 times.
Beat egg whites and salt on medium high speed until frothy.
Add cream of tartar and beat until soft peaks form.
Add the sugar 1 tablespoon at a time and beat until stiff peaks form.
Add the vanilla extract and lemon zest and beat to combine for an additional 10 seconds.
Sprinkle the dry ingredients over egg white mixture 1/4 cup at a time and fold in after each addition.
Divide batter evenly among prepared muffin cups and bake at for 16-18 minutes or until very lightly browned.
Cool the cupcakes completely on a wire rack before frosting.

For the Frosting:

In a large bowl or the bowl of a stand mixer, beat the cream cheese (use the whisk attachment for a stand mixer) until smooth.
Add the sugar and beat to combine.
With the mixer running on medium speed, drizzle the heavy cream in slowly until it is completely incorporated.
Continue whipping until stiff peaks have formed.
Add the vanilla and lemon juice and beat for an additional 20 seconds.
Pipe the frosting onto the cooled cupcakes and top with fresh berries.
http://cakemerchant.com/2014/06/27/lemon-berry-angel-food-cupcakes/
Cupcakes adapted from MyRecipes.com
Frosting adapted from Allrecipes.com