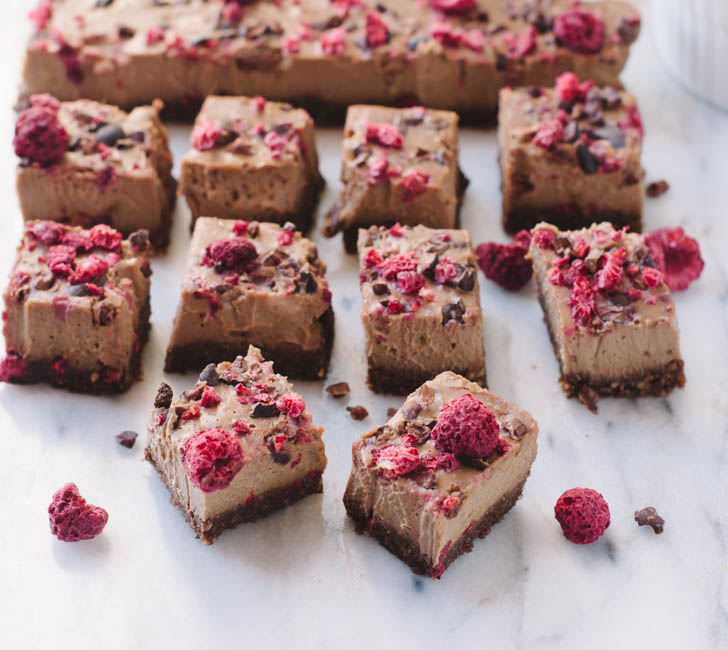 Our last few Halloweens have gone something like this:
1. Dress Bigsby up as a hot dog.
2. Buy lots of Halloween Candy.
3. Have one trick-or-treater come by the entire night and proceed to make ourselves sick on leftover candy.
This year, we decided that due to our lack of trick-or-treaters (and self-control), we did not want to repeat this tradition. Rather than sit at home and wait to hand out candy to nobody, Aaron and I got our butts out the door and played some Halloween night tennis. When our sweet craving hit, we ate kinda healthy cheesecake. Ok, not exactly healthy, but way better for you than anything you can get in a plastic bag at the store.
I know I'm the last one to talk about healthy eating with a blog full of sugary cakes, but I've recently discovered how good raw vegan desserts can be, and I wanted to share one of my new favorite creations with you. I was first introduced to raw desserts a few years ago at an all raw Oklahoma restaurant called Matthew Kenney, and my obsession with raw vegan desserts grew after having Divine Pie in Portland, Oregon. I tried to exactly recreate the raw vegan key lime pie I had there (you can read about that here) but I got tired of almost losing my fingers attempting to hack open young coconuts. Oboists need their fingers.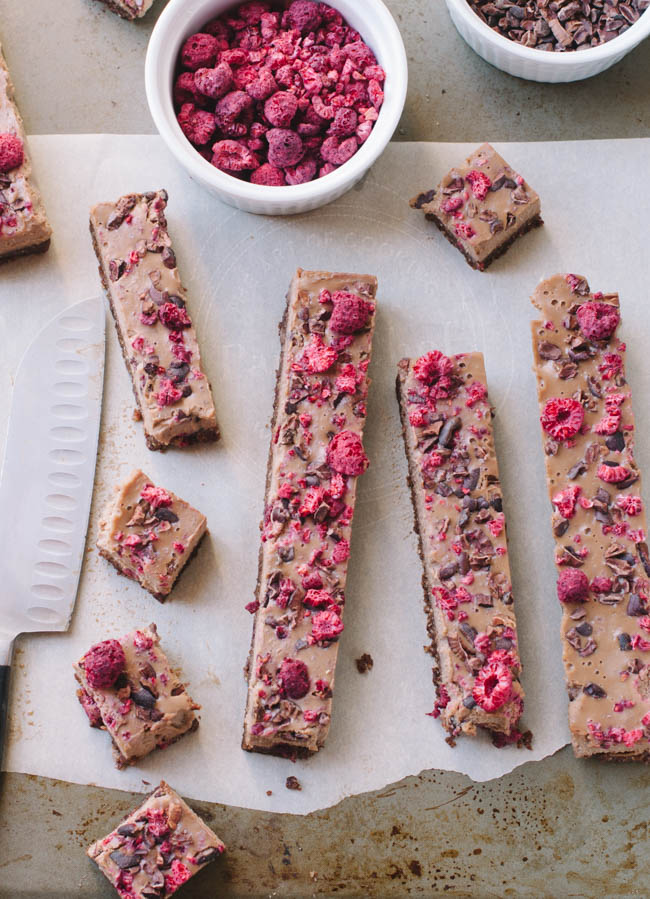 This newer version involves a filling made of cashews. I've made cashew cheesecake before, but found it to be not as creamy as non-vegan cheesecake, so I used Divine Pie's method of adding a little bit of soy lecithin. It's an emulsifier that adds creaminess to the texture, and was surprisingly easy to find at my local grocery store. I'm not 100 percent sure that lecithin is raw, though, so I'm not labeling this dessert as such.
The crust is a little but different than what I've used before as well. I upped the quantity of the dates so it has a chewier, more brownie like texture. In the past, I've used medjool dates, but deglet dates were half the price at the grocery store and I couldn't tell the difference in the finished product. I could totally have eaten the crust plain and just called them brownies.
You can top the cheesecake bites with whatever you like- nuts, fresh or freeze dried fruit, coconut, etc., but I wouldn't skip the cacao nibs. They're my newest obsession. I got sucked in when I picked up a few from the bulk section the last time I was at Central Market, and now they take a hefty chunk out of my grocery budget on a regular basis.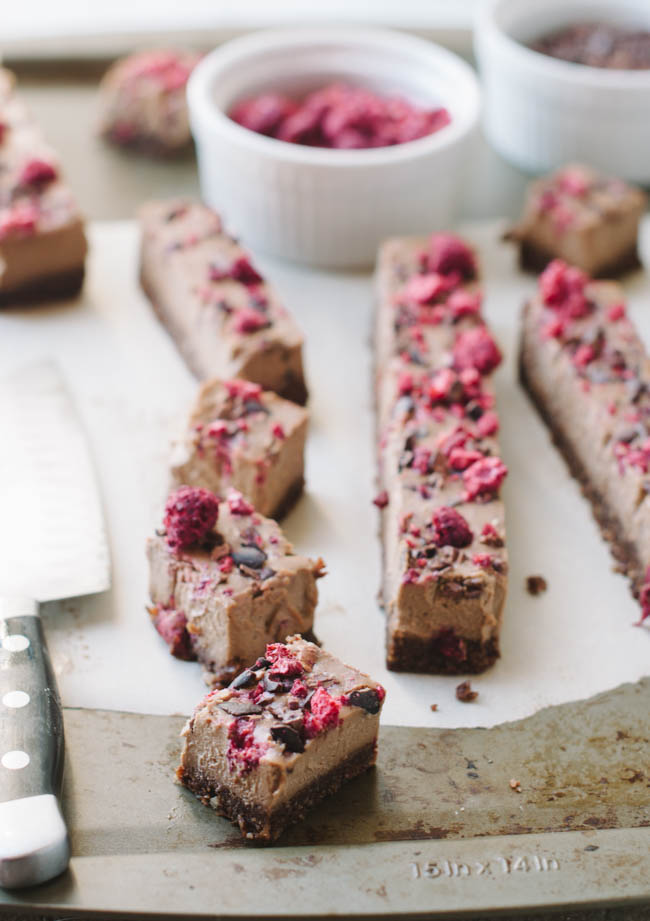 Vegan Chocolate Raspberry Crunch Cheesecake Bites
Ingredients
For the Crust:

1 cup deglet or medjool dates
1 cup pecans
4 tablespoons raw cacao powder
1/2 cup shredded unsweetened coconuts
1 teaspoon pure vanilla extract
1/4 teaspoon salt

For the Filling:

1 1/4 cup cashews, soaked for at least 4 hours or at least overnight
1 cup non-dairy milk (I used hazelnut milk)
4 tablespoons raw cacao powder
1/2 cup raw agave (or maple syrup if you're not concerned about raw)
1 teaspoon pure vanilla extract
1/8 teaspoon salt
1/2 cup coconut oil (refined if you don't want coconut flavor)
1 1/2 teaspoons non-GMO soy lecithin
about 1/4-1/3 cup freeze dried raspberries and/or cacao nibs for topping
Instructions
For the Crust:

In a food processor, combine all of the ingredients and process until they come together into a ball. The mixture should be pliable.
Press the mixture into an 8x8 pan lined with parchment or waxed paper. Set aside.

For the Filling:

In a high powdered blender, combine the cashews, non-dairy milk, cacao, agave, vanilla extract, and salt and blend for about 5 minutes (or longer depending on your blender) until completely smooth.
Add the coconut oil and soy lecithin and blend for an additional 15 seconds until smooth (don't over blend here or the coconut oil will start to solidify).
Pour the mixture over the crust and tap the pan against the counter a few times to knock out any air bubbles.
Top the filling with freeze dried raspberries and and cacao nibs and let it set in the refrigerator for at least 4 hours, preferably overnight.
Cut into pieces and serve cold. Keep refrigerated.
http://cakemerchant.com/2014/11/01/vegan-chocolate-raspberry-crunch-cheesecake-bites/
Notes:
-Recipe inspired by Divine Pie
-If you're not concerned about this being raw, you can substitute cocoa powder for cacao.
-Refined coconut oil will not impart any coconut flavor. Unrefined coconut oil will, so choose what you like best. Both will work.