A couple of weeks ago, we went to Las Vegas for Aaron's birthday. I wanted to bake him a birthday cake before we left, but he had already had a day of indulgence with his coworkers followed by a pizza dinner with me, and we were about to leave for a gluttonous weekend, so I didn't know when we were going to squeeze in the time or belly space for a cake. That's when I decided to whip up the teeniest tiniest cake ever. It was just big enough to satisfy our sweet tooth before we headed off on our trip.
I made the entire batter for the cake in a measuring cup, and both the cake and the frosting without a mixer. I baked this is my trusty little 4-inch cake pan
, which I have gotten way more use of out of than I ever expected when I bought it. I used cake strips
to prevent the cake from doming up, since I didn't want to lose any of this already tiny cake.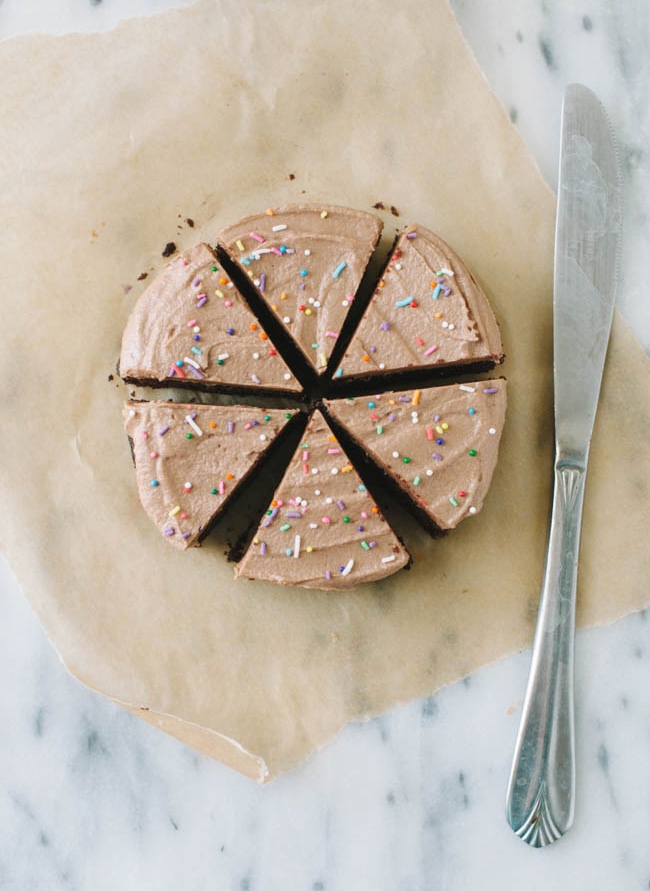 I've always used an electric mixer or my Kitchen-Aid to make buttercream, but since this was such a small amount of frosting, I used the wooden spoon method. It takes a little bit longer without a mixer, but there's less clean up involved. I recommend taking your butter out and cutting it into pieces before you even start making the cake. That way it will already be softened by the time the cake has cooled and you won't have to wait to make the frosting.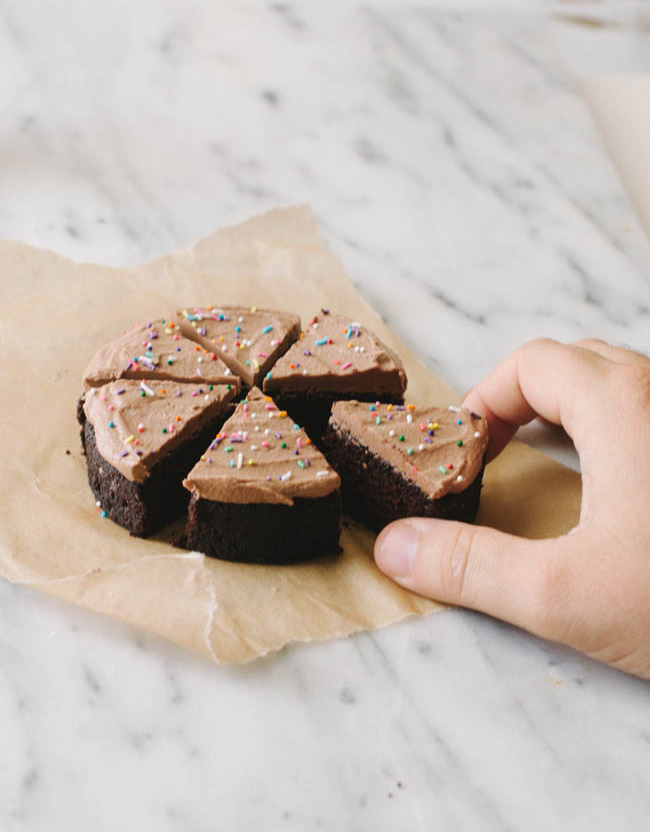 This cake can easily made vegan. I've made it several times and just used whatever milk I have on hand- whole, 2 percent, soy, almond, etc. The butter in the frosting can be replaced with vegan butter, shortening, or a combo of the two. I used a chocolate frosting on this cake, but I've listed several flavor variations below.
For Vanilla Frosting- omit the cocoa powder
For Chocolate Peanut Butter Frosting- add 1/2 tablespoon of peanut butter
For Chocolate Almond Frosting- add 1/4 teaspoon of pure almond extract
For Mint Chocolate Frosting- add a drop or two of mint extract
For Mocha Frosting- add 1 teaspoon instant espresso powder dissolved in 1 teaspoon of water and omit the milk
Teeny Tiny Chocolate Cake for One
Ingredients
For the Mini Chocolate Cake

1/4 cup (60 ml) milk or soymilk
1/4 teaspoon apple cider vinegar
1 1/2 tablespoons canola or vegetable oil
2 1/2 tablespoons granulated sugar
1/2 teaspoon pure vanilla extract
1/4 cup (31 grams) all-purpose flour
1 1/2 tablespoons cocoa powder (preferably Dutch process)
1/8 teaspoon baking soda
1/8 teaspoon baking powder
1/4 teaspoon salt

For the Chocolate Frosting:

2 tablespoons (28 grams) unsalted butter (or vegan butter), at room temperature and cut into small pieces
1/3 (35 grams) cup powdered sugar
pinch of salt
1 teaspoon cocoa powder
1-2 teaspoons milk or soy milk
Instructions
For the Mini Chocolate Cake:

Preheat the oven to 350 degrees fahrenheit.
Grease and line a 4-inch cake pan with parchment paper.
In a measuring cup or small bowl, whisk together the milk and vinegar and set aside for a couple of minutes.
Add the oil, sugar, and vanilla extract and whisk together until foamy.
Add the flour, cocoa powder, baking soda, baking powder, and salt and whisk until just combined. Careful not to over mix or the cake will become dense.
Pour the batter into the cake pan and bake for about 18 minutes or until a toothpick inserted into the center comes out clean. You may need to add a couple of minutes to the baking time if you use cake strips.
Cool on a wire rack for 15 minutes.
Turn the cake out of the pan and cool completely before frosting.

For the Chocolate Frosting:

In a small bowl, use a wooden spoon to cream the butter until it becomes smooth.
Once the butter is smooth, add half the powdered sugar and store slowly until it is incorporated into the butter.
Add the rest of the powdered sugar a little bit at a time until the mixture has thickened.
Mix in the cocoa powder and salt.
Add the milk and use a whisk the frosting until it becomes light and fluffy.
Spread the frosting on top of the cooled cake and top with sprinkles.
http://cakemerchant.com/2015/09/23/teeny-tiny-chocolate-cake-for-one/