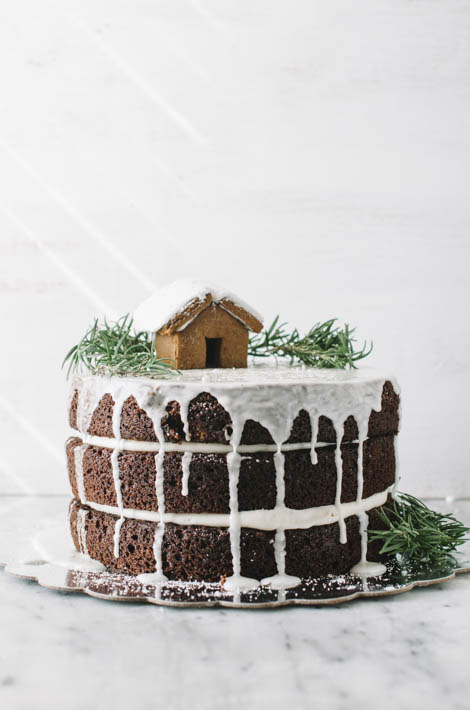 I've been wanting to post a gingerbread cake on here for years, but never got around to it because every recipe I've found looked super complicated, and by this point in the year, I do not feel like doing things like folding egg whites or even washing more than one bowl. This time of year calls of dump, dump, dump, and stir. Dump and stir recipes leave more time for important things like spending time with family, or watching Master of None on Netflix.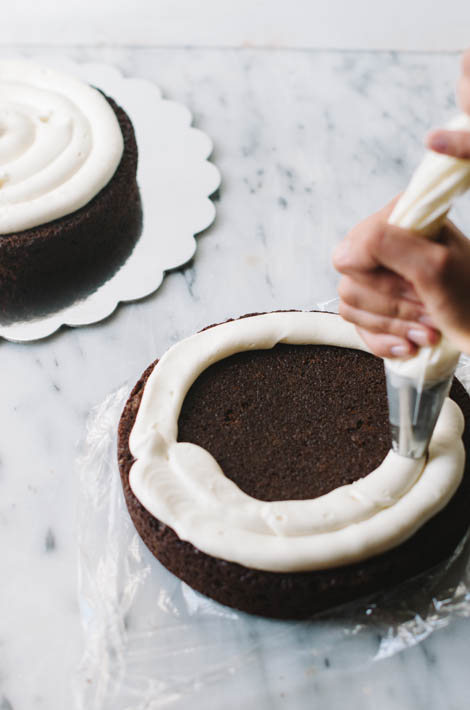 My default cream cheese frosting is a not too sweet swiss meringue buttercream, but I thought that a simple cream cheese/powdered sugar frosting worked better here. Not only is it easy to make, but the sweetness compliments the spicy gingerbread cake.
The topping was supposed to be a snowy white glaze that dripped down the sides to look like icicles, but I think I added too much milk because it looks like the sun came out and the snow is melting. It's been in the 70s all week here, so I suppose there was no chance of snow, not even on my cake.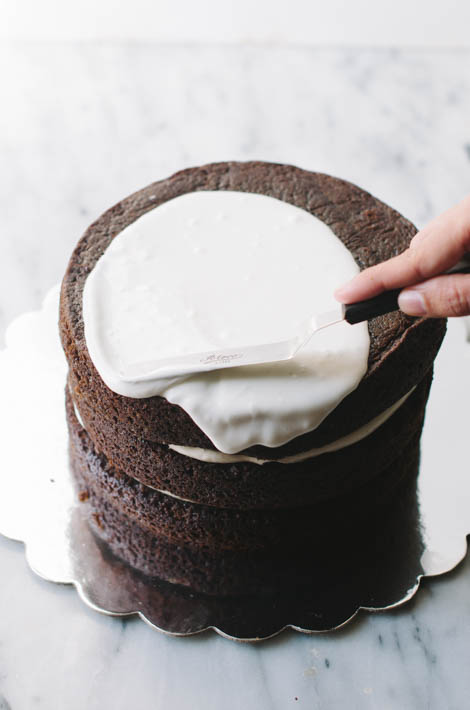 The gingerbread house cake topper is totally optional. I had some leftover dough left from this recipe, which makes a ton. If you want to use it just for a mini gingerbread house, I'd recommend dividing it by 3, and even then you'll have enough to make at least 8 mini houses. I got my cookie cutters from this store on Etsy. To decorate the house and glue it together, I used this pre-packaged cookie icing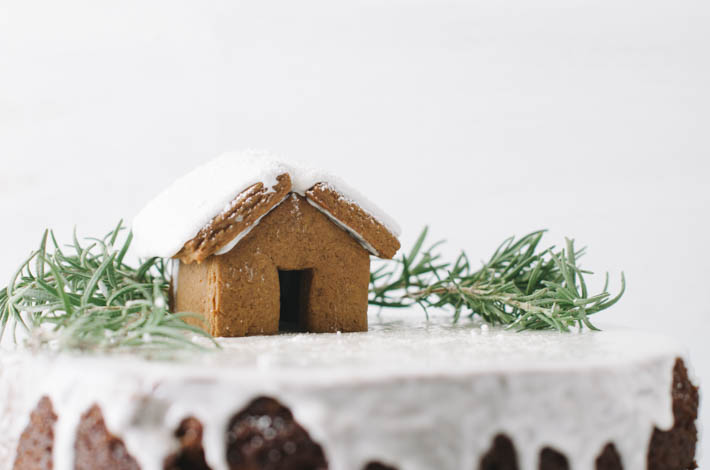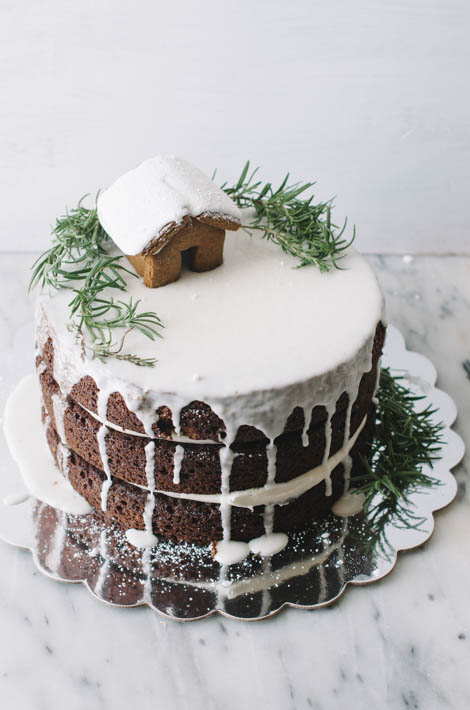 Looking for more holiday cakes?
Mint Chocolate Chip Cookie Crunch Cake
Pumpkin Layer Cake with Brown Sugar and Cinnamon Cream Cheese Frosting
Dark Chocolate Speculoos Truffle Cake
One Bowl Gingerbread Layer Cake
Ingredients
For the Cake:

3 cups (375 grams) all-purpose flour
1 cup (200 grams) granulated sugar
1 tablespoon ground ginger
2 teaspoons ground cinnamon
1/4 teaspoon ground nutmeg
2 teaspoons baking soda
1 teaspoon baking powder
1/2 teaspoon salt
2 large eggs, at room temperature
1 cup (240 ml) vegetable oil
3/4 cup (180 ml) dark molasses
1 cup (240 ml) freshly brewed hot coffee (or boiling water)

For the Frosting:

8 (226 grams) ounces cream cheese, at room temperature
8 (226 grams) ounces unsalted butter, softened but still cool
3 (345 grams) cups confectioner's sugar
1 teaspoon pure vanilla extract

For the Glaze:

2 cups (230 grams) confectioner's sugar
2-3 tablespoons milk
1/2 teaspoon vanilla extract

For Topping:

Mini gingerbread house
Fresh rosemary
White sanding sugar
Confectioner's sugar
Instructions
For the Cake:

Preheat the oven to 350 degrees fahrenheit and grease and line 3 8-inch baking pans with parchment paper. (Don't skip this step. This cake has a tendency to stick).
In a large bowl (or the bowl of a stand mixer), which together the flour, sugar, ginger, cinnamon, nutmeg, baking soda, baking powder, and salt.
Add the eggs, oil, and molasses and beat on medium speed for one minute (you can also do this by hand).
Add the hot coffee and whisk until just blended.
Divide the batter between the 3 pans and bake for 18-20 minutes, until a toothpick inserted into the center comes out clean.
Cool in the pans on wire racks for 15 minutes, and then turn the cakes out of the pan on to the racks to cool completely.
This cake is easier to handle after it has been wrapped in plastic and chilled in the fridge for about 2 hours.

For the Frosting:

With an electric mixer, beat the cream cheese and butter on medium speed until light and fluffy(2-3 minutes).
Add the confectioner's sugar and beat on low until combined.
Turn the mixer up to medium and beat for an additional 2 minutes.
Add the vanilla and beat to combine.
Put the frosting in a piping bag fitted with a round pastry tip.

For the Glaze:

Whisk together the confectioner's sugar, 2 tablespoons of milk, and vanilla extract.
If the mixture is too stiff, add remaining milk a little bit at a time until you get the consistency that you want.

To Assemble the Cake:

Place one layer of the cake on a cake board that is at least 8-inches.
Pipe one layer of frosting on top.
Place the second layer of cake on top and pipe another layer of frosting.
Place the third layer on top.
Pour the glaze on top and use an offset spatula to smooth it out over the sides.
Top immediately with a gingerbread house, fresh rosemary, sanding sugar, and confectioner's sugar.
http://cakemerchant.com/2015/12/22/one-bowl-gingerbread-layer-cake/
For the gingerbread house recipe, click here.
Cake recipe adapted from Piece of Cake
.
Cake inspired by Fraeulein Klein