I've been on a bit of a salted caramel kick lately. And by a bit, I mean I have been making several batches of it and eating spoonfuls right out of the jar. In an effort to break my addiction, I used up some of the caramel sauce to make the buttercream that frosts these cupcakes. Somehow, I've just taken the addiction to a new level.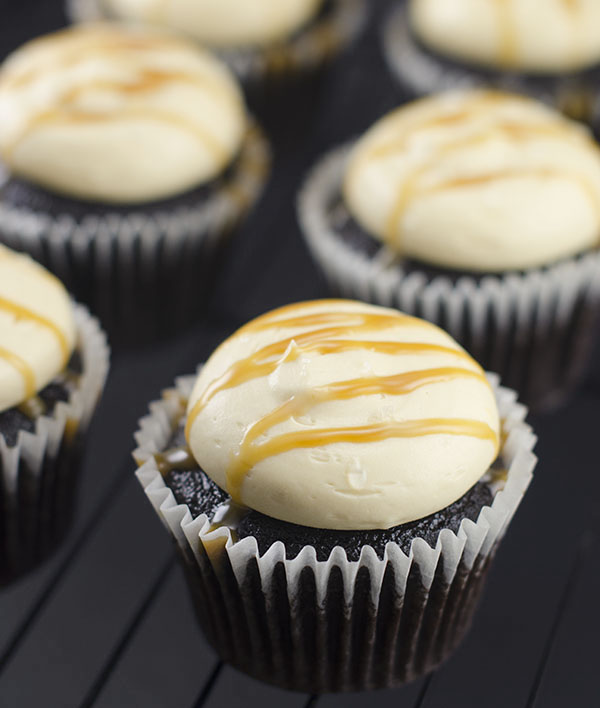 The only thing better than salted caramel is combining it with a chocolate cupcake. And then topping it with more salted caramel. If you're feeling adventurous, you could fill it with some more caramel sauce.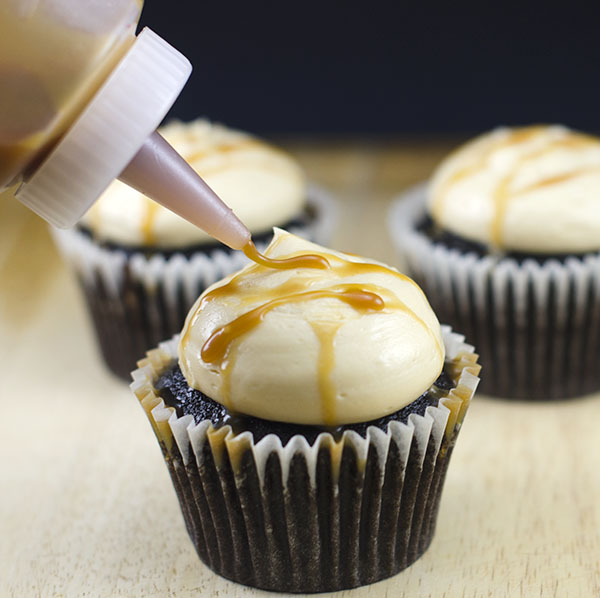 I used this recipe for salted caramel sauce. It makes more than you will need for a batch of the frosting, so feel free to be liberal with the drizzling.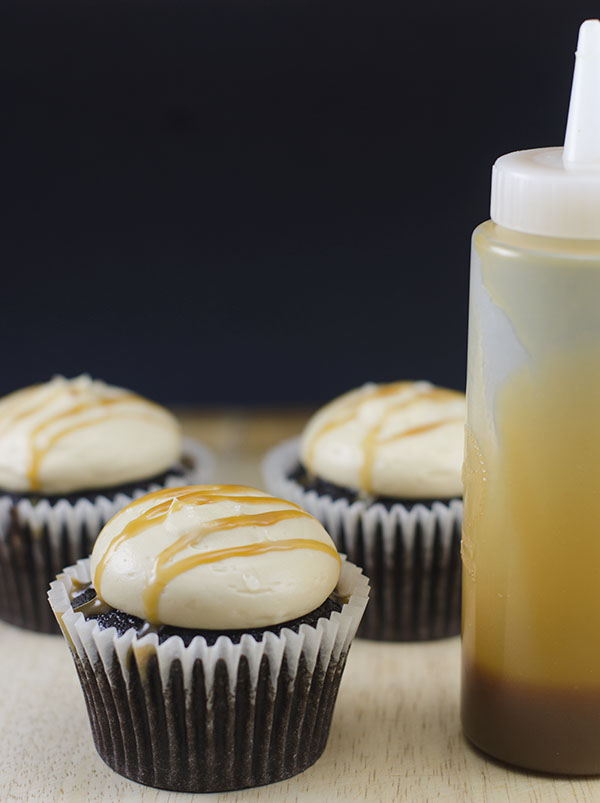 I used the Cook's Illustrated Dark Chocolate Cupcake recipe, and I think it's my new favorite. Have you ever noticed that it's hard to make chocolate cake taste really chocolatey? Well, this recipe has that rich, fudgy quality that most recipes don't, and it doesn't require much more effort than a boxed mix. I love delicious recipes that still allow me to be lazy!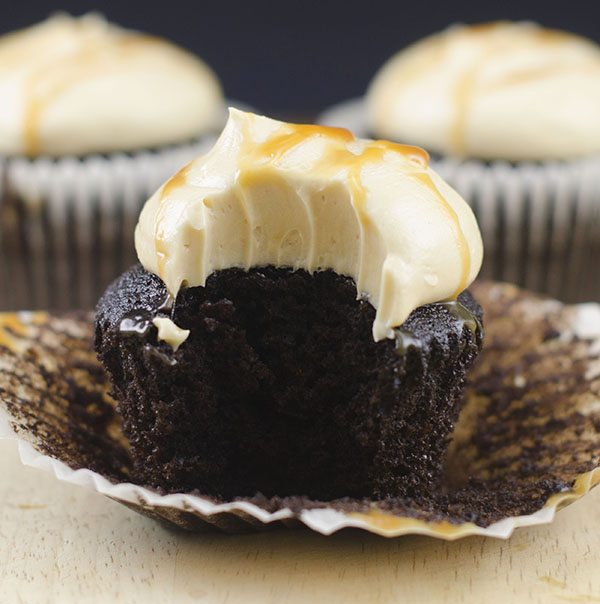 Dark Chocolate Cupcakes with Salted Caramel Buttercream

Ingredients
Dark Chocolate Cupcakes

8 tablespoons unsalted butter, cut into 4 pieces
2 ounces bittersweet chocolate, finely chopped
1/2 cup Dutch-processed cocoa
3/4 cup all-purpose flour
1/2 teaspoon baking soda
3/4 teaspoon baking powder
2 large eggs
3/4 cup sugar
1 teaspoon vanilla extract
1/2 teaspoon salt
1/2 cup sour cream or greek yogurt

Salted Caramel Buttercream

1 cup (2 sticks) butter
1/2 cup salted caramel sauce
2-3 cups powdered sugar
1 teaspoon vanilla extract
Instructions
For the cupcakes:

Preheat the oven to 350 degress. Line a cupcake pan with 12 paper liners.
In a double boiler, melt the chocolate, butter, and cocoa powder. You can also do this in the microwave on 50% power for 30 second intervals, stirring after each interval. Set the mixture aside to cool, or keep it in the refrigerator until it is just barely warm.
In a small bowl, whisk together the flour, baking soda, and baking powder. In a separate bowl, whisk together the eggs, sugar, and vanilla. Add the cooled chocolate mixture and whisk together until combined.
Add 1/3 of the flour mixture and whisk. Add the sour cream and whisk to combine. Add the remaining flour mixture, and whisk gently until it is fully incorporated.
Divide the batter between the 12 cupcake liners. I used a cookie scoop to do this. Bake for 18-20 minutes, until a toothpick inserted into the center comes out clean. Cool completely on wire racks before frosting.

For the frosting:

Make the caramel sauce and cool to room temperature.
In an electric mixer, beat the butter on medium high, speed until light and fluffy, about 3 minutes. Gradually add in the caramel sauce.
Put the mixer on low and add the powdered sugar and vanilla. Increase the speed to medium and beat until fully incorporated. Pipe the frosting onto the cooled cupcakes and drizzle with additional caramel sauce if you wish.
http://cakemerchant.com/2012/10/11/dark-chocolate-cupcakes-with-salted-caramel-buttercream/
Note: This recipe makes enough to pipe large swirls of frosting on your cupcakes. If you are spreading the frosting, you may want to make half of the original recipe.
Cupcake recipe adapted from Cook's Illustrated via Tracy's Culinary Adventures