I posted this recipe a little over a year ago because it is one of my favorite cakes to make, but I did not expect that it would become by far the most popular recipe on my site. It's also the commented on recipe, as well as the most controversial. I know, it's weird that vanilla cake is controversial, but while some people have had great luck with this recipe, others haven't, so I want to devote the next couple of paragraphs to troubleshooting, and hopefully we will all have happy vegan vanilla cakes in our bellies.
This is a recipe that I got from one of my very favorite baking books, Vegan Cupcakes Take Over the World
. This is the book that got me into baking in the first place, and still the baking book I use the most. I love the vanilla cupcake recipe in this book, but I wanted to make a layer cake version. Since I'm a fan of tall cakes, I made a 3 layer 6-inch version, which is what you see here. I know that not everyone has 3 6-inch pans, so here are some other versions I've made with success.
-A 2 layer 7-inch cake (baking time should be increased slightly)
-18 cupcakes (these take about 20 minutes in my oven)
-about 55 mini cupcakes (these take about 10 minutes in my oven)
-I have not tested this recipe in a 9×13 or any kind of sheet pan.
-For the cupcake version of this, click here. You can get 12 cupcakes or 8-inch layer cake out of the cupcake recipe.
I hope that gives you some options as to the size of cake that you want. I've also tested this recipe with soy milk, almond milk, and rice milk. For some reason, the rice milk version turned out a little more dense for me. For the frosting, I've cut back as much as I could on the sugar. Any less and I got too much "greasy shortening" taste. However, it is still on the sweeter side. If it's too sweet for you, you could try leaving the sides naked and you'll have less frosting on the cake overall.
Now onto the trouble shooting.
-I always thought that this recipe was foolproof, but after making this cake in a few different ovens without an oven thermometer, I realized that oven temperature is key. An oven thermometer
is a small investment that will help improve your results on this cake and pretty much any other cake you bake. You'd be surprised how much ovens can vary. Mine is almost 25 degrees off!
-Sift together the dry ingredients. I used to skip this and just dump everything in, but sifting the dry ingredients aerates the flour and helps it incorporate into the wet ingredients better.
-Once you add your dry ingredients, don't over mix! Add the dry ingredients in 3 additions and mix gently after each. It's ok if the batter still has a few lumps. This will prevent the cake from getting too tough. I prefer to use a whisk rather than an electric mixer or stand mixer for this recipe.
-No peeking! Opening the oven in the first 15 minutes can cause your cake to fall.
-Don't over bake. Check your cake a few minutes before the recommended baking time. If they look done, use a toothpick to check the center of the cake while it's still in the oven. If it comes out clean, it's done.
If you are still have problems with this cake, feel free to leave a comment or send me an email and I'll do my best to help you trouble shoot. Happy baking!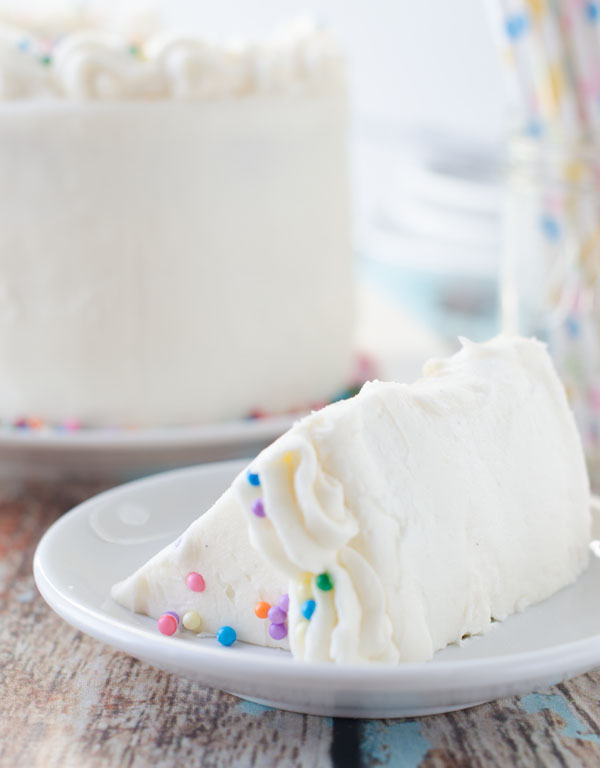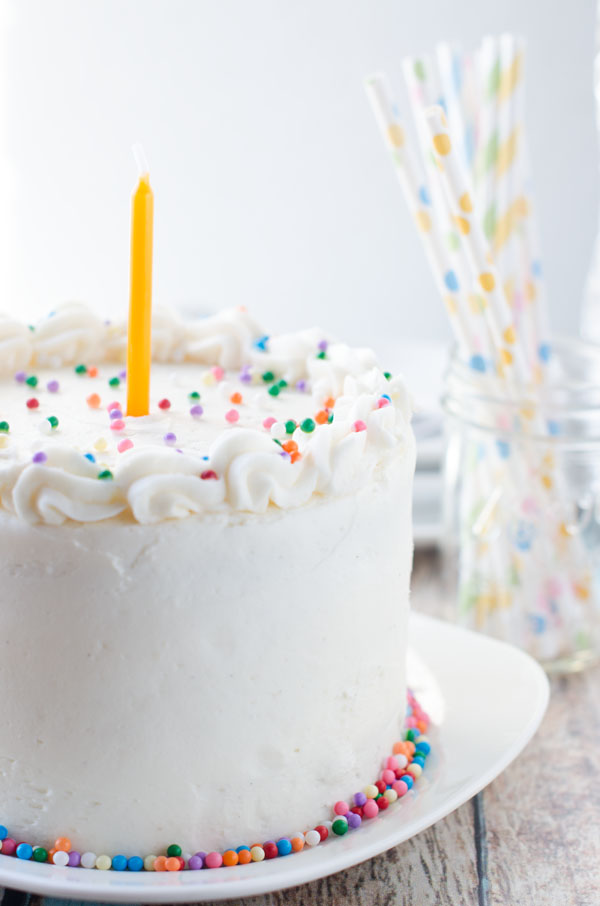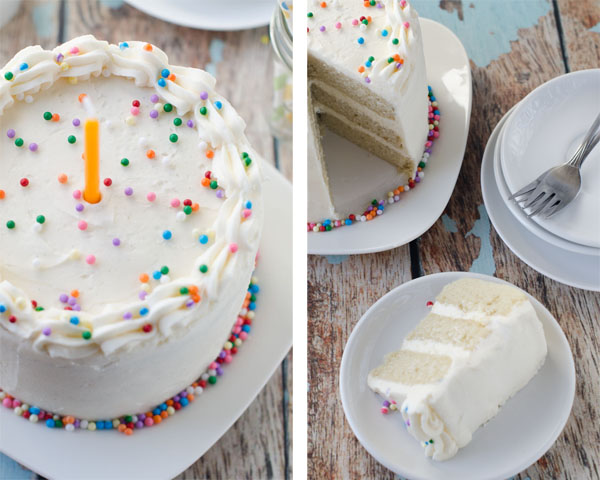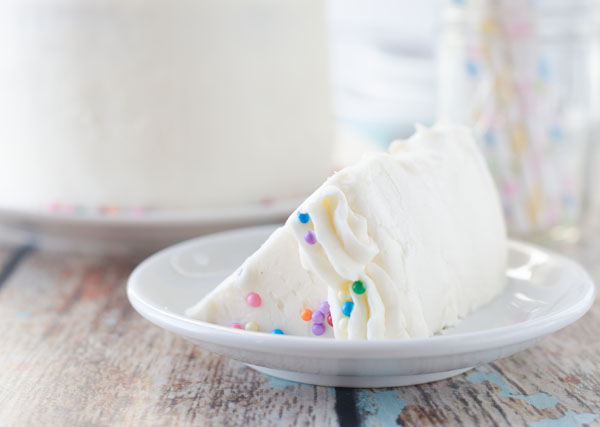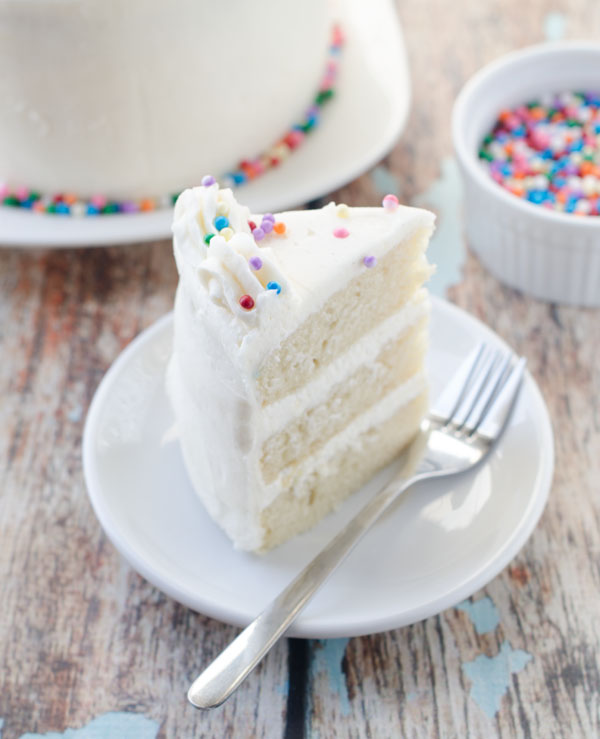 It has come to my attention that confectioner's glaze is not vegan. Please check your ingredients before choosing your sprinkles.
Looking for more vegan cakes?
The Easiest Vegan Chocolate Cake
Mini Vegan Vanilla Cupcakes with Blackberry Frosting
Teeny Tiny Chocolate Cake for One
Vegan Vanilla Birthday Cake
Ingredients
For the Cake:

1 1/2 cups (360 ml) non-dairy milk (soy, almond, rice)
2 teaspoons apple cider vinegar
1 cup plus 2 tablespoons (230 grams) granulated sugar
1/3 cup plus 2 tablespoons (110 ml) vegetable oil
1 tablespoon pure vanilla extract or vanilla bean paste
2 cups (250 grams) unbleached all-purpose flour
3 tablespoons cornstarch
3/4 teaspoon baking soda
1 teaspoon baking powder
3/4 teaspoon salt

For the frosting:

3/4 cup (1 1/2 sticks, 170 grams) non-hydrognated margerine (I used Earth Balance Buttery Sticks)
3/4 cup (170 grams) non-hydrogented shortening (I used Spectrum Organics)
3 1/2 cups (440 grams) powdered sugar
1 tablespoon pure vanilla extract or vanilla bean paste
pinch of salt
1/4 cup (60 ml) non-dairy milk or creamer
Instructions
For the Cake:

Preheat the oven to 350 degrees fahrenheit.
Grease and line 3 6-inch cake pans with parchment paper.
In a large bowl, whisk together the non-dairy milk and vinegar. Let stand for about 5 minutes.
Add the sugar, oil, and vanilla extract, and whisk together until the mixture becomes frothy.
Sift together the flour, cornstarch, baking soda, baking powder, and salt.
Add the dry ingredients to the wet ingredients and whisk together until the flour mixture disappears.
Divide the batter evenly between the 3 pans (I used a kitchen scale to do this) and bake for 22-25 minutes, or until a toothpick inserted into the center of the cake comes out clean.
Cool the pans on wire racks for about 15 minutes. Then turn the cakes out of the pans onto the wire racks and cool completely before frosting.

For the Frosting:

With an electric mixer, beat the butter and shortening together on medium high speed (or medium if using a stand mixer) for about 2-3 minutes, until light and creamy.
Add the powdered sugar and beat on low to combine.
Turn the mixer up to medium high and beat for an additional 2 minutes.
Add the vanilla extract and salt and beat to combine.
Add the non-dairy milk in one tablespoon at a time until the frosting reaches a spreadable consistency.

To Assemble the Cake:

Place one layer of the cake on a 6-inch cake board.
Place about 1/2 cup of frosting on top, and use an offset spatula to spread evenly over the first layer.
Place the second layer on top of the first and do the same with the frosting.
Place the third layer on top, and put a large dollop of frosting on the top of the cake.
Using an offset spatula, work your way around the sides until the entire cake is covered with a thin layer of frosting. I find that a turntable is helpful during this process. Let the crumb coat set in the fridge for about 30 minutes.
Once the crumb coat has set, spread a thicker layer of frosting on the top and sides of the crumb coat to create a smooth finish. Use the leftover frosting to pipe onto the cake and top with sprinkles.
http://cakemerchant.com/2014/01/28/vegan-vanilla-birthday-cake/
Cake recipe adapted from Vegan Cupcakes Take Over the World
Notes:
-For a whiter cake, use clear vanilla extract.
-When looking for non-hydrogenated margarine, look for the stick rather than the kinds in the tub. The margarine in the tub usually has salt added.
-Wholesome Sweeteners makes vegan certified sugar and powdered sugar.
-The frosting recipe makes enough to fill, crumb coat, and frost the cake with some leftover for piping. If you don't plan to crumb coat or pipe the frosting, you can cut the frosting recipe in half.
Tools I used to make this cake:
6 x 2 Inch Round Cake Pans

Cake Strips

Cake Decorating Turntable

Large Offset Spatula

Small Offset Spatula

Bench Scraper